News > Nation/World
Harry plays polo for African charity
Sun., May 31, 2009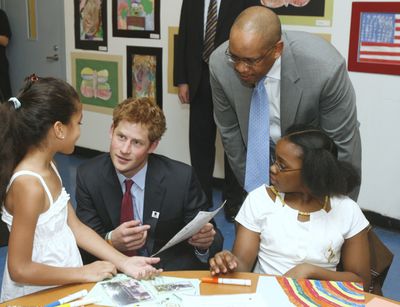 Prince Harry reminded New Yorkers on Saturday how much his mother had loved their city, then climbed onto a pony for a rousing game of polo to raise money for impoverished children in Africa.
On a brilliantly sunny day on Governors Island in New York Harbor, the 24-year-old prince drew a crowd that included Madonna, actresses Kate Hudson and Chloe Sevigny, and rapper LL Cool J, but also lots of ordinary New Yorkers out for a rare sight: a polo game in the city.
The Veuve Clicquot Manhattan Polo Classic was a fundraiser for Sentebale, the charity Harry has set up with Prince Seeiso of Lesotho to help poor children and AIDS orphans in that small African nation surrounded by South Africa.
On Saturday morning, the prince toured Harlem's Children's Zone, a community organization that offers families social and educational services.
Carson City, Nevada
Domestic partners' rights close to law
The Nevada Senate has voted to override Gov. Jim Gibbons' veto of a measure that gives domestic partners, whether gay or straight, many of the rights and benefits that Nevada offers to married couples.
The 14-7 Senate vote Saturday – the required two-thirds majority with no votes to spare – must be affirmed by the Assembly to enact the measure into law over the governor's objections.
The bill provides that domestic partners have the same rights as married couples in matters such as community property and responsibility for debts. Critics contended domestic partners can sign private contracts to accomplish many of the goals of the bill, and that it conflicted with the intent of Nevadans who voted in 2002 for a constitutional amendment supporting marriage between a man and a woman.
HONOLULU
Superferry files for bankruptcy
The company running Hawaii's first interisland car and passenger service is filing for bankruptcy, two months after a state Supreme Court ruling effectively shut it down.
A statement from Hawaii Superferry said the expenses of maintaining its two vessels have weighed down the company because it doesn't have any revenues.
The Hawaii Superferry says a Chapter 11 bankruptcy filing was the unavoidable next step.
The Hawaii Supreme Court ruled March 16 that a state law allowing the company to operate while an environmental study was being conducted was unconstitutional. The court said the study needed to be completed first.
CULVER CITY, Calif.
Eating champ P'zones in for win
In a chewy chow-lenge, Takeru Kobayashi outlasted Joey Chestnut when the eating titans faced off to see who could devour the most pizzas.
Kobayashi, a six-time world hot dog eating champion from Japan, consumed 5 3/4   P'zones in a six-minute span of chaotic consumption Saturday to edge Chestnut. The 25-year-old from San Jose, Calif., wolfed down 5 1/2   P'zones on Stage 15 at Sony Studios.
"I'm a little bummed," Chestnut said. "There's nobody I like beating more than him; he pushes me harder than anybody."
The arch rivals are best known for their annual Fourth of July hot dog eating showdowns on New York's Coney Island. Chestnut has beaten his Japanese competitor the last two years, winning last year in a five-dog eat-off after they tied at 59 frankfurters in 10 minutes.
This time, they went cheek-to-jowl in a stomach-centric contest sponsored by Pizza Hut featuring the P'zone, a pizza weighing 1 pound with pepperoni and other ingredients sealed inside a crust.
From wire reports
Local journalism is essential.
Give directly to The Spokesman-Review's Northwest Passages community forums series -- which helps to offset the costs of several reporter and editor positions at the newspaper -- by using the easy options below. Gifts processed in this system are not tax deductible, but are predominately used to help meet the local financial requirements needed to receive national matching-grant funds.
Subscribe to the Coronavirus newsletter
Get the day's latest Coronavirus news delivered to your inbox by subscribing to our newsletter.
---