News > Idaho Voices
Hayden Marine memorialized
Sun., May 31, 2009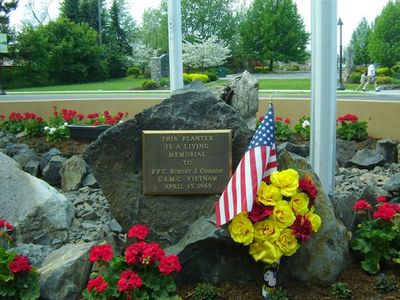 It was the middle of the night, but Zellma Gordon awoke crying. Standing at the foot of her bed was a wraith. It was her son, Jerry, bleeding from head wounds.
He didn't say a word. He saluted her, then faded away.
Later that day, April 15, 1969, Marine Corps officers delivered the news to Zellma Gordon and her husband, Bob, at the Conoco station they owned in Hayden Lake, Idaho.
Their son, Marine Pfc. Robert "Jerry" Gordon, 19, had been killed by a land mine while serving as an assistant machine gunner on a search-and-clear operation with K Company, 3rd Battalion, 5th Regiment, 1st Marine Division in Quang Nam Province, Vietnam.
His family was told that the young Marine had died of multiple extreme injuries to his head.
The battleground on which Gordon lost his life was hotly contested, so it took some time to recover his remains, but they finally arrived in Hayden late that month, and the hometown boy was laid to rest with full military honors in Coeur d'Alene Memorial Gardens.
Two years later the city erected a plaque on a flagpole next to City Hall to honor Gordon, who turned out to be the only Hayden resident to die in the Vietnam War. It was soon vandalized, the silk flowers and miniature windmills surrounding it stolen.
But 40 years later, this Memorial Day , the city of Hayden and more than 200 area residents honored Gordon and his family with a permanent bronze memorial affixed to a native stone in front of the newly refurbished City Hall.
Among those rendering salutes to the flag Gordon died for and to his memory were Kootenai County deputies, a contingent of Young Marines (youngsters who aspire to join the Corps), a Civil Air Patrol honor guard and a squad of Marine Corps League members, most veterans of Vietnam in their 60s. They were about the age Gordon would be now had he lived.
Gordon, the third of five children, grew up on a 10-acre farm in north Hayden. A graduate of Hayden Elementary and Coeur d'Alene High schools, he enlisted in the Marine Corps in August 1968, when the country was hotly engaged in Southeast Asia.
He was unsure what he would do after his discharge. He had artistic talent, loved to draw horses, so perhaps commercial art would have been his profession. He also thought about enrolling in a truck driver's school.
But that land mine ended his dreams.
Gordon's father is deceased, but present at the ceremony in addition to his mother were sisters Barbara Churilla, of Columbia, S.C., and Helen Nelson, of Hayden, and brother Terry Gordon, of Hayden. Another sister, Caroline Sampert of Hayden, was in Alaska on a previously planned trip.
Zellma Gordon spoke for all the family: "It's a very special day honoring a wonderful son. We'll always remember the kindness of our Hayden neighbors."
Local journalism is essential.
Give directly to The Spokesman-Review's Northwest Passages community forums series -- which helps to offset the costs of several reporter and editor positions at the newspaper -- by using the easy options below. Gifts processed in this system are not tax deductible, but are predominately used to help meet the local financial requirements needed to receive national matching-grant funds.
Subscribe to the Coronavirus newsletter
Get the day's latest Coronavirus news delivered to your inbox by subscribing to our newsletter.
---