Sports
Magic make Finals
Sun., May 31, 2009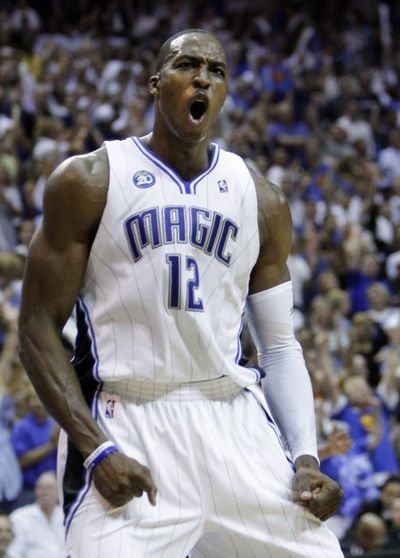 ORLANDO, Fla. – Overlooked and begging for respect all season, the Orlando Magic can no longer be ignored. After 14 frustrating years, they've returned to the NBA Finals.
Dwight Howard dominated inside for 40 points, Rashard Lewis added 18 and the Magic, a team that can make 3-pointers drop from thin air, hit 12 in a 103-90 victory over LeBron James and the Cleveland Cavaliers in Game 6 of the Eastern Conference finals Saturday night.
"Total domination," Lewis said. "He totally dominated the game. He carried us on his back tonight."
The Magic will be making their first finals appearance since 1995, one year before Shaquille O'Neal bolted as a free agent for Los Angeles, leaving this Florida franchise in ruins.
It's been a long, slow climb back, but Orlando has been rebuilt and will meet the Lakers on Thursday night at the Staples Center in Game 1.
Disney World vs. Disneyland.
"I just think this team all year long has shown an incredible amount of heart," Magic coach Stan Van Gundy said. "This team just keeps fighting back. They deserve it."
With the city's most famous athlete, Tiger Woods, sitting courtside, Orlando made believers of all those who wondered if they were better than the Cavaliers, a team that won 66 games in the regular season, or the defending champion Boston Celtics.
The Magic made both disappear in the postseason.
James scored 25 in his worst game of the series, but the 24-year-old was magnificent for most of it, adding to a legacy still in its infancy.
But the league MVP had to do most of it alone, as Mo Williams lost his shooting touch and Cleveland's bench was badly outplayed by Orlando's reserves.
Delonte West added 22 and Williams 17 for Cleveland, which went 0-5 in Orlando.
During the closing minutes, James was mocked by Orlando's crowd singing "M-V-P" as Howard shot free throws.
Howard finished 12 of 16 from the line.
Local journalism is essential.
Give directly to The Spokesman-Review's Northwest Passages community forums series -- which helps to offset the costs of several reporter and editor positions at the newspaper -- by using the easy options below. Gifts processed in this system are not tax deductible, but are predominately used to help meet the local financial requirements needed to receive national matching-grant funds.
Subscribe to the sports newsletter
Get the day's top sports headlines and breaking news delivered to your inbox by subscribing here.
---