News > Nation/World
Pakistani army retakes town as Taliban retreat
Sun., May 31, 2009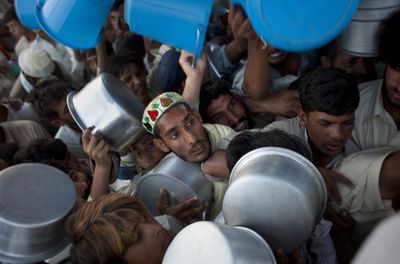 ISLAMABAD – The Taliban have fled the Pakistani army's advance on the main town in the Swat Valley, delivering the military a strategic prize in its offensive against militants in the country's northwest, commanders said.
Trouble flared elsewhere in the volatile region, however, as Taliban fighters clashed with the military in various parts of the South Waziristan tribal area. Intelligence officials said today that around 50 militants and two soldiers died in overnight battles.
Taliban fighters had dug themselves into bunkers built into hotels and government buildings in Mingora, Swat's main commercial center, and initially offered stiff resistance as troops first closed roads leading to the town then began moving in last week, army spokesman Maj. Gen. Athar Abbas said.
Pakistan's defense secretary said today that the military operations in Swat Valley "have met almost complete success."
Aid was being distributed Saturday to some of the estimated 20,000 people who were trapped in Mingora, and water and gas supplies were being restored. But Abbas said it would be at least two weeks before power is switched back on, and refugees were not yet being encouraged to start returning to their homes.
About 3 million people have fled the fighting in Swat, and the exodus has raised fears of a humanitarian crisis.
Abbas said an unknown number of fighters were able to escape Mingora despite the military having it surrounded, raising the prospect that they could return to the fight elsewhere.
The military launched a major offensive about one month ago in the Swat Valley and neighboring areas to oust Taliban militants who had been extending their control over the northwestern region near the border with Afghanistan.
U.S. and other officials say the lawless border region is being used by al-Qaida and the Taliban as a base to plan and launch attacks on Western forces in Afghanistan, and see the offensive as a test of Pakistan's resolve to fight extremism on its soil.
Government troops had been advancing steadily into the Swat region for about a month, bombarding towns from the air and fighting house-to-house with Taliban gunmen in some places.
"When they realized that if they did not leave these areas the noose would tighten around them and they would not find a way to leave … they decided to end the fight and leave," Abbas said.
Information Minister Qamar Zaman Kaira said the number of people uprooted from their homes by the fighting had reached "around 3 million," and that more than 190,000 of them were living in refugee camps. The rest are staying with relatives or relying on goodwill from local residents.
Local journalism is essential.
Give directly to The Spokesman-Review's Northwest Passages community forums series -- which helps to offset the costs of several reporter and editor positions at the newspaper -- by using the easy options below. Gifts processed in this system are not tax deductible, but are predominately used to help meet the local financial requirements needed to receive national matching-grant funds.
Subscribe to the Coronavirus newsletter
Get the day's latest Coronavirus news delivered to your inbox by subscribing to our newsletter.
---