News > Nation/World
Rape against Darfur women common, doctors group says
Sun., May 31, 2009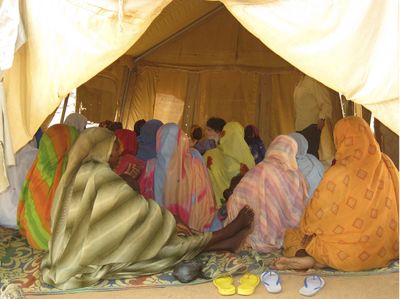 NEW YORK – A survey of dozens of women who fled violence in Darfur found that a third of them reported or showed signs of rape, and revealed a widespread fear of sexual violence in their refugee camp in Chad, a human rights group reported Sunday.
About half the rapes were carried out in Darfur by janjaweed militiamen allied to the Arab-dominated government in Khartoum, and half were assaults by Chadian villagers near the U.N. refugee camp, usually when the women left to search for firewood or herd livestock, according to the report by the U.S.-based group Physicians for Human Rights.
The group reached the 88 women included in the survey through camp leaders and by word-of-mouth – a sampling method the report said hinders drawing general conclusions about the prevalence of rape in Darfur or in the Farchana refugee camp in Chad.
Recording rape or interviewing victims of sexual violence is problematic in Darfur's Muslim culture, where women fear social stigma or further trauma and sometimes recant their allegations out of shame. Further complicating the effort, women displaced inside Darfur live mostly in government-controlled areas and fear reprisal.
The issue is highly contentious for the Sudanese government, which denies any systematic rape or violence against women.
The PHR survey supported widespread claims of rape often told by Darfuri refugees, and recounted by human rights and relief officials. U.N. officials said documenting the violence has become even more difficult following the Sudanese government's decision to expel 13 foreign aid groups, working mostly in Darfur.
The Darfur rapes fell into a common pattern, with a village overwhelmed by turbaned gunmen wearing green or khaki uniforms, often arriving on horses or camels. Airstrikes by the Sudanese military usually followed.
Physicians for Human Rights called for the prosecution of rape as a war crime and urged the International Criminal Court to issue warrants against Sudanese suspects. They also sought better protection for refugees in the Chad camps by Chadian police and international peacekeepers.
Local journalism is essential.
Give directly to The Spokesman-Review's Northwest Passages community forums series -- which helps to offset the costs of several reporter and editor positions at the newspaper -- by using the easy options below. Gifts processed in this system are not tax deductible, but are predominately used to help meet the local financial requirements needed to receive national matching-grant funds.
Subscribe to the Coronavirus newsletter
Get the day's latest Coronavirus news delivered to your inbox by subscribing to our newsletter.
---