Sports
Notre Dame muscles aside WSU
Sun., Nov. 1, 2009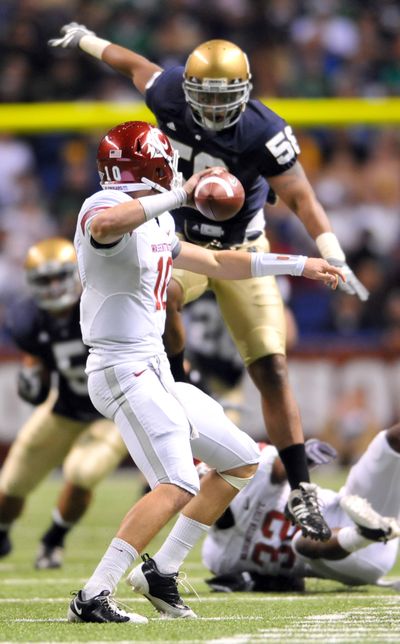 SAN ANTONIO – Size matters. Or at least it did Saturday night in the Alamodome.
The Notre Dame offensive line, the size of a three-quarter-ton pickup comprised of four seniors and a sophomore, rolled over the Washington State defense, and the Fighting Irish flattened the Cougars 40-14 before 53,407.
"It was all up front, we were just 'out-physicalled,' " Washington State coach Paul Wulff said. "That was probably the first time this year where we got that 'physicalled.' "
The almost completely pro-Notre Dame crowd – the football game was its first in what the school hopes will be an annual off-campus home game – saw that physical dominance power the Irish to 255 yards rushing, 131 of them by 5-foot-11, 234-pound backup running back Robert Hughes.
They saw quarterback Jimmy Clausen, rarely evened hurried, complete 22 of 27 passes for 268 yards and two touchdowns before leaving in the third quarter after reaggravating a turf toe injury.
In all, Notre Dame controlled the ball for more than 40 minutes, had four scoring drives that took more than 3 minutes and finished with 592 yards of total offense, 416 of them in the decisive first half.
"Oh, yeah, we just got done talking about that," Chris Ball, WSU's co-defensive coordinator, said of Notre Dame's size domination. "Not only just their size, but their senior offensive line gave us problems."
But it wasn't just the Notre Dame offensive line that was winning the battle up front. The defensive group was as well.
"The line of scrimmage on both sides of the ball was definitely won by Notre Dame," Wulff said. "When that happens, it's pretty tough to function behind those guys and be really successful."
The Cougars' first five possessions, which extended into until midway through the second quarter, resulted in just 36 yards of total offense.
Trailing 23-0 – WSU's only lead this year was the game-ender against Southern Methodist – the Cougars' offense suddenly came alive.
"I honestly have no explanation for it," freshman quarterback Jeff Tuel said. "We just started clicking and we were able to establish the run."
Running a little different formation – freshman fullback Jared Byers up close to the offensive line, a little off center – WSU (1-7) got its running game going.
Dwight Tardy, who started and finished with 72 yards, averaging 9.0 yards a carry, broke loose for 20 yards behind right guard B.J. Guerra. Logwone Mitz got 12 more around right end. Two plays later, Tuel was given a little time to throw – a rare occurrence – and found Tony Thompson for 15 yards on a third-and-6.
Inside the red zone, Tuel went to his big target on the outside, 6-4 Jared Karstetter. The sophomore from Spokane created space and caught Tuel's perfectly thrown fade in the right corner for an 11-yard score.
"I always like to give him a shot for the ball over the top," Tuel said. "We just like our matchup with Jared out there."
With just 1 minute, 16 seconds left in the half, it looked like WSU would take momentum into the locker room along with a 23-7 deficit. But Clausen, who came in as the nation's second-most efficient passer, patiently moved the 25th-ranked Irish (6-2) out to midfield, overcoming two major penalties in the process.
With 7 seconds left, Clausen dropped back, moved to his right and tossed a Hail Mary from his 48 toward the Cougars' end zone. He was counting on coming out golden, and the Irish did, thanks to Golden Tate.
The 5-11 receiver out-jumped Aire Justin for the ball, despite Xavier Hicks on his backside and Myron Beck grabbing at the ball in front. The touchdown, one of two Tate would score, killed whatever good feelings WSU had built.
"We feel confident, we're two scores out of the game – we feel like we're going into the half and they throw the Hail Mary and then it's just kind of like, 'Holy cow,' Tuel said. "We were just kind of in shock.
"It definitely took a little bit of momentum away from us."
The Cougars' offense scored again – another Tuel fade to Karstetter for 8 yards with 5:16 left, supplying the final score – but that came against the Notre Dame backups. While the starters were in during the second half, WSU once again stalled, with Tuel throwing two interceptions.
The freshman, who threw for 354 yards against California last week, had just 104 in this one. He finished 12 of 23 with a long of 15 yards.
Clausen left late in the third after being tripped up by Toby Turpin. Backup Dayne Crist left about a quarter later, again after being tackled by Turpin. The Crist injury, to his left knee, looked to be more serious than Clausen's.
But Notre Dame's passing game, despite the 337 yards and two long touchdown throws, took a backseat to the power running.
With leading rusher Armando Allen out with a sore ankle, Hughes, who came in with 180 rushing yards, took up the slack.
Running behind an offensive line that averages 6-5 and 315 pounds, outweighing WSU's defensive front by an average of nearly 50 pounds a man, the junior took a series of delays and draws up the middle for nothing longer than 18 yards.
Local journalism is essential.
Give directly to The Spokesman-Review's Northwest Passages community forums series -- which helps to offset the costs of several reporter and editor positions at the newspaper -- by using the easy options below. Gifts processed in this system are not tax deductible, but are predominately used to help meet the local financial requirements needed to receive national matching-grant funds.
Subscribe to the sports newsletter
Get the day's top sports headlines and breaking news delivered to your inbox by subscribing here.
---