Inmate granted holiday wish
Man who missed 75 court dates gets Thanksgiving jail furlough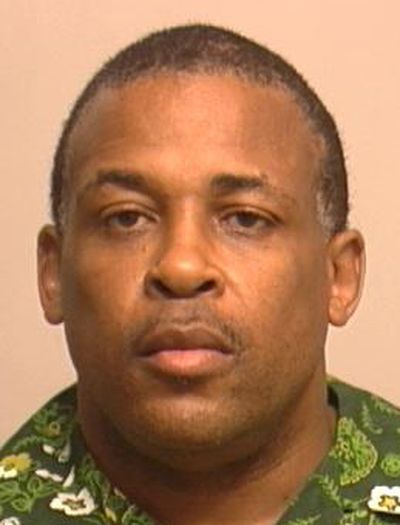 Apparently even the federal government is feeling generous this time of year.
A Spokane-area drug dealer who has failed to show up for court 75 times and is awaiting sentencing on his latest cocaine conviction will be allowed to leave the Spokane County Jail next week to spend Thanksgiving dinner with his family.
Two law enforcement officers must be with Terrence A. "T-Baby" Kinard, 52, for the five-hour jail furlough next week.
His family – not the government – is required to pay for the escorting officers, U.S. Magistrate Judge Cynthia Imbrogno ruled Tuesday.
While jail furloughs for medical procedures or family funerals are fairly common, jail officials said Tuesday, furloughs for holiday dinners are unusual.
"That's the first time I've heard of something like this happening," said Spokane County Jail Lt. Jay Hughes. "It's definitely a security risk. There's always the chance that they don't come back."
Kinard, whose criminal record includes a conviction for escape, has been in jail since he bought about 30 grams of crack cocaine for $950 from an undercover Drug Enforcement Administration agent on Nov. 25, 2008. Kinard had earlier agreed to buy 9 ounces of the drug from a confidential informant working with the federal agents, according to court documents.
He pleaded guilty to a federal charge of possession of more than 5 grams of cocaine with intent to distribute and is scheduled to be sentenced Dec. 8. A plea agreement calls for him to serve 80 months in prison.
Kinard works in the jail kitchen and was described as "a model inmate" by his defense lawyer, Kim Deater, during a U.S. District Court hearing on Monday.
Kinard's family attended the hearing, in which Deater asked that her client be released from Nov. 25 to Dec. 1 to spend the holiday with his "tight-knit, large family." Kinard is worried it may be his last chance to spend a holiday with his 80-year-old mother, Deater said.
"He doesn't really have anywhere to flee to," Deater said. "All his ties are in Spokane."
The U.S. Attorney's Office did not object to Kinard's release, but the federal probation office did.
Deater's proposal called for Kinard to wear an electronic monitoring device, which Assistant U.S. Attorney Aine Ahmed said would address Kinard's history of skipping court.
Imbrogno's order, however, doesn't require electronic monitoring, because two armed law enforcement officers will be alongside him at all times. Kinard will essentially remain in custody during the dinner, said Assistant U.S. Attorney Tom Rice.
Kinard has more than a dozen drug convictions and at least six convictions for driving on a suspended license. He was sentenced to 29 months in prison in 2006 on car theft and drug charges.
He's also been convicted of possession of drug paraphernalia, refusing to cooperate with police and escape, according to the fugitive-apprehension organization Crime Stoppers.
The organization offered a reward for information leading to Kinard's capture in January 2008 on a probation violation.
His 75 failures to appear for court hearings and lengthy criminal history prompted the judge to delay her ruling for a day. The request was made Monday but Imbrogno's decision was issued Tuesday.
"I don't know that I've had a case that had more than that," Imbrogno said of the number of mandatory court appearances skipped by a defendant.
---