Sports
In brief: Izzo passes Heathcote for Spartan record
Sun., Nov. 29, 2009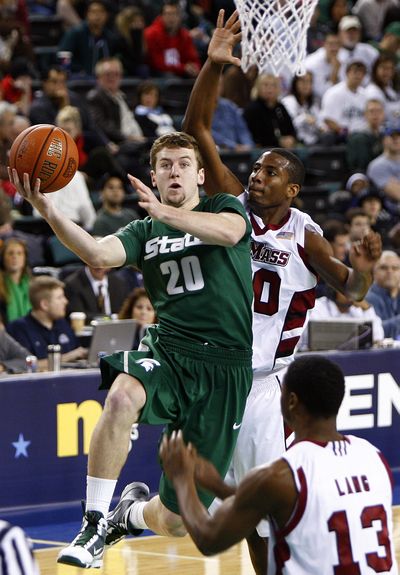 Basketball: Tom Izzo won his 341st game at Michigan State, setting the school record for victories in the No. 2 Spartans' 106-68 win over Massachusetts on Saturday night in the Legends Classic at Atlantic City, N.J.
Izzo set the record the same week mentor and predecessor Jud Heathcote was inducted into the National Collegiate Hall of Fame. For years, it was Izzo who sat by Heathcote's side as an assistant and associate head coach. When Heathcote retired, Izzo was his hand-picked successor.
Spartan fans held printed "341" cards and chanted Izzo's name in the waning moments, and stood and applauded him once the final horn sounded. Izzo has led the Spartans to five Final Fours since 1999 and lost the national championship game last season to North Carolina.
•Wofford beats Seattle in tourney final: Jammar Diggs hit two free throws with 12 seconds left to give Wofford (4-3) an 84-83 victory over Seattle (4-3) in the final round of the Las Vegas Invitational.
•Boozer powers Jazz past Blazers: Carlos Boozer had 26 points and 12 rebounds to lead the Utah Jazz to a 108-92 victory over the visiting Portland Trail Blazers.
•Diggins leads Lady Irish past Sooners: Freshman Skylar Diggins scored 16 points and No. 5 Notre Dame (6-0) used a 20-0 run in the second half to beat No. 20 Oklahoma (4-2) 81-71 and win the Island Division of the Paradise Jam at St. Thomas, Virgin Islands.
•Tennessee holds off UCLA: Taber Spani scored 16 points and No. 6 Lady Vols beat UCLA 61-47 at Knoxville, Tenn.
UCLA (4-2) led throughout the first half and trailed 43-40 with 9:10 left, when Tennessee (5-0) launched a 10-2 run. A 3-pointer by University HS graduate Angie Bjorklund gave Tennessee a 53-42 lead with 5:12 left, and the Lady Vols kept a double-digit advantage the rest of the game.
Bjorklund finished with 12 points.
Crosby has hat trick, five points in win
Hockey: Sidney Crosby had his fourth career hat trick and added two assists for his second five-point game and the Pittsburgh Penguins won for the fourth time in five games, 8-3 over the visiting New York Rangers.
Crosby scored once in the first and twice in the third period and added two-first period assists to help the Penguins rout the Rangers, winless in regulation at Mellon Arena in their past 13 tries.
•Hedberg, Peverley team to beat Flyers: Johan Hedberg made 34 saves for his first shutout in two years, and the Atlanta Thrashers stopped a 14-game losing streak against the Philadelphia Flyers with a 1-0 victory at Atlanta.
Ending what was the NHL's longest current losing streak against one opponent, the Thrashers won their third straight overall.
Rice, Smith among HOF semifinalists
Football: Jerry Rice and Emmitt Smith are among 25 semifinalists for the Pro Football Hall of Fame.
Former Raiders receiver Tim Brown and Cardinals and Rams defensive back Aeneas Williams were the only other players selected in their first year of eligibility.
Other semifinalists include a coach, Don Coryell, and two contributors, Art Modell and former commissioner Paul Tagliabue.
•Louisville fires coach Steve Kragthorpe: Steve Kragthorpe was fired at Louisville following a 4-8 season, the program's worst in over a decade.
Kragthorpe went 15-21 in three seasons after replacing the massively successful Bobby Petrino in January 2007. He had two years remaining on a contract that paid him about $1.1 million annually, and it was announced Kragthorpe will receive a $2.2 million buyout.
•Akron fires Brookhart: The University of Akron has fired head football coach J.D. Brookhart.
Athletic director Tom Wistrcill announced the move, one day after the Zips defeated Eastern Michigan 28-21 to finish the season at 3-9.
Wistrcill said in a statement that four straight seasons with the team finishing below .500 in the Mid-American Conference played into his decision.
•LSU assistant will reportedly take Memphis job: An LSU official says Tigers assistant Larry Porter has accepted an offer to become the next head coach at Memphis.
The official spoke to the Associated Press on condition of anonymity because Porter did not plan to inform the Tigers' players of his decision until after Saturday night's game against Arkansas.
Memphis officials have scheduled a news conference for today.
Cuche wins World Cup downhill
Skiing: Didier Cuche of Switzerland won the season-opening World Cup downhill at Lake Louise, Alberta.
He won by nearly a half-second and was timed in 1 minute, 50.31 seconds. He was followed by Italy's Werner Heel in 1:50.75 and Switzerland's Carlo Janka in 1:50.93.
Bode Miller, back with the U.S. Ski Team this season, finished 29th.
•Hoelzl gets 1st World Cup victory: With Lindsey Vonn failing to qualify for the second run, and other top racers also faltering, Kathrin Hoelzl earned her first World Cup victory with two strong charges down an icy, bumpy course at Aspen, Colo.
Local journalism is essential.
Give directly to The Spokesman-Review's Northwest Passages community forums series -- which helps to offset the costs of several reporter and editor positions at the newspaper -- by using the easy options below. Gifts processed in this system are not tax deductible, but are predominately used to help meet the local financial requirements needed to receive national matching-grant funds.
Subscribe to the sports newsletter
Get the day's top sports headlines and breaking news delivered to your inbox by subscribing here.
---