News > Pacific NW
Brief bios of the slain Washington officers
Mon., Nov. 30, 2009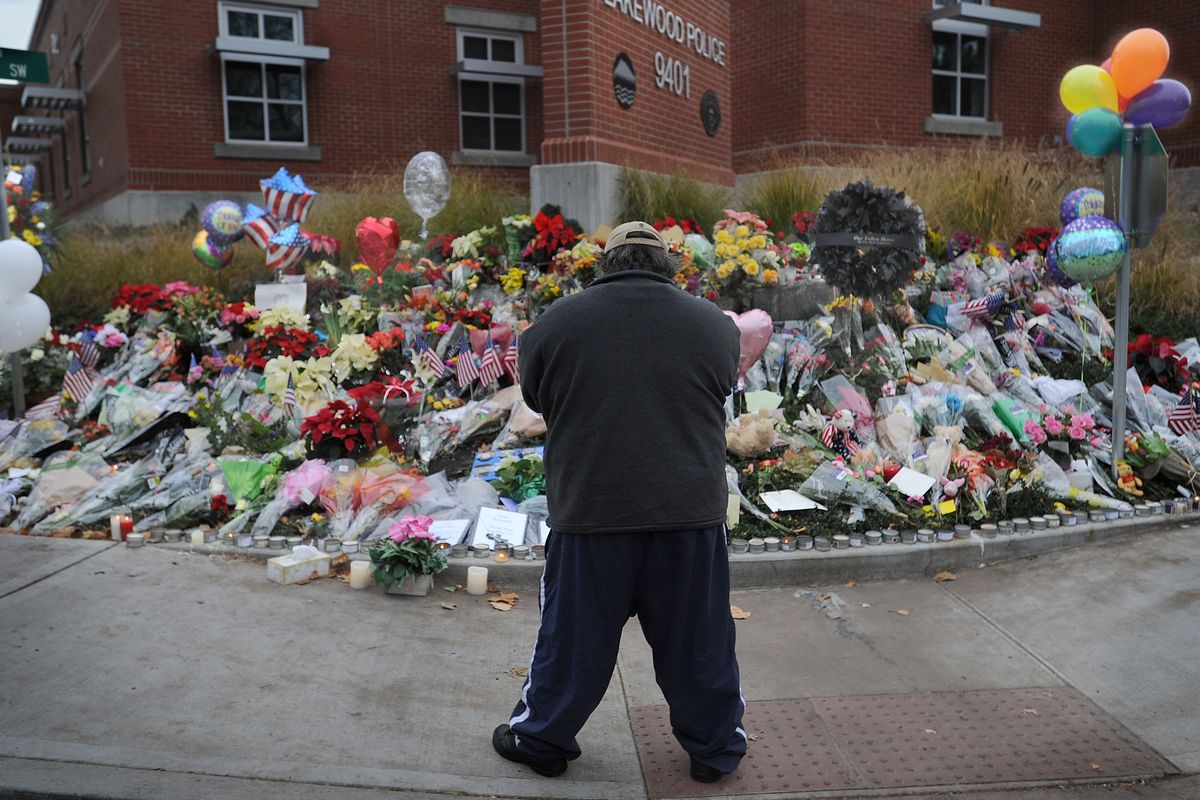 Dale Steinbach of Lakewood prays for the four slain police officers killed by a gunman at the Forza Coffee Company. Steinbach was paying his respects at the memorial site at the Lakewood Police Department on Monday, Nov. 30, 2009. (Lui Wong / The News Tribune)
A look at the four police officers who were slain at a suburban Western Washington coffee shop on Sunday:
Sgt. Mark Renninger, 39
Renninger was described as a cop's cop: A tough guy who excelled at his job and was regarded as a leader and teacher in the close-knit Lakewood police force. "He was the most competent and tactically proficient man I ever knew in police work. I do not say this because he was killed and that is something you should say," Lakewood police union president Brian Wurts said. "Everyone in our department and all who knew Mark know this was true." Relatives said Renninger, who grew up in Bethlehem, Pa., came to Washington state through military service. The East Coast native was blunt-spoken but "never belittled anyone," Wurts said. "Mark had that spark that made you like him and respect him. He was truly a rock in our department, someone you always counted on," Wurts wrote. The union said Renninger was married with three children. ———
Officer Tina Griswold, 40
Her sister, Tiffiny Ryan, said Griswold liked to cook, ride her dirt bike and was a certified diver. "My worst nightmare has come true," Ryan told reporters on Monday. "I can't tell you how painful it is to lose my sister." Griswold knew she wanted to be a police officer by the time she finished high school, a weeping Ryan said. Their father is a retired police officer, while their mother was an administrative assistant at the Washington Supreme Court, Ryan said. Tina Griswold began working in law enforcement as a dispatcher in Shelton, then became a police officer in Shelton and Lacey before going to work in Lakewood five years ago, Ryan said. Griswold also has a 21-year-old daughter and a 7-year-old son, Ryan said.
Related:
Read more from Ryan's statement to the media
. ———
Officer Ronald Owens, 37
Relatives said Owens — known to friends and family as Ronnie — was a lifelong resident of Parkland, the Tacoma suburb where he was killed. The police union said Owens has a daughter. Wurts said Owens' fun-loving personality "made everyone around him feel positive." He "was the laid-back, dirt-bike-riding, surfer-hair-having cop you would always want at a party or with you on any call," Wurts said. "Though he had a laid-back perspective, he was sharp and an extremely dedicated and hard worker." Owens was a Washington State Patrol trooper from 1997 until 2004, when he left to join the Lakewood police, Patrol Chief John Batiste said. "While we have many ranks and honors that we offer for exemplary service, the most coveted honor is to simply be respected by your colleagues as 'a good troop,"' Batiste said. "Ron Owens was most definitely a good troop." ———
Officer Greg Richards, 42
Richards liked nothing better than spending time with his wife Kelly and three children, the union president said. Richards enjoyed music in his spare time, playing drums in a rock band that performed this summer at a charity event for a hospitalized fellow-officer. Richards was liked by everyone he met, sister-in-law Melanie Burwell said. Even though the family knew his job could be dangerous, his death was a shock, she said.
Local journalism is essential.
Give directly to The Spokesman-Review's Northwest Passages community forums series -- which helps to offset the costs of several reporter and editor positions at the newspaper -- by using the easy options below. Gifts processed in this system are not tax deductible, but are predominately used to help meet the local financial requirements needed to receive national matching-grant funds.
Subscribe now to get breaking news alerts in your email inbox
Get breaking news delivered to your inbox as it happens.
---