Sports
Idaho rallies
Erases 2-TD deficit to turn back Rams
Sun., Oct. 4, 2009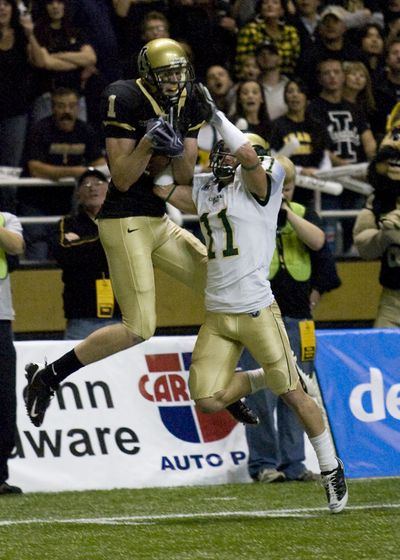 MOSCOW, Idaho – Quarterback Nathan Enderle touched his knee to the Kibbie Dome turf and chaos ensued. Idaho students scurried en masse down from stands, players danced on the field and coaches rejoiced.
After all the agony the program has lived through, the Vandals were going to squeeze every second of enjoyment from this night.
Playing in front of 16,000 fans packed in like sardines into the Kibbie Dome – and a nationally televised audience – Idaho staged a momentous rally to eke out a 31-29 victory over Colorado State on Saturday night.
After its biggest win in years, the Vandals are 4-1 for the first time since 1994.
"It feels really good," coach Robb Akey said. "I see a football team that's growing up."
The Vandals climbed out holes of 14-0 and 20-7 by unleashing a quick-strike aerial assault. Enderle threw for 333 yards and three touchdowns, two to Eric Greenwood on streaks down the sideline.
With Daniel Hardy out (kidney injury), Greenwood and fellow wideout Max Komar combined for 18 catches for 282 yards.
It was a striking reversal of fortunes after Enderle's costly interception deep in CSU territory on Idaho's first possession.
The turnover helped the Rams (3-2) vault to a two-TD lead.
The shootout came to a riveting conclusion after the Rams easily drove the field in the waning minutes, scoring on a 39-yard TD with 1:40 left to draw within two points.
John Mosure's direct-snap scamper on the conversion attempt came up just short, and the Vandals' defense stormed to the sideline in exultation.
After Idaho failed to drain the clock, CSU had one more chance.
But safety Shiloh Keo picked off Grant Stucker with 1:04 remaining to seal the win.
"The team pulled it off," Keo said. "We finally got our act together."
After a series of early pratfalls, Idaho finally got on track with a 10-play, 80-yard drive midway through the second quarter.
Enderle hooked up with Max Komar four times, including a key 16-yarder on third-and-11, then found Greenwood hurtling down the sidelines for a 31-yard TD strike.
The Vandals had new life, and Akey showed it by meeting Greenwood in midair for a chest bump.
Idaho then unveiled a no-huddle offense to start the third period and started chucking the ball all over the field.
Clearly more in sync, Enderle found Greenwood for a 45-yard bomb just 1:22 into the third to cut CSU's lead to 20-17.
Seven minutes later, the Vandals went ahead for the first time, 24-20, when Komar snuck past Elijah-Blu Smith in the near-side corner for a 22-yard touchdown grab.
Local journalism is essential.
Give directly to The Spokesman-Review's Northwest Passages community forums series -- which helps to offset the costs of several reporter and editor positions at the newspaper -- by using the easy options below. Gifts processed in this system are not tax deductible, but are predominately used to help meet the local financial requirements needed to receive national matching-grant funds.
Subscribe to the sports newsletter
Get the day's top sports headlines and breaking news delivered to your inbox by subscribing here.
---
Subscribe and log in to the Spokesman-Review to read and comment on this story