News > Spokane
Spokane police chief applied for new job
She's not actively seeking to leave, though, she says
Thu., Oct. 8, 2009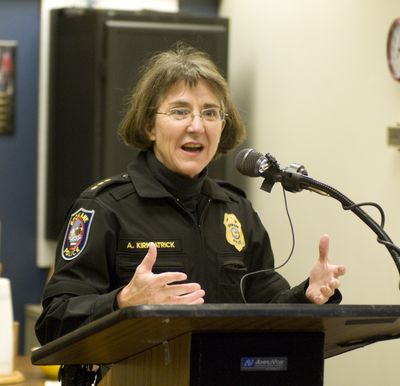 Spokane police Chief Anne Kirkpatrick on Wednesday downplayed suggestions that she is actively pursuing work outside Spokane, but she acknowledged applying for the top cop job in San Francisco and being recruited for many others.
In an e-mail sent to her full department and other city leaders, Kirkpatrick said that she's open to other job opportunities as they come her way, but that she is not actively pursuing them and does not consider herself "looking" for a new position.
"So the bottom line is that I am recruited for almost every opening in the country because I am a minority and every recruiter wants a minority in the application pool," Kirkpatrick said. "I would love to be judged on my abilities as a leader, but, nevertheless, the reality is that I am a minority so I am recruited for everything."
Questions about Kirkpatrick's future in Spokane surfaced earlier this year with persistent rumors linking her to Seattle's open police chief position. The search for a new Seattle chief has been delayed because of the August election loss of Seattle Mayor Greg Nickels, but the Seattle Times reported last month that Kirkpatrick's "name has surfaced" as a possible candidate for the job.
More recently, Spokane's Center for Justice on Wednesday reported on its Web site: "When asked about her status, Kirkpatrick confirmed widely circulated rumors that she has been looking for a job elsewhere, including a recent opening in San Francisco."
Kirkpatrick's e-mail, a copy of which was sent to The Spokesman-Review after messages were left seeking the chief's comment about the Center for Justice report, confirmed that she applied for the San Francisco police chief's job.
"San Francisco is a world class city, it has 3,000 employees in the department, and the salary was around $280,000," Kirkpatrick wrote. "I was honored to be recruited and so, yes, I applied."
The position has since been filled.
Kirkpatrick has enjoyed wide support from many city leaders since she was picked to lead the force by then-Mayor Dennis Hession in 2006. But she also has been criticized by some in the rank and file.
Last year, after an officer was accused of fourth-degree assault, Kirkpatrick was forced to address threats of "de-policing" from within the department. De-policing is an unofficial protest move that generally involves deliberately slow response times by officers to everything except major emergencies.
City Councilwoman Nancy McLaughlin said she hopes Kirkpatrick stays in Spokane for the long term.
She called the chief "a woman of integrity that takes her job very seriously and values every officer that works underneath her."
Local journalism is essential.
Give directly to The Spokesman-Review's Northwest Passages community forums series -- which helps to offset the costs of several reporter and editor positions at the newspaper -- by using the easy options below. Gifts processed in this system are not tax deductible, but are predominately used to help meet the local financial requirements needed to receive national matching-grant funds.
Subscribe now to get breaking news alerts in your email inbox
Get breaking news delivered to your inbox as it happens.
---