News > Spokane
N. Idaho inventor gets national nod
Bird awarded medal for technology, innovation
Thu., Oct. 8, 2009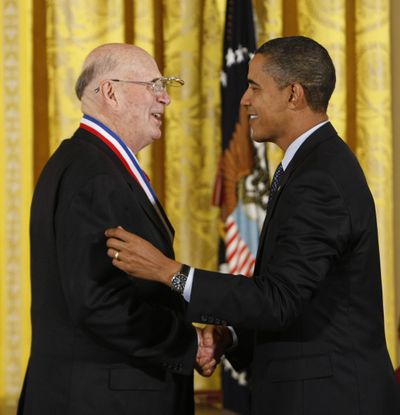 WASHINGTON, D.C. – Few people can say they've received a personal honor from the president of the United States. Fewer can say they've received two honors from two presidents in one year.
Sandpoint-area inventor and businessman Forrest Bird can.
Bird and about a dozen other scientists and inventors were honored for contributions to science and technology Wednesday by President Barack Obama in a White House ceremony. Bird received the National Medal of Technology and Innovation less than a year after President George W. Bush awarded him the Presidential Citizens Medal in December.
"I thought, boy that'd be the end of the line there," he said of the previous award. "I couldn't envision anything higher."
Bird's technology medal puts him in the ranks of Polaroid inventor Edwin Land, GPS developer Roger Easton and the father of the computer mouse, Douglas Engelbart. Like others who received the award since its creation in 1985, Bird's is not a household name, but his most famous invention, the medical respirator, is familiar to almost everyone.
Bird began his work on breathing devices in the Air Force during World War II as part of a team that developed the high-altitude breathing regulator. After the war, he went to medical school and eventually used his expertise to develop the world's first reliable low-cost medical respirator. Since then, he's continued to develop respiratory devices through his company, Percussionaire Corp.
"Every other year or so I get a substantial patent," Bird said. "I just stay in my field and keep advancing it. I've spent my whole life in this field."
Bird, 88, hasn't slowed down. He still works 10- to 16-hour days, said his wife, Pamela. The couple are leaving from Washington to go to Boston, the Mayo Clinic and New York for a series of lectures. That's Bird's big project right now – teaching doctors and hospitals how to use the latest in pulmonary equipment, which he said is "light years ahead" of what some doctors are used to.
As honored and surprised as Bird was to get the medal, he was also happy to hear the president's commitment to education and innovation, which Obama emphasized at the event.
"By investing in education, funding basic and applied research, and spurring private innovation, we will devote 3 percent of our gross domestic product to research and development," Obama said. "That's more than at any point in recent history."
Even with all the honors, Bird insists science is really a team effort.
"You just figure that you do things because you do, and really you never expect an honor like this," he said. "At least I never did."
Jacob Barker is a student with the University of Missouri's Washington Reporting Program working for The Spokesman-Review. He can be reached at (202) 662-7303.
Local journalism is essential.
Give directly to The Spokesman-Review's Northwest Passages community forums series -- which helps to offset the costs of several reporter and editor positions at the newspaper -- by using the easy options below. Gifts processed in this system are not tax deductible, but are predominately used to help meet the local financial requirements needed to receive national matching-grant funds.
Subscribe to the Coronavirus newsletter
Get the day's latest Coronavirus news delivered to your inbox by subscribing to our newsletter.
---
Subscribe and log in to the Spokesman-Review to read and comment on this story