News > Washington Voices
Spokane Valley police study rankles sheriff
Consultant stands by report that will be presented to Spokane Valley City Council
Thu., Oct. 8, 2009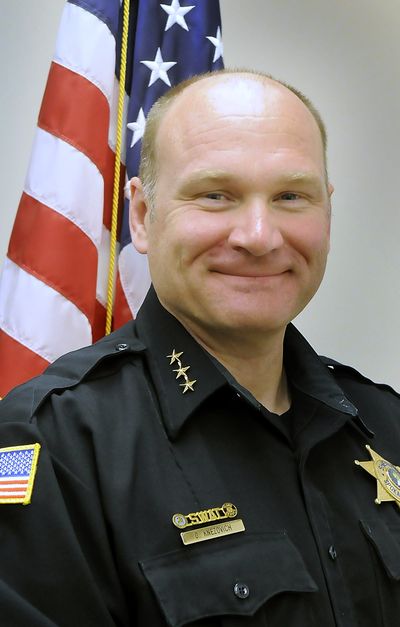 Spokane County Sheriff Ozzie Knezovich wants Spokane Valley residents to read the fine print of a report that says the city could save $1.1 million a year by setting up its own police department.
"The only way you're going to do it is to cut 13 police officers," Knezovich said.
Thirteen and a half, actually.
The city's contract for police service by the Sheriff's Office provides the equivalent of 102 ½ full-time positions, all but one of which is filled by a commissioned deputy.
A $126,500 consulting report from the International City/County Management Association calls for a 95-member police department with seven civilians and 88 commissioned officers.
"It's a significant cut in law enforcement," Knezovich said. "That's how you come up with your savings."
Moreover, he believes an independent Spokane Valley Police Department would hurt the city and unincorporated parts of Spokane County because they would no longer share specialized units, such as major-crime and sex-crime squads, that neither could afford on its own.
Criminally insane killer Phillip Arnold Paul was recently captured within 75 hours of his escape from Eastern State Hospital custody because of specialized units and the ability to throw the resources of a large organization into a manhunt, Knezovich said.
Similarly, he said, Spokane Valley would have the full resources of the Sheriff's Office in the event of another difficult case such as the 1999 murder of Valiree Jackson by her father.
The consulting report suggests an independent city police department might continue to pay the Sheriff's Office to investigate drug crimes in a "joint venture," which Knezovich describes as a benefit the city already enjoys.
The report makes no recommendation on whether the city should form its own department. Its analysis of Spokane Valley's police needs could be applied to the city's contract with the Sheriff's Office as well as to a separate department.
Leonard Matarese, director of public safety services for ICMA Consulting Services, declined to address Knezovich's criticisms point by point but defended the report's overall conclusion that the Spokane Valley's police needs could be met by fewer officers.
Matarese said the study was conducted by a team of 10 experts, some of whom have doctoral degrees and other prestigious credentials. He said several of them will help present the report to the Spokane Valley City Council on Oct. 20.
"The team that conducted this work are in many cases nationally recognized experts, and we're very confident in the information that we've provided to the city of Spokane Valley," Matarese said.
Knezovich was unimpressed. He said a draft version of the report was rife with errors, and some persist in the final report. For example, he said the number of detectives assigned to domestic violence cases is misstated in the final report.
Knezovich didn't complain about his name being misspelled in the final report, but he makes much of a draft version's incorrect statement that deputies assigned to the Spokane Valley Police Department wear navy blue uniforms. And that the acronyms for the Spokane Police Department and the Spokane Valley Police Department were frequently confused.
To Knezovich, such errors suggest the study team never grasped local circumstances. To Matarese, they're routine typographical errors.
"We fully expect that there are going to be typos and issues that need clarification, which is precisely why we do several drafts and fully circulate them," Matarese said.
He dismissed Knezovich's criticism that the report says a sergeant and a deputy would be needed for a training program but doesn't include those positions in its recommended staffing.
"We believe that, within the number of personnel that we have budgeted for, that (training) could be easily accomplished without significant budget impact," Matarese said.
He said the study team's operations researchers "were quite pleased to see that there were no issues or challenges concerning the data analysis." That calculation of staffing levels needed to support the Spokane Valley police workload "comprised the bulk of the report," Matarese said.
However, the 114-page report devotes about a page to a dispute over the number of burglaries investigated last year before concluding that it made no significant difference to the consultants' analysis.
Knezovich was irritated by suggestions that his staff provided unreliable information as well as by the report's statement that the Sheriff's Office "nonchalantly dismissed" its responsibility to "recruit for racial, ethnic or gender diversity."
"We take that very, very seriously," Knezovich said. "We try very hard to reach out to all communities."
He said the report significantly understates the difficulty of recruiting minorities in Spokane County, offering ethnicity figures that don't match U.S. Census data.
Knezovich said he also was irritated that the report appropriated some of his ideas. For example, Knezovich said the report's call for more middle management overlooks the fact that he said the same thing in a July 2008 letter to City Manager Dave Mercier.
The letter suggested a "precinct commander position to handle daily operational/ administrative issues and assist the chief." Knezovich said the need was so great that he supplied a lieutenant free until last month, when city officials agreed to start paying 42 percent of the cost.
Knezovich said he has no quarrel with the report's suggestion that the contract should require him to give the city more than one candidate for police chief and to give the city manager authority to dismiss the chief. That reflects current practice, he said.
But the sheriff insisted he must retain the right to fire a chief who undermines the relationship between the city and the Sheriff's Office – for example, by encouraging the city to form its own police department. He thinks the report, which would give the city manager sole authority to fire a chief, doesn't adequately recognize that the Spokane Valley Police Department is part of the Sheriff's Office.
Knezovich also thinks the consulting team's report doesn't reflect the practices of its own members.
He said two members come from Vero Beach and Palm Bay in Florida, where there are 3.44 and 1.65 police officers per 1,000 residents, respectively. Their recommendations would drive Spokane Valley's ratio below one per thousand.
"Why aren't you living it?" Knezovich asked rhetorically. "Why don't you implement it at home?"
Matarese responded that officers per thousand doesn't account for variables such as crime rates or the amount of territory to be covered.
"Sophisticated departments determine staffing levels based upon workload, and we did a very sophisticated analysis of the workload that occurs in Spokane Valley," he said. "Officers per thousand is not a viable way to determine appropriate staffing levels."
Local journalism is essential.
Give directly to The Spokesman-Review's Northwest Passages community forums series -- which helps to offset the costs of several reporter and editor positions at the newspaper -- by using the easy options below. Gifts processed in this system are not tax deductible, but are predominately used to help meet the local financial requirements needed to receive national matching-grant funds.
Subscribe now to get breaking news alerts in your email inbox
Get breaking news delivered to your inbox as it happens.
---