News > Spokane
Early freeze puts winemakers in rush to crush
Fri., Oct. 16, 2009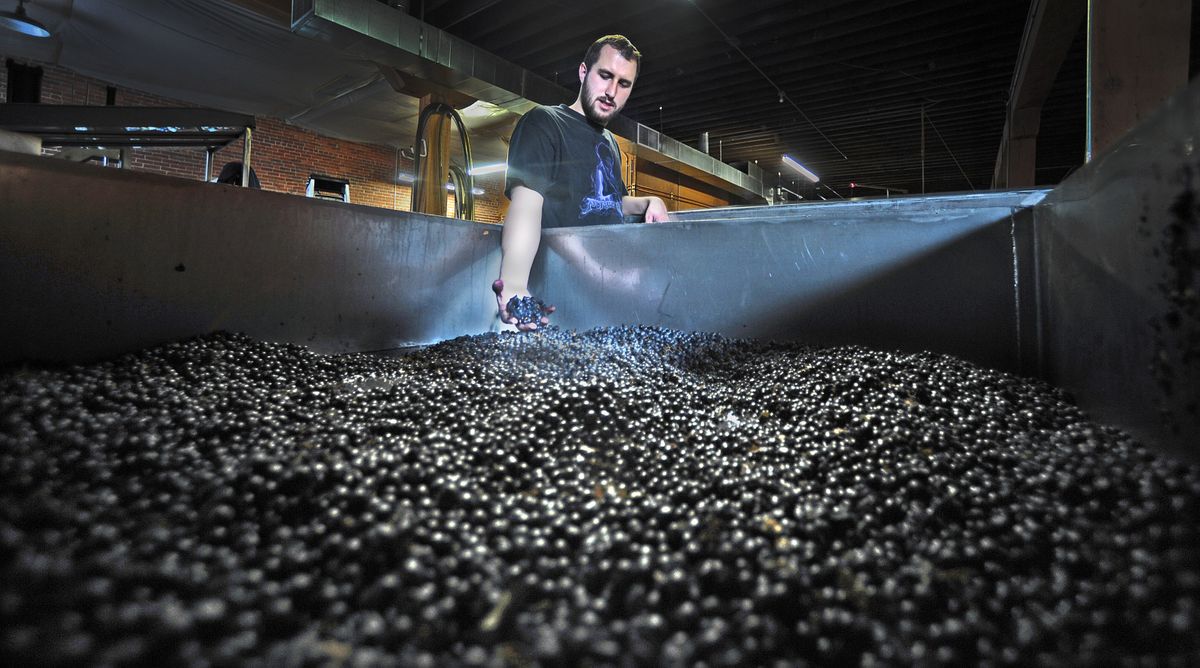 After a week of 16- to 20-hour days, Tyler Walters at Barrister Winery in downtown Spokane can put his hands on the grapes of the 2009 harvest Friday, Oct. 16, 2009. An early hard frost put Inland Northwest wineries into a frenzy of getting grapes out of the fields and into fermentation, putting the large stainless steel vats that hold the grapes in short supply. (Christopher Anderson / The Spokesman-Review)
Greg Lipsker, co-founder of Barrister Winery in Spokane, found himself in a cold vineyard near Pasco just after midnight Tuesday waiting to rescue wine grapes from last weekend's freeze. He was part of a frenzy that overtook the wine-growing region of Washington this week as growers and wine makers hustled to harvest and crush their fruit after lows hit 20 degrees in the vineyards. While grapes can survive down to those temperatures, the vines and leaves were killed, forcing a quick harvest. Winemakers said that fermentation has to be started within two or three days following a freeze to maintain optimal flavor in the wine. Lipsker said he got an hour's sleep Tuesday before returning to his winery for what became a rush crush over three days. "We brought in 35 tons in three days. It was kind of mind-numbing," he said Friday after the crop was safely inside his winery. He had sent out word to a group of dedicated volunteers who stood with him in the rain and helped de-stem and crush the harvest outside the winery at 1213 W. Railroad Ave. in downtown. "Our volunteers saved our lives," said winery assistant Tyler Walters. Walters said the frantic harvest had turned Walla Walla into a "mad house" earlier this week. At one point, Lipsker said he ran out of fermentation tanks, and had to turn to smaller plastic shipping totes for fermentation. The floor of his expansive winery, in an older warehouse building along the railroad viaduct, was lined with tanks and bins on Friday. Normally, Lipsker and his partner, Michael White, spend four weeks bringing in the harvest during October into early November. Despite the rush this fall, Lipsker and other wine makers said the 2009 vintage should be good. A hot summer that lingered into September brought up sugar levels early, and much of the crop was left hanging intentionally to give the fruit added character from what is called "hang time." Not every winemaker in Spokane had trouble with the freeze. Rebecca Gunselman of Robert Karl Cellars in Spokane said her winery's crop along the Columbia River Gorge at the southeastern edge of the Horse Heaven Hills was not affected by the freeze because of strong winds that blew as a result of the arctic front. However, they had grapes picked during a break in rain storms this week to avoid bringing in wet grapes. She and her husband, winemaker Joe Gunselman, finished crushing more than 41 tons on Friday. At Arbor Crest Winery, winemaker Kristina van Loben Sels said most of her grapes were harvested before the freeze because they had ripened a week or so early as a result of the warm and lingering summer. She said she expects high quality wine from this year's harvest. "I just feel so fortunate," she said.
Local journalism is essential.
Give directly to The Spokesman-Review's Northwest Passages community forums series -- which helps to offset the costs of several reporter and editor positions at the newspaper -- by using the easy options below. Gifts processed in this system are not tax deductible, but are predominately used to help meet the local financial requirements needed to receive national matching-grant funds.
Subscribe now to get breaking news alerts in your email inbox
Get breaking news delivered to your inbox as it happens.
---