News > Spokane
Candidates differ over police
Incumbent backs mayor on contract concessions
Sat., Oct. 17, 2009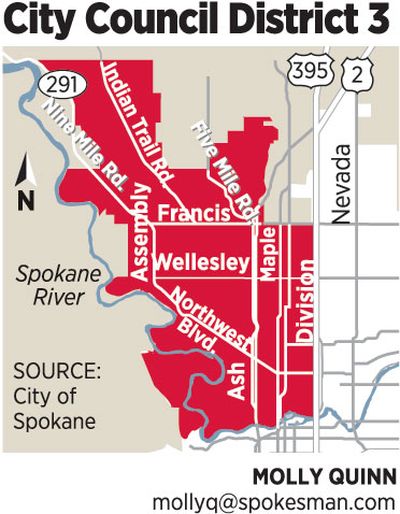 Like most people running for elected office, both candidates seeking a City Council seat representing northwest Spokane say public safety is No. 1.
But incumbent Nancy McLaughlin said that priority can't be trumped by economic reality. She said if the Spokane Police Guild rejects contract concessions, she likely will support Mayor Mary Verner's plan to eliminate 22 police officer positions because of a budget shortfall in 2010. Shifting resources from other departments with employees who made contract concessions would send the wrong message to other workers, McLaughlin said.
"They need to remember who they work for, and that's the citizens of Spokane," McLaughlin said.
But her challenger, Karen Kearney, said the guild should be given credit for overtime savings agreed to by the guild – a change administration officials say saved about $500,000 but solved 2009, not 2010, budget woes.
Shortages not covered by the overtime changes should be made by "cutting the fat" throughout the city, and no commissioned officer jobs should be lost, she said.
"Without public safety, what's the use of having parks, good recreation centers, pools, etc.? They won't be safe for our citizens," Kearney said.
McLaughlin trounced her opponents in the six-way August primary, garnering 56 percent of the vote. She has a campaign fund three times as large as Kearney's.
Kearney, who came in second in the primary with 16 percent of the vote, said she shouldn't be written off.
"I've just had to work twice as hard to get my name out there," she said.
McLaughlin is the lone council member who has consistently described herself as conservative fiscally and socially. She has opposed domestic partner benefits for city employees and voted against Mayor Mary Verner's environmental sustainability plan. Kearney said she generally opposes domestic partner benefits for city employees, but would have voted in favor of the sustainability plan.
As a council member, McLaughlin voted for tax subsidies to the Kendall Yards development, creation of a red-light camera enforcement program, a new sign code that allows electric signs to change images once a second, regulations to allow ads on bus benches, new land rules in southeast Spokane to allow for big-box development and the regionalization of animal control services.
McLaughlin led a successful effort to change age limits on city boards and commissions to allow teens to become voting members.
Last year, she voted against the contract for the city's largest employee union, arguing that the city couldn't afford the pay increase.
"I believe that (city workers) need to be paid well for the job that they do." But, she said, "It was time to step up to the plate and represent the taxpayers."
She points to layoffs and pay cuts prevalent in the private sector since the recession hit. "That's what's happening out in the real world," she said.
Kearney said she would have voted in favor of the contract because it was negotiated in good faith. "When all is said and done, I think that both sides come out with the best that they can do," she said.
She said McLaughlin's vote is hypocritical given her sponsorship of legislation creating the Salary Review Commission, which raised City Council pay from $18,000 to $30,000 a year. "I personally don't think that you can give yourself a raise … and vote against somebody else getting a raise," Kearney said.
But McLaughlin said that City Council pay hadn't increased for almost two decades and that even with the increase, council members still "are in the bottom 5 percent of all the employees of City Hall."
"This is trying to level the playing field to open up the doors of opportunity for people in Spokane who would like to serve and who haven't been able to," McLaughlin said.
Kearney served in 2006 as Spokane County Sheriff Ozzie Knezovich's campaign manager.
But her relationship with Knezovich soured last year after she wrote a letter to the editor of The Spokesman-Review criticizing Knezovich for endorsing Todd Mielke and Mark Richard in their re-election bids for Spokane County Commission and for what she described as "the lack of staffing" at the jail.
Knezovich, who called Kearney "a good campaign manager," said she didn't express her concerns to him before publicly criticizing him.
"That was a blindside," said Knezovich, who said he would vote for McLaughlin if he lived in the district.
Kearney said she stands behind the letter. "A law enforcement officer has to be a law enforcement officer and not be involved in politics," she said.
McLaughlin has been among the least likely of seven council members to publicly criticize her colleagues or council meeting attendees.
But she hasn't always veered from commotions.
In March 1989 she spent several hours in the Spokane County Jail after she was arrested with about 100 others on trespassing-related charges for blocking the Sixth Avenue Medical Building office of an obstetrician who had performed abortions.
In the late 1980s, Spokane was central in the national debate on abortion. Issues related to protests at the building eventually landed in the U.S. Supreme Court.
McLaughlin said she doesn't regret participating in the protest. "I was in my activist days back then," she said. "It had a place. Doing that was to bring light to the abortion issues."
She noted that she now serves on the board of a group that provides housing to unwed mothers struggling financially.
"It's walking your talk," McLaughlin said about her current volunteer efforts related to the abortion issue.
Local journalism is essential.
Give directly to The Spokesman-Review's Northwest Passages community forums series -- which helps to offset the costs of several reporter and editor positions at the newspaper -- by using the easy options below. Gifts processed in this system are not tax deductible, but are predominately used to help meet the local financial requirements needed to receive national matching-grant funds.
Subscribe to the Coronavirus newsletter
Get the day's latest Coronavirus news delivered to your inbox by subscribing to our newsletter.
---
Subscribe and log in to the Spokesman-Review to read and comment on this story