Sacred Heart's CEO blasts Rockwood
Its leaders displayed 'lack of integrity' in aligning with rival, Agwunobi charges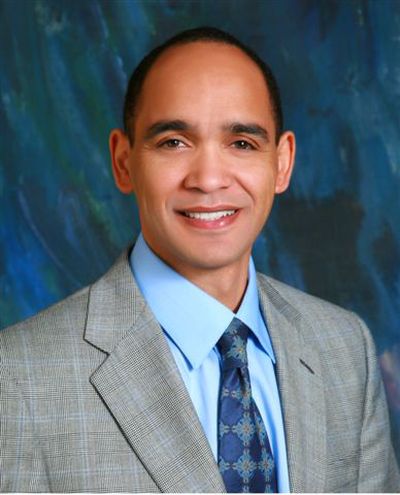 Providence Sacred Heart Medical Center's chief executive charged Rockwood Clinic's leaders with bad-faith dealings and ethical lapses the day after Rockwood stunned Spokane's medical community by announcing it would align with Sacred Heart's main rival.
"It is clear to us that the interim leadership of Rockwood is leading the Rockwood physicians down a very dangerous path fueled purely by profit motive," said Sacred Heart CEO Dr. Andrew Agwunobi.
Rockwood will be purchased by Community Health Systems Inc., which bought Sacred Heart rival Deaconess Medical Center last year. Agwunobi accused Rockwood interim president Dr. Craig Whiting and others of gaming Sacred Heart months ago when they initiated talks to "strengthen partnerships" – going to the point of having Sacred Heart officials sign confidentiality agreements to keep a lid on the discussions while Rockwood said it needed to finish leadership changes and complete an internal analysis.
"It now appears that this was simply a negotiating ploy to increase their leverage with Deaconess and Community Health," Agwunobi said. Agwunobi learned of the Rockwood-CHS transaction Tuesday from a news release.
"This speaks to a lack of integrity and simple decency on the part of Rockwood's interim leadership and board," he said.
Whiting declined to comment on the earlier talks with Sacred Heart.
"I have no intention of discussing who our discussions were with, or the specifics of those discussions," he said. "I will say this: We had extensive discussions and did extensive research and the result of that was that we felt CHS had tremendous potential for our future and our patients' future."
Rockwood will be folded into Community Health's sprawling network of 122 hospitals in 29 states, potentially altering the flow of patients to Spokane's big hospitals.
The clinic has 133 doctors and a total staff of about 940. It treats 160,000 patients a year and enjoys renowned patient loyalty.
As the clinic has grown, it has worked closely with Sacred Heart. The relationship benefited hospital and private doctors alike as quality medical care was delivered and the money followed.
Many Rockwood physicians have offices on Sacred Heart's campus.
Sacred Heart has grown over the past decade and now dominates many hospital specialties in this region, including pediatric care.
At the same time, Deaconess had foundered – losing millions of dollars, shedding employees and services and approaching insolvency until Community Health, a Tennessee-based hospital corporation traded on the New York Stock Exchange, bought it along with Valley Hospital and Medical Center for $156 million.
Rockwood's leadership team now envisions tapping into the corporation's financial might by operating as part of an integrated health care system with Deaconess and Valley.
The terms of the deal have not been announced. And although Rockwood's 10-member board of directors entered into a letter of intent with Community Health, the other 67 physician partners of the clinic still must vote to approve the buyout.
The deal buoyed employees and backers of Deaconess Medical Center, said spokeswoman Christine Varela. She noted Rockwood's reputation for excellent medical care that stretches back 79 years.
Whiting said Tuesday patient care would not be affected.
Agwunobi said Wednesday he disagreed. He alleged Whiting was misleading the public and Rockwood's physicians and employees.
"I can say with complete conviction that everything will change with Rockwood if this transaction occurs," he said.
Sacred Heart, he said, would move aggressively.
"Providence will not sit back and allow Deaconess and Rockwood's profit motive to disrupt patient care and physician practice at our facilities," he said. "We will definitely do everything possible to protect affordable patient care, including complete hiring of replacements for Rockwood's physicians and services."
Agwunobi also zeroed in on Dr. Kevin Sweeny, Rockwood's president and chief executive officer.
Sweeny had served on the Providence Board of Trustees until last week and didn't tell his fellow board members of the decision that would affect operations at Sacred Heart.
"He did not have the courtesy or even the decency, as a board member, to let us know that this negotiation was occurring or to give us the chance to participate," Agwunobi said.
Whiting said Sweeny was unavailable for comment. Sweeny recently returned to Rockwood after taking a personal leave.
Said Agwunobi, "If this goes through I think Rockwood will look back on this decision with huge regret."
---