Swine flu spreads; patients stretch resources at hospitals
Health officials dole out limited vaccine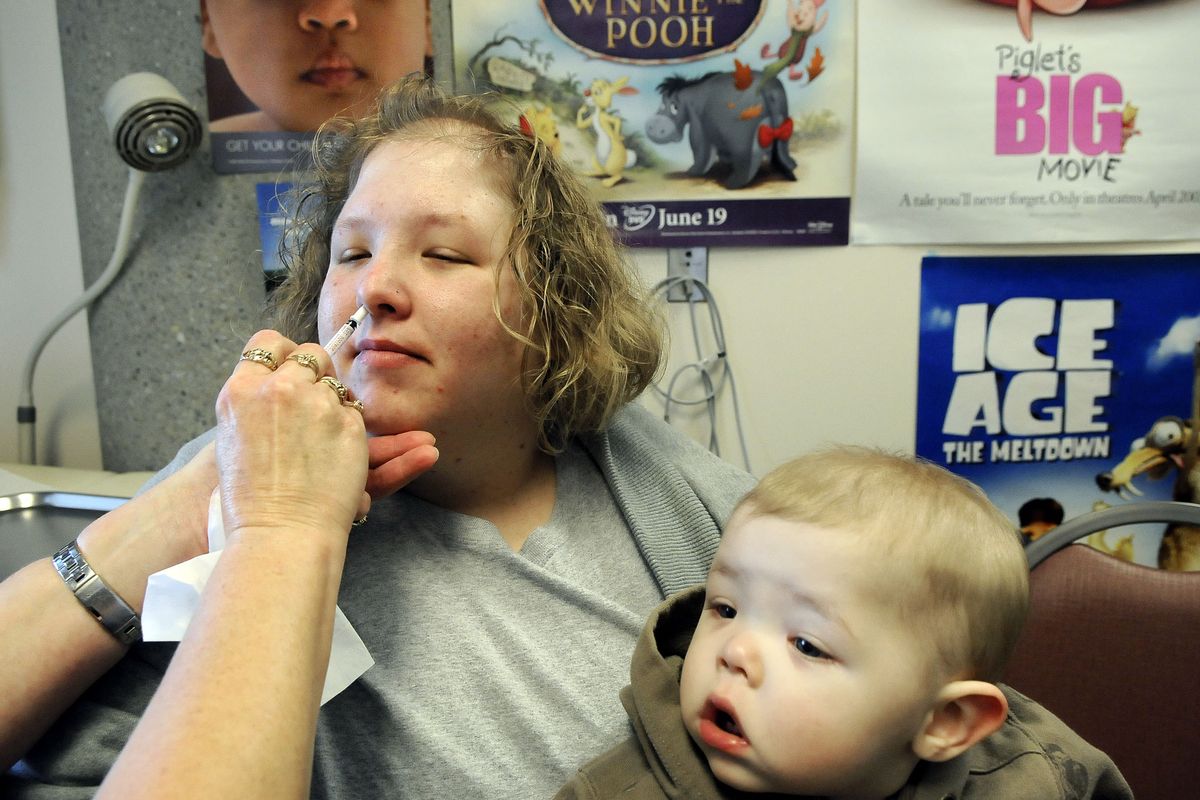 Spokane is in the grip of a swine flu outbreak that has sickened thousands of people, swamped hospital emergency rooms and filled hospital beds with children and young adults.
On Wednesday, more than 200 people with flu symptoms sought help at local emergency rooms. Many were sent home with instructions for bed rest and fever treatment. Many others with respiratory issues were hospitalized; at Deaconess Medical Center alone, more than a half-dozen pregnant women were in the hospital because of swine flu. The flu epidemic has put the county's infectious disease planning to the test and stretched hospitals to capacity, said Shelley Peterson, chief of nursing at Deaconess.
Roy Almeida, director of epidemiology at Providence Sacred Heart Medical Center, said many of the 550 patients at the hospital are young adults with the flu. Demand is high for critical-care beds including ventilators to help patients suffering flu-caused respiratory distress.
The months of prevention efforts centering on hand-washing and hygiene was supposed to help bridge the gap until vaccines for H1N1 influenza, or swine flu, arrived. But as school resumed and vaccine production lagged, people have been getting sick en masse.
Spokane County expected to have about 58,000 doses of swine flu vaccine by now. Just 12,700 doses have been delivered, said Dr. Joel McCullough, county health officer.
More doses are expected to keep arriving, but not soon enough for many.
Holly Zenick was one of the lucky ones who received a vaccination Wednesday, but her 1-year-old son wasn't.
The 25-year-old was vaccinated during an appointment at the health district. But the nurses at the public clinic couldn't offer the vaccine to Brayden; he needs it in shot form, and the district didn't have any available.
Pregnant women, children under 2 years old, and people with underlying health conditions require the injectable form of the vaccine because the nasal spray contains the live, weakened virus.
"I'm here to get vaccinated to protect my baby as best I can from catching the flu from me," Zenick said.
The federal government first promised that 120 million doses of vaccine would be delivered across the nation by now. But the Centers for Disease Control and Prevention said only 13 million had been shipped as of Wednesday.
The problem is especially acute in communities like Spokane. The county has the highest number of flu cases in the state, said Julie Graham, spokeswoman for the Spokane Regional Health District.
Four people from Spokane County have died. On Monday a baby boy from Lincoln County died at Sacred Heart after being flown here from the Tri-Cities in an eleventh hour effort to save his life. The death of the 5-month-old, who had underlying health problems, was the first flu death of a child this year in Washington state. It prompted Gov. Chris Gregoire to express condolences and concern about one of the most troubling aspects of swine flu: It is especially dangerous to children.
In an effort to inoculate as many people as possible, local health officials scheduled the county's first mass vaccination clinic Saturday at the Spokane Arena. The Panhandle Health District in North Idaho also will offer vaccinations to high-risk groups this weekend.
Health officials at the Arena will screen people waiting in Saturday's vaccination line to ensure they fall within the groups of people considered most at risk. But proof of age or medical records detailing underlying health conditions will not be needed.
The vaccines are free and the first approximately 4,000 eligible people will be inoculated, said McCullough, the health officer.
The health district is asking people who attend the clinics to be honest to ensure those at most risk get vaccinated first. "I worry that when people get nervous (about potential illness) they may have a breach of their conscience," said Graham, of the health district. "Let's hope people do the right thing."
The Spokane health district also is fulfilling requests from local schools to vaccinate students.
On Tuesday night, the health district vaccinated 300 children at Farwell Elementary School in north Spokane. Students at the Guilds' School will be vaccinated during two sessions next week along with students at Shiloh Hills Elementary. Next month the district has plans to vaccinate children at several other schools and day cares that requested help.
Graham said there was no formal process in selecting schools and private centers for vaccinations. Those that called were put on the calendar, she said, adding that the district alerted schools that they would be willing to hold student vaccination clinics, but stopped short of soliciting participation.
North Idaho's health district began vaccinating schoolchildren Monday and plans to continue that effort until early December.
Hospitals received the vaccines this week. Peterson said 1,000 doses have been sent to Deaconess, which began vaccinating employees. Sacred Heart received about 1,800 doses. Both hospitals are holding back some to vaccinate high-risk patients.
---