Sports
Eagles blow past Redskins
Jackson scores two long TDs in lopsided win over Washington
Tue., Oct. 27, 2009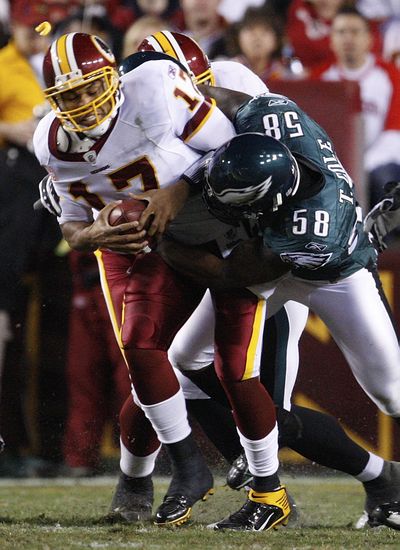 LANDOVER, Md. – DeSean Jackson scored on a 67-yard run and a 57-yard reception, both in the first half. His night might have been perfect if his tender right ankle hadn't messed up his touchdown tap dance.
"I was out there having fun, man, honestly," Jackson said. "My ankle was kind of hurting. I really didn't feel it, but it did kind of affect my dance a little bit. I could put it to perfection a little bit better than that."
The Philadelphia Eagles had reason to do the soft shoe Monday night as they rebounded from an embarrassing loss and dispatched the Washington Redskins 27-17. Three turnovers were converted into points as the visitors raced to a 20-point lead in a game that was as lopsided as expected.
Donovan McNabb completed 15 of 25 passes for 156 yards, getting his 200th touchdown pass and surpassing 30,000 yards passing for his career. The defense sacked Jason Campbell six times, and newcomer Will Witherspoon ran back an interception for a touchdown and created another turnover – even though he's been with the team less than a week.
Nearly all the scoring came in the first half of an injury-filled game as the Eagles (4-2) regained their stride after last week's jarring loss to the Oakland Raiders. The scariest moment for Philadelphia came when Brian Westbrook left in the first quarter with a concussion. Coach Andy Reid said he expects Westbrook to recover fully but wasn't certain whether his star running back will play next week.
Jackson scored on the fourth play from scrimmage, scampering on a reverse down the left sideline untouched almost all the way thanks in part to downfield blocking from Jeremy Maclin. It was the longest Philadelphia run of the season by far – the team's previous best was 25 yards.
Jackson got his second score when he put a double move on Carlos Rogers and got wide open down the left side, turning a third-and-22 at the Philadelphia 43 into six points in the final two minutes of the first half.
Jackson also had a 29-yard punt return and played the second half with a right foot injury that required X-rays at halftime.
"He's wicked fast," Redskins coach Jim Zorn said.
Westbrook was hurt when his helmet collided with linebacker London Fletcher's right knee at the end of a 5-yard run. The running back remained on the ground for several minutes before he was helped up and led off the field directly to the locker room.
The Redskins (2-5) got no discernible boost from Sherm Lewis' debut as a play caller. The offensive consultant has been with the Redskins for only three weeks after being lured out of a retirement consisting of bingo-calling and serving Meals on Wheels – and his first try at calling the plays proved as unsuccessful as when Zorn was handling the task.
"Well, the result was the same. We got 17 points," Zorn said.
"It was difficult for me. It was difficult to stand and watch. The hard part is to keep your mouth shut."
Local journalism is essential.
Give directly to The Spokesman-Review's Northwest Passages community forums series -- which helps to offset the costs of several reporter and editor positions at the newspaper -- by using the easy options below. Gifts processed in this system are not tax deductible, but are predominately used to help meet the local financial requirements needed to receive national matching-grant funds.
Subscribe to the sports newsletter
Get the day's top sports headlines and breaking news delivered to your inbox by subscribing here.
---
Subscribe and log in to the Spokesman-Review to read and comment on this story