News > Spokane
Former city manager dies at 94
Syl Fulwiler known for speaking his mind
Wed., Oct. 28, 2009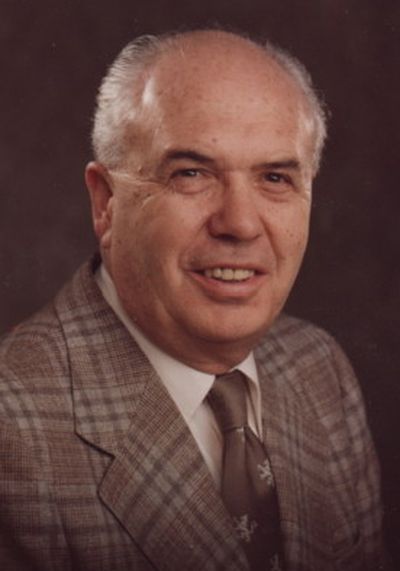 Frank Sylvin Fulwiler, who served as Spokane's city manager from the planning of the World's Fair through its aftermath, died Monday, eight days short of his 95th birthday.
Fulwiler, Spokane's second and longest-serving city manager, was described by former Mayor Dave Rodgers as a mild-mannered executive who spoke up to his bosses – the Spokane City Council – when he thought they were headed in the wrong direction.
"It was one of the best hiring decisions we ever made," said Rodgers, whose time on the council and as mayor coincided with Fulwiler's time as manager. Fulwiler, known as Syl, was respected by employees and trusted by the council, Rodgers said.
Bill Pupo, hired by Fulwiler as an intern in 1977 before rising to be city manager himself, said his former boss was low-key but politically savvy, and has his "fingerprints" all over Spokane.
"He helped set the blueprint for the redevelopment of Spokane" from Expo '74 and Riverfront Park to downtown projects, Pupo said.
City voters had switched the municipal government system to a council-city manager form of government in 1960, and the first manager, Henry Nabers, only lasted about two years before clashes with the council prompted him to leave. City officials recruited Fulwiler, a former Spokane resident and University of Washington graduate, from Chula Vista, Calif., where he had served as parks and recreation director and then city manager from 1957 to 1963.
As the day-to-day head of the city, Fulwiler hired the heads of most departments, including police, fire, parks and streets, Rodgers said.
"He knew how to get the right people in there," Rodgers said.
In the mid-1970s, the council that had hired Fulwiler was changing and trying to take a more active role in the workings of city government. He resigned to take a job with the state Department of General Administration in Olympia. He declined comment on speculation about any rift between him and the council, saying that voters had elected the council.
"I feel I've lived through an era with the city. But I'd just as soon not start a new era," he said in an interview.
Fulwiler was lionized at his last council meeting, with Councilwoman Margaret Leonard giving him a surprise kiss goodbye.
Fulwiler returned to Spokane after retiring in Olympia.
Services are scheduled for 2 p.m. Nov. 5 at Riplinger Funeral Home.
Local journalism is essential.
Give directly to The Spokesman-Review's Northwest Passages community forums series -- which helps to offset the costs of several reporter and editor positions at the newspaper -- by using the easy options below. Gifts processed in this system are not tax deductible, but are predominately used to help meet the local financial requirements needed to receive national matching-grant funds.
Subscribe to the Coronavirus newsletter
Get the day's latest Coronavirus news delivered to your inbox by subscribing to our newsletter.
---