News > Features
Erin's nude video nightmare
Thu., Sept. 3, 2009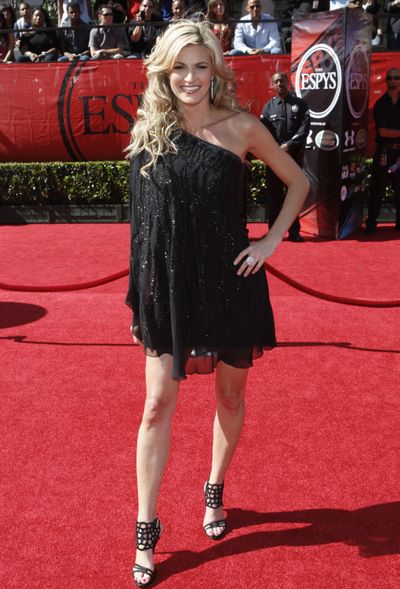 ESPN reporter Erin Andrews tells talk-show host Oprah Winfrey that having secretly videotaped nude footage of her distributed on the Internet was a "nightmare."
Winfrey's interview with Andrews will air Sept. 11, as part of a "Summer Headlines" show that previews the 24th season of "The Oprah Winfrey Show." Andrews also tells Winfrey she "opened up the computer (and) could feel my heart pounding."
Andrews' attorney has said the blurry five-minute video was shot at a hotel without her knowledge, and she plans to seek criminal charges and file lawsuits against whoever shot the video and anyone who publishes it.
Question time for Tony
Tony Blair is set for his first appearance on David Letterman's "Late Show."
CBS says the former British prime minister will visit the late-night host on Tuesday for his first appearance on the show.
He's likely to talk about his current projects, including pushing for peace with Palestinians and seeking a climate change agreement.
What about Pam?
"The Office" star John Krasinski and "The Devil Wears Prada" star Emily Blunt are engaged.
His publicist, Liz Mahoney, confirmed Friday that the two are set to wed. She did not elaborate.
Krasinski, 29, plays Jim Halpert on NBC's "The Office." His film credits include "Away We Go," "Leatherheads" and "License to Wed." Blunt, 26, has appeared in "Charlie Wilson's War," "Sunshine Cleaning" and "The Great Buck Howard."
The birthday bunch
"Beetle Bailey" creator Mort Walker is 86. Actress Anne Jackson is 83. Actress Eileen Brennan is 77. Country singer Tompall Glaser is 76. Al Jardine (Beach Boys) is 67. Actress Valerie Perrine is 66. Guitarist Steve Jones of the Sex Pistols is 54. Steve Sch irripa ("The Sopranos") is 52. Charlie Sheen is 44. . Nick Wechsler ("Roswell") is 31.
Local journalism is essential.
Give directly to The Spokesman-Review's Northwest Passages community forums series -- which helps to offset the costs of several reporter and editor positions at the newspaper -- by using the easy options below. Gifts processed in this system are not tax deductible, but are predominately used to help meet the local financial requirements needed to receive national matching-grant funds.
Subscribe now to get breaking news alerts in your email inbox
Get breaking news delivered to your inbox as it happens.
---