Sports
Baseball notebook: Jones' season likely over
Thu., Sept. 3, 2009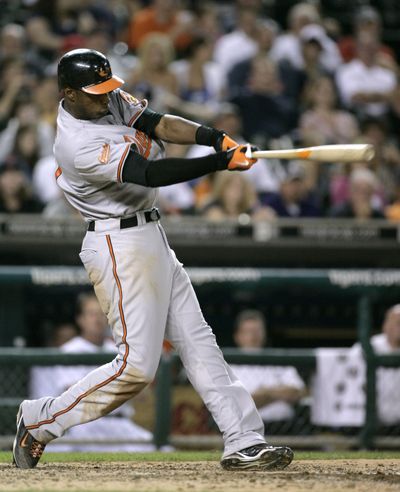 Adam Jones' breakthrough season with Baltimore could be over.
A fluke injury has left the All-Star center fielder on crutches with a severe left ankle sprain. The initial prognosis is that Jones will miss at least two to three weeks, although both he and Orioles manager Dave Trembley acknowledged there's a good chance he will not return in 2009.
"I just wanted to have a strong finish and this, I wouldn't say eliminates that, but it hurts my chances for me coming back for the rest of the year," Jones said.
"I couldn't tell you when or if he'll come back," Trembley said.
Jones was hurt in the sixth inning of Tuesday night's game against the Yankees. He ran past first on an infield grounder, then scrambled back and twisted his leg on the base.
Jones, drafted by Seattle in 2003, is batting .277 with 19 home runs and 70 RBIs.
Boone back in lineup
Aaron Boone ran to his position at first base and that's when it really hit him. He was back, playing in a major league game for the first time since undergoing open heart surgery in late March.
"I was fine last night and all day today. And then running out there I was a little nervous, but I got into the flow of the game pretty quick," Boone said Wednesday after his Houston Astros lost to the Cubs 2-0.
"At first, you know, you handle the ball a lot. It kinda gets you into it. Once we got going, it felt pretty good," he added.
Series ring found
Something about the janitor's story didn't ring true when he led police to a diamond-laden World Series keepsake that had gone missing.
The $15,000 ring commemorating the Philadelphia Phillies' 2008 world championship disappeared after a team marketing executive removed it in a Citizens Bank Park restroom on Monday, when the team was off. He returned to retrieve it 30 minutes later, but it was gone.
Police Capt. Laurence Nodiff said surveillance tapes led them to a janitor, who took officers to the ring. It was found wrapped in a paper towel and stashed in the janitor's supply closet.
Police say charges are expected against the janitor.
Trade completed
The Washington Nationals acquired left-handed pitcher Victor Garate from the Los Angeles Dodgers to complete Sunday's trade for infielder Ronnie Belliard.
Local journalism is essential.
Give directly to The Spokesman-Review's Northwest Passages community forums series -- which helps to offset the costs of several reporter and editor positions at the newspaper -- by using the easy options below. Gifts processed in this system are not tax deductible, but are predominately used to help meet the local financial requirements needed to receive national matching-grant funds.
Subscribe to the sports newsletter
Get the day's top sports headlines and breaking news delivered to your inbox by subscribing here.
---
Subscribe and log in to the Spokesman-Review to read and comment on this story