News > Business
Korea's Hyundai, Kia closing in on Big Three
Clunker program, quality give boost
Sat., Sept. 5, 2009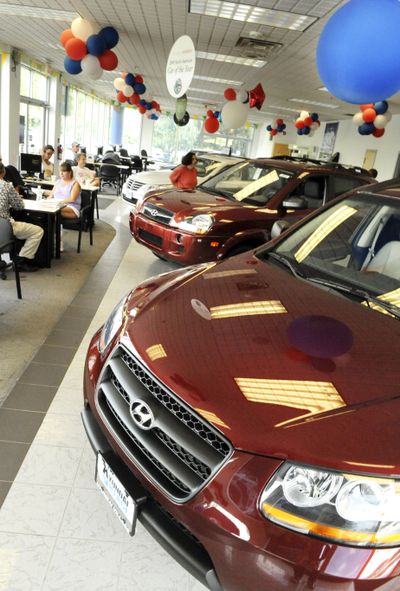 DETROIT – Buoyed by improved quality, sharp marketing, impressive styling and strong sales, Hyundai Motor Co., along with its affiliate Kia Motors Corp., is now positioned to go head-to-head with the world's largest automakers.
Fueled in part by the cash for clunkers program, sales for Hyundai and Kia skyrocketed 47 percent and 60 percent, respectively, in August, compared with the comparable period a year ago. It was a standout performance.
"This is potentially a game-changing year for the brand," said Jeff Schuster, executive director of global forecasting at J.D. Power and Associates.
The Korean group's performance has been so strong that it is nipping at Chrysler's heels, threatening its U.S. market share.
Hyundai and Kia together grabbed an 8 percent share of the U.S. market in August, beating Chrysler's 7 percent market share.
Jeremy Anwyl, CEO of Edmunds.com, called 2009 a pivotal year for Hyundai.
"The economy gave them a shot, and they certainly took advantage of it with creative marketing," he said. "If the vehicles deliver, then some of these market-share shifts will not be just temporary, but they could be more permanent."
Combined, the Korean group sold 100,665 vehicles last month.
The Hyundai Elantra ranked No. 5 in the list of top sellers under the clunkers program.
"They've been revving at 900 rpms," Erich Merkle, industry analyst with Autoconomy.Com, said of Hyundai.
But Hyundai's success story began long before August.
The Korean automaker has been laying the foundation for bigger success since the late 1980s when it arrived in the United States with a small car that was plagued with quality problems.
About a decade ago, the company launched a 10-year, 100,000-mile warranty program and set out to build a reputation for quality.
In recent years, Hyundai has scored high with Consumer Reports and J.D. Power and Associates for quality. The new Hyundai Genesis midsize sedan won 20 major industry awards.
"We've been working so hard on quality, recognizing that we really need to overachieve because of how the brand started in the U.S.," said John Krafcik, president and CEO of Hyundai Motor America.
That message is resonating now as car shoppers look for low-cost cars. The bad economy is encouraging some new customers to take a chance on Hyundai, experts said.
The average transaction price of a Hyundai vehicle purchased this year is $21,326, with a comparable $20,455 spent on a Kia, according to Edmunds.com. The industry average is $28,174.
"They're more likely to give Hyundai a shot than they would under normal circumstances," said Jeremy Anwyl, CEO of Edmunds.com. "If Hyundai delivers, they've now gone into the next level. … The risk of quality is no longer an issue."
Beyond improved quality, Merkle said Hyundai's product cadence and greater emphasis on emotionally appealing design is helping its efforts.
"If you can get the quality there and have vehicles that have a strong, emotional appeal from a styling perspective, you can win at this game," Merkle said.
A study by Banc of America Securities-Merrill Lynch this summer projected Hyundai and Kia will see even more market share growth in the next four years, largely because the group is slated to have a much larger product replacement schedule than the industry average.
Hyundai and Kia's average replacement rate over the next four years is predicted to be 27 percent, "well ahead of the industry average of 18 percent," according to the report by analyst John Murphy.
"We expect Hyundai and Kia to gain significant market share, about 3.5 percent over the next four years," the report said.
Half of Hyundai's vehicles are assembled at its assembly plant in Alabama, Krafcik said. Kia is to begin production at a new assembly plant in Georgia later this year.
Hyundai plans to launch seven new products over the next 24 months, Krafcik said.
Local journalism is essential.
Give directly to The Spokesman-Review's Northwest Passages community forums series -- which helps to offset the costs of several reporter and editor positions at the newspaper -- by using the easy options below. Gifts processed in this system are not tax deductible, but are predominately used to help meet the local financial requirements needed to receive national matching-grant funds.
Subscribe to the Coronavirus newsletter
Get the day's latest Coronavirus news delivered to your inbox by subscribing to our newsletter.
---
Subscribe and log in to the Spokesman-Review to read and comment on this story