News > Washington Voices
New barberry varieties add colorful, easy accent options
Sat., Sept. 5, 2009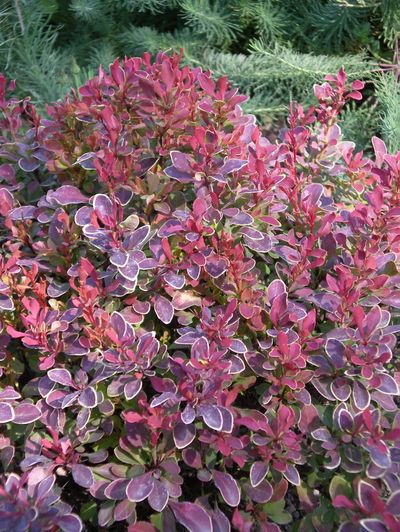 Sometimes the best new garden shrubs are really old garden standbys that plant breeders have worked their magic on to create new cultivars.
Such is the case with the Japanese barberries (Berberis thunbergii). Barberries have been used as hedging and background plants for years. The plant's prickly spines slow garden interlopers, while its arching branch structure and medium-textured green or red leaves add interest to the back of a border. In the fall, they take center stage with their fiery orange-to-burgundy fall color.
Over the years though, breeders have developed new cultivars of barberries that have brought this old standby to the front and middle of the garden, where it makes a great accent plant.
For the front of the border or bed, low-growing varieties Crimson Pygmy, Bagatelle, Rose Glow and Golden Ruby are perfect. They all stay under 2 feet by 2 feet and are fairly slow-growing. Crimson Pygmy has medium red leaves while Bagatelle has deeper red leaves and a narrower growth habit. Rose Glow has red leaves streaked with pink.
Crimson Ruby is a brand new cultivar that will be available in nurseries that sell Monrovia plants next spring. Its leaves are red flecked with green and highlighted with a gold edge. In the spring the plant's new leaves come out a bright red that will light up spring bulbs planted around it. It was awarded the best of show at the recent Farwest Show in Portland, the largest nursery trade show in the West. Even in an indoor setting, it lit up the displays around it.
Helmond Pillar is a great accent plant for beds that need a little height but not width. It grows slowly to 4 feet tall and maybe 2 feet wide, with dark red leaves. The red leaves add depth to the garden and highlight more-colorful plants around them.
The yellow-leaved barberries offer a great contrast to their quieter red- and green-leaved cousins. Sunsation grows 3 to 4 feet tall and wide. New spring growth is a greenish gold that matures over the summer to a bright golden yellow.
Aurea grows slowly to 2 1/2 to 3 feet tall and wide and can take some shade. Its somewhat arching branches add a rounded texture to the garden.
In general, barberries are very easy to grow, deer resistant and very cold hardy. They require sun for best color but don't mind a little afternoon shade. They are reasonably tolerant of most soils except really wet, boggy areas, and they don't require much if any fertilizer. They prefer a moderate amount of water for best growth but will tolerate some dryness. Bugs and diseases are not a problem, and they require little if any pruning unless they are in a hedge setting. Their small red berries add winter interest and are food for birds and small critters.
Pat Munts is a Master Gardener who has gardened the same acre in Spokane Valley for 30 years. She can be reached at
pat@inlandnwgardening.com
.
Local journalism is essential.
Give directly to The Spokesman-Review's Northwest Passages community forums series -- which helps to offset the costs of several reporter and editor positions at the newspaper -- by using the easy options below. Gifts processed in this system are not tax deductible, but are predominately used to help meet the local financial requirements needed to receive national matching-grant funds.
Subscribe to the Coronavirus newsletter
Get the day's latest Coronavirus news delivered to your inbox by subscribing to our newsletter.
---
Subscribe and log in to the Spokesman-Review to read and comment on this story