News > Nation/World
Nation in brief: Endangered rhino, 21, dies at zoo
Mon., Sept. 7, 2009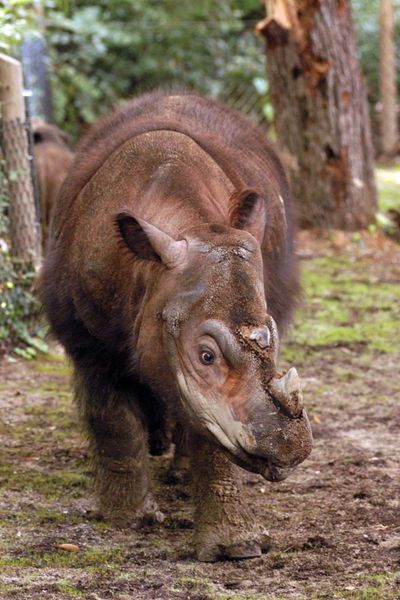 CINCINNATI – An endangered Sumatran rhinoceros has died at the Cincinnati Zoo, a setback to a program that successfully produced the first calves born in captivity in more than a century.
Emi, a 21-year-old Sumatran rhino that had been at the zoo for 14 years, died Saturday after appearing less energetic for several weeks, the Cincinnati Zoo & Botanical Garden announced Sunday.
Emi produced three calves at the zoo, including Andalas, born in 2001, the first Sumatran rhino bred and born in captivity since 1889.
The zoo conducted a necropsy Saturday to try to determine why the rhino died.
Zoo researchers also removed eggs from Emi's body in hope of using them someday to produce a calf through in-vitro fertilization or other means.
Bay Bridge closure may last extra day
SAN FRANCISCO – The 73-year-old bridge that carries commuters between San Francisco and the heavily populated cities to its east could remain closed for a fifth day as crews race to repair a crack in a steel link that holds up part of the span, a state transportation official said Sunday.
Workers received the blueprint and materials they needed to repair the San Francisco-Oakland Bay Bridge, which carries about 260,000 vehicles a day. But fixing the problem by Tuesday, when the bridge had been set to reopen, poses "quite a challenge," said Caltrans spokesman Bart Ney.
"People should be braced for another day of it being closed," Ney said.
The bridge was shut down Thursday night so a section of the eastern span could be replaced as part of a long-planned seismic upgrade. California transportation workers used the closure as an opportunity to inspect the bridge from top to bottom, and they discovered the crack Saturday.
The damaged link – part of a network of eight similar pieces – is about 2 inches thick and was cracked halfway through.
Caltrans construction manager Mike Forner said the fissure probably wasn't a danger to motorists, but the damage is serious enough to justify a delay.
Naked cowboy drops mayoral bid
NEW YORK – The Naked Cowboy of Times Square said he's dropping out of the race for mayor of New York City.
Robert Burck is a tourist attraction known for strumming his guitar in the square while wearing only white briefs, boots and a cowboy hat.
He entered the mayoral race in July with the slogan, "Nobody has done more with less."
But now he said he's had enough of the red tape that goes with a mayoral run.
He said the last straw came when the city's Conflicts of Interest Board fined him $250 for failing to file a required financial disclosure form.
Burck said the only way to be taken seriously is to appear in a suit and tie.
Local journalism is essential.
Give directly to The Spokesman-Review's Northwest Passages community forums series -- which helps to offset the costs of several reporter and editor positions at the newspaper -- by using the easy options below. Gifts processed in this system are not tax deductible, but are predominately used to help meet the local financial requirements needed to receive national matching-grant funds.
Subscribe to the Coronavirus newsletter
Get the day's latest Coronavirus news delivered to your inbox by subscribing to our newsletter.
---