News > Idaho
Keep Tamiflu for the truly sick, feds say
Tue., Sept. 8, 2009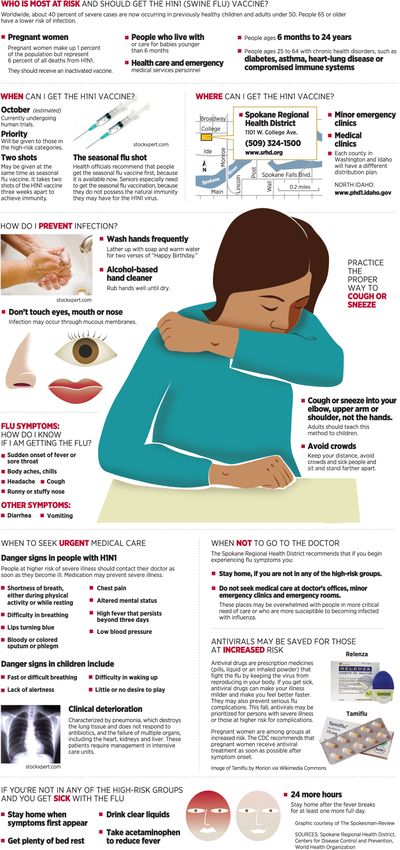 ATLANTA — The medicines Tamiflu and Relenza should only be used to treat people who are sick with swine flu and at high risk for complications, according to new federal guidelines released Tuesday. The new advice tries to close a door that government doctors had left open with earlier guidance in May. Back then, they didn't rule out sometimes using the drugs to stop swine flu's spread and prevent illness even in children who had no symptoms. But now swine flu is much more widespread, including a new surge of cases in the Southeast. And health officials say the medicines should be reserved for people at higher risk of complications — not the worried well. Swine flu was first identified in April and is now responsible for almost all flu cases in the United States. It has caused more than 1 million illnesses so far, though most were mild and not reported, the CDC estimates. Nearly 600 lab-confirmed deaths and more than 9,000 hospitalizations have been reported. Six states have reported widespread flu cases, according to the government's most recent data. Most are in the Southeast, possibly because schools reopen for classes earlier in this region so there is more opportunity for the virus to spread among children. Flu-like illnesses last week led 25 schools in Alabama, Georgia, Missouri and Tennessee to dismiss students, affecting more than 12,000 pupils. Overall, it's unclear whether swine flu is more dangerous than seasonal flu, which plays a role in an estimated 36,000 deaths each year. The virus has not mutated into a deadlier form since it first appeared, but health officials are concerned about the possibility. Many parents are worried, too, leading to reported shortages of antiviral medicines in some parts of the country. The Centers for Disease Control and Prevention recommends fast treatment with Tamiflu or Relenza for anyone who is hospitalized with a flu-like illness. They also advise prompt treatment at the first sign of symptoms for those at high risk for serious complications, including pregnant women, children younger than 5, and people with certain chronic conditions like asthma and heart disease. People older than 65 are also a priority group for the drugs. Though the elderly have been less likely to catch swine flu than kids and younger adults, those who do get infected are more likely to become seriously ill, CDC officials said. Health officials want to avoid overuse of the antiviral medications, because a virus can develop a resistance, making the drug ineffective. The CDC said it's aware of only nine cases of Tamiflu-resistance in swine flu, but most were seen in people who were taking the drug as a preventive measure rather than as a treatment. Not surprising, said Dr. James Steinberg, an infectious diseases specialist at Atlanta's Emory University. "I would wager there's a lot of treatment going on in people outside the high-risk groups, based on clinicians' preference and patients' demand for treatment," he said.
Local journalism is essential.
Give directly to The Spokesman-Review's Northwest Passages community forums series -- which helps to offset the costs of several reporter and editor positions at the newspaper -- by using the easy options below. Gifts processed in this system are not tax deductible, but are predominately used to help meet the local financial requirements needed to receive national matching-grant funds.
Subscribe to the Coronavirus newsletter
Get the day's latest Coronavirus news delivered to your inbox by subscribing to our newsletter.
---