News > Features
Russell wins Tour de Gossip
Tue., Sept. 8, 2009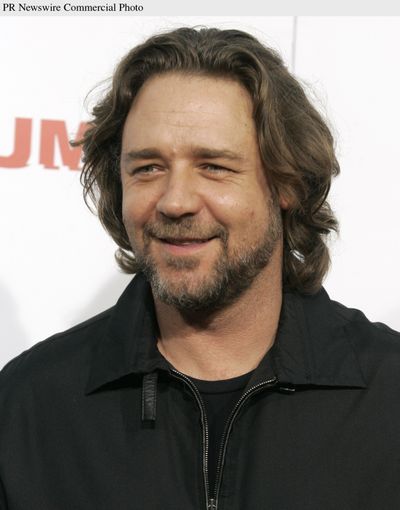 An Australian newspaper mocked Russell Crowe for smoking and shoveling down a fatty meal during a recent bike ride, so the notoriously salty actor set out to prove he is still in gladiator shape – by challenging the paper's gossip columnist to a duel by bicycle.
Crowe, who has been photographed looking slimmer in recent months, was apparently none too pleased by a column published in Sydney's Daily Telegraph on Tuesday entitled "Smokes and fatty foods the fitness regime for Rusty." The paper mocked Crowe after he was photographed pausing during a recent bike ride with his personal trainer to puff on a cigarette and chow down on three tacos and a soft drink.
In a story published Friday, the paper said Crowe's spokesman called up gossip columnist Annette Sharp the next day and said, "Get on your bike. Russell wants you to go riding with him. Are you ready to die?"
Sharp accepted the challenge and the pair met a dawn for a 12-mile (20-kilometer) ride through the city. Video of the race shows Sharp struggling to keep up while Crowe zooms along unfazed. At one point, Sharp fell off her bike.
Mitzi returns to Bali Hai
Actress Mitzi Gaynor is returning to Kauai for the first time since filming "South Pacific" there half a century ago.
The Kauai Visitors Bureau said Thursday that Gaynor will make an appearance in early October at the same location where the song "Some Enchanted Evening" was performed in the classic musical released in 1958.
Gaynor says Kauai was "undoubtedly the most beautiful setting" she's ever worked in.
The birthday bunch
Sid Caesar is 87. Actor Alan Feinstein is 68. Sal Valentino of The Beau Brummels is 67. Actress Heather Thomas is 52. Singer Aimee Mann is 49. Singer Neko Case is 39. Actor David Arquette is 38. Henry Thomas ("E.T.") is 38. Singer Pink is 30. Jonathan Taylor Thomas ("Home Improvement") is 28.
Local journalism is essential.
Give directly to The Spokesman-Review's Northwest Passages community forums series -- which helps to offset the costs of several reporter and editor positions at the newspaper -- by using the easy options below. Gifts processed in this system are not tax deductible, but are predominately used to help meet the local financial requirements needed to receive national matching-grant funds.
Subscribe to the Coronavirus newsletter
Get the day's latest Coronavirus news delivered to your inbox by subscribing to our newsletter.
---