Sports
Cougs shake up QBs; Lobbestael new No. 1
Lopina out, Tuel loses redshirt as Wulff looks for productivity
Wed., Sept. 16, 2009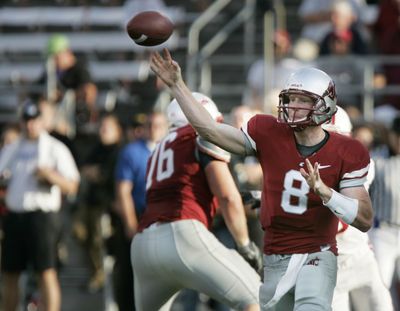 PULLMAN – Two weeks into a winless season, Washington State University football coach Paul Wulff is making a major change.
Senior Kevin Lopina is out as the starting quarterback. Sophomore Marshall Lobbestael is in. And freshman Jeff Tuel is warming up.
"(It's) not that Kevin necessarily lost (the starting spot)," Wulff said Tuesday, "but he also hasn't won it by leading us to victories or throwing touchdown passes or taking care of the football."
Lopina was 28 of 48 for 313 yards in two starts, throwing his first career touchdown against Stanford but two interceptions against Hawaii.
But as Wulff see it, "this isn't a knock to (Lopina) or anyone else. We need to play better there. We're capable (of it). The team needs that position to play better."
So Lobbestael gets his chance to win the job this week.
"There are some things still out there on the field when we play that, from the naked eye, people don't see," Wulff said. "We feel we've got to get more production out of the position.
"We feel Marshall … deserves the same opportunity that Kevin had, to start a game or two, to be able to get into a flow. To not have to come out and throw the ball because we're behind."
Lobbestael has played some in the first two games, basically splitting time in the loss to Stanford and appearing for three first-half series against Hawaii.
He's 10 of 19 for 114 yards, no touchdowns and one interception. Which isn't proficient enough as he sees it.
"Not very good," Lobbestael answered when asked how he's played. "At times I didn't execute. At other times certain stuff just didn't click fast enough for me."
The other bombshell Wulff dropped Tuesday concerned Tuel, the true freshman who was expected to redshirt this season. Those plans have changed.
"We would love to redshirt him," Wulff said. "But it's not an ideal situation right now for that position."
But it's the one the Cougars face after an 0-2 start.
Freshmen quarterbacks seem to be all the rage in the Pac-10 – think USC's Matt Barkley – and elsewhere – think Michigan's Tate Forcier. Those two led their teams to high profile wins Saturday. But Tuel, who came to Pullman from central California this summer, is a little different.
"The advantages Tate Forcier and Matt Barkley had were they were at their schools in January," Wulff said after acknowledging that Tuel is more mature than most freshmen quarterbacks he's had. "They went through conditioning and spring ball."
The plan is to get Tuel, who was not made available to the media, some snaps Saturday against Southern Methodist University, though there isn't a designated number. As Wulff termed it, "we're getting Jeff Tuel ready to play."
"Jeff is athletic," Wulff added. "We feel he can escape pressure. … He handles things at a very mature pace. He could actually give us some things with his mobility … being able to throw very accurately on the run.
"That's the thought behind it. We think there's some talent that's ready to start being developed."
Tuel took snaps with the starters Tuesday, trading off with Lobbestael in the end-of-practice scrimmage as Lopina watched.
"You're never really ready your first time into the football game," offensive coordinator Todd Sturdy said. "At some point you've got to go in there and have an opportunity to get some things done."
The changes, Wulff said, we're made with just one thing in mind.
"This decision," he said, "is strictly best for Cougar football now and for the future."
Local journalism is essential.
Give directly to The Spokesman-Review's Northwest Passages community forums series -- which helps to offset the costs of several reporter and editor positions at the newspaper -- by using the easy options below. Gifts processed in this system are not tax deductible, but are predominately used to help meet the local financial requirements needed to receive national matching-grant funds.
Subscribe to the sports newsletter
Get the day's top sports headlines and breaking news delivered to your inbox by subscribing here.
---