Sports
Ferris senior distance runner learns from past races
Thu., Sept. 17, 2009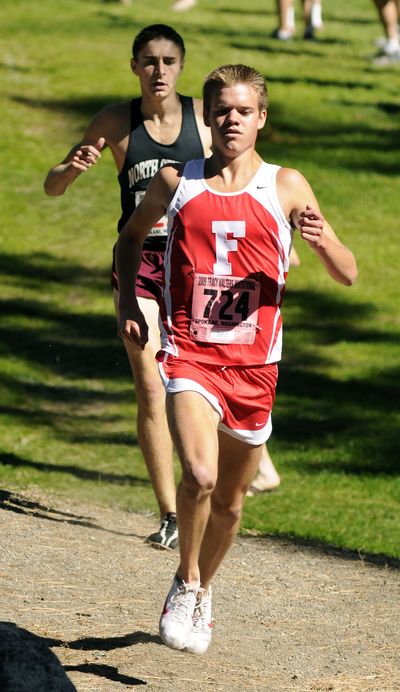 Last spring, Ferris distance runner Adam Thorne became the talk of state track when he blazed to a large lead after a lap of the 3,200-meter run, only to be reeled in by the pack and finish fifth.
"I felt a lot more comfortable in the lead than sitting in a pack," Thorne said. "That was the main reason I did it. When I look back, it was pretty naïve of me."
That kind of uneven performance is what has defined him during a four-year career. There have been days Thorne is unbeatable and others when a race has taken its toll. His state times didn't approach season bests of 4:14.7 and 9:10.65 for the 1,600 and 3,200.
But there is no denying his gift, given the number of major colleges that have expressed interest.
"He's just trying to find his niche," Saxons coach Mike Hadway said. "Every runner has a niche about how he races. We're just trying to tweak it. He went out in 61 seconds at state and everyone kind of made fun of him. What they don't realize is, he came back in 63 seconds for the last (eighth) lap."
Thorne enters his final year with a chance for a grand conclusion. The personal revelation of his talent came in a race following last year's fifth- and third-place state 3,200 and 1,600 medals. He ran a true mile at the 405 Festival in Portland in 4:10.05, easily a career best.
Last weekend, he ran 15:28 for 3 miles to win the Tracy Walters Invitational at Audubon Park.
Thorne is one of the state's top cross country returnees, third among 4A runners. The Saxons as a team are ranked among the top five in the nation, in part because they return their lineup intact, in part because of Spokane's distance reputation. Greater Spokane League schools have won the last 21 State 4A and last three State 3A team titles. Ferris was third last year.
"Obviously, I want to win an individual state championship, but my main goal is my team winning it," Thorne said. "Justin (Zimmerman) has made a huge gain over the summer and Alex (Kimsey) is going to be great. The rest of the guys are more consistent than they've ever been in training and it's showing."
Thorne came aboard as a freshman when the Saxons were in the final year of a four-year state title run. It was the influence of those seniors that led him to forsake baseball in the spring and turn to running year-round.
As a sophomore he qualified for state cross country and had a breakout spring as the regional 1,600 champion and 3,200 runner-up, earning trips to state, but no track medals. After finishing eighth in state cross country last year, he burst to the front in both track distance races in the spring, miscalculating in the longer and getting outsprinted in the final 200 meters of the shorter.
"I think it was just inexperience," Thorne said. "I get into these big races and psyche myself out too much. I like to take an ice bath the night before a race. My sophomore year I took it in the morning and that wasn't a good idea."
Last year he said he was somewhat happy with his effort.
"(But) really, inside I was ticked off, especially after the 2-mile," he said. "When I was ahead in the 1,600 I was thinking, 'Oh, gosh, (double champion) Shane Moskowitz is coming' instead of saying, 'There's 200 meters to go, I'm going to win.' "
The race in Oregon that followed, he stayed with the pack and discovered how fast he is.
Universities such as Stanford, Brigham Young, Oregon and North Carolina are recruiting him.
Hadway said Thorne will be a top runner, especially in college, when he figures out all of the qualities he has.
"I've run with a ton of 'Big Dog' runners in the country and held my own with them," Thorne said. "I think that's what's given me the most confidence."
Local journalism is essential.
Give directly to The Spokesman-Review's Northwest Passages community forums series -- which helps to offset the costs of several reporter and editor positions at the newspaper -- by using the easy options below. Gifts processed in this system are not tax deductible, but are predominately used to help meet the local financial requirements needed to receive national matching-grant funds.
Subscribe to the sports newsletter
Get the day's top sports headlines and breaking news delivered to your inbox by subscribing here.
---
Subscribe and log in to the Spokesman-Review to read and comment on this story