News > Business
Buffett: Economy at plateau
Buffett: Economy at plateau
Thu., Sept. 17, 2009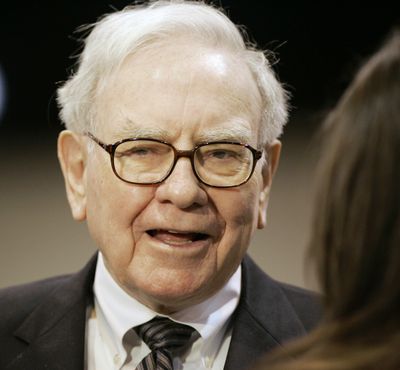 OMAHA, Neb. – Billionaire investor Warren Buffett says the economy appears to have leveled off at the bottom of the recession over the summer, but Berkshire Hathaway's CEO still isn't seeing much improvement.
Buffett talked about the economy during an interview with CNBC that aired Tuesday and Wednesday.
"I think the odds are very much against getting significantly worse. It's sort of plateaued at the – at the bottom right now," Buffett said. But he said things could get worse if there were some new catastrophe like the Sept. 11 terrorist attacks.
The Oracle of Omaha's comments followed Federal Reserve Chairman Ben Bernanke's statement Tuesday that the worst recession since the 1930s is "very likely over."
Buffett was among the first in March 2008 to say the economy was in a recession. Buffett said at that point the economy had entered a recession in common sense terms even if it hadn't met the technical definition economists use of two consecutive quarters of negative growth in the nation's gross domestic product.
Buffett keeps a close eye on the economy through all the reports he sees from Berkshire's retail, real estate brokerages, manufacturing and utility businesses.
Buffett said he can't predict exactly when the economy will recover partly because he expects there will still be additional problems in the commercial real estate market, but he believes the economy has passed the critical point.
"I've never been able to tell whether it's going to be a week or a month or six months. But we are on the mend," he said.
Local journalism is essential.
Give directly to The Spokesman-Review's Northwest Passages community forums series -- which helps to offset the costs of several reporter and editor positions at the newspaper -- by using the easy options below. Gifts processed in this system are not tax deductible, but are predominately used to help meet the local financial requirements needed to receive national matching-grant funds.
Subscribe to the Coronavirus newsletter
Get the day's latest Coronavirus news delivered to your inbox by subscribing to our newsletter.
---
Subscribe and log in to the Spokesman-Review to read and comment on this story