Sports
Sports in brief: Teens admit to vandalizing player's lawn
Thu., Sept. 17, 2009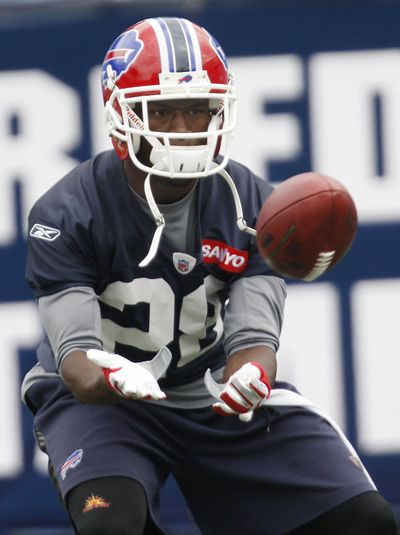 NFL: Buffalo Bills cornerback Leodis McKelvin is so far willing to forgive and forget after two male teens admitted to police that they defaced the player's front lawn.
Hamburg, N.Y., police Sgt. Thomas Best said Wednesday night that McKelvin is refusing to press charges against two 16-year-olds, who said they were the ones who spray-painted a message and an obscenity across the grass in front of the player's home shortly after the Bills' season-opening 25-24 loss at New England on Monday night.
Best said it'll be up to the Erie County district's attorney's office to press charges against the two suspects. Best declined to release the names of the two teens because of their age, but noted they both live near McKelvin's home in suburban Buffalo.
The vandalism created headlines across the country, was fodder for numerous sports talk radio programs, and led to several Bills players questioning their privacy and security as they returned to practice to prepare to host Tampa Bay on Sunday.
McKelvin was partly blamed for the loss at New England, in which the Bills squandered an 11-point lead in the final 2:06.
After the Patriots scored to cut Buffalo's lead to 24-19, McKelvin was faulted for not taking a knee in the end zone on the ensuing kickoff. Instead, he ran the ball out and had the ball stripped from his hands. The Patriots recovered at the Bills' 31 and scored the decisive touchdown three plays later.
•League fines Jets, Mangini: The NFL assessed $125,000 in fines to the New York Jets and former coach Eric Mangini for violating the league's rules on injury reporting with former quarterback Brett Favre last season.
The Jets failed to place Favre, now with the Minnesota Vikings, on the injury report during the final month of last season even though he had a torn biceps tendon.
•Bills' Posluszny out six weeks: Starting Bills middle linebacker Paul Posluszny is expected to miss about six weeks after having surgery to repair a broken bone in his left arm.
•Sellers gets contract extension: Mike Sellers' offseason boycott eventually paid off, helping the Washington Redskins fullback land a contract extension. The Pro Bowl fullback confirmed he had finally swayed owner Dan Snyder to offer a new deal. Essentially it is a four-year deal with $1 million guaranteed: a $600,000 signing bonus and a $400,000 option bonus next year.
•Redskins-Giants game most-watched opener: The Sunday afternoon doubleheader game between the Washington Redskins and New York Giants was the most-watched opening game on record. According to Niselsen Media Research, the Fox broadcast drew 25.1 million viewers. Nielsen records date back to 1987.
Red Bull will stick with Toyota
Auto racing: Red Bull Racing is sticking with Toyota as the manufacturer for the program's two NASCAR Sprint Cup teams.
Red Bull had been in preliminary talks about a possible move to General Motors before opting to remain with Toyota.
Red Bull sponsors the No. 82 driven by Scott Speed and the No. 83 driven by Brian Vickers. Vickers qualified for the Chase for the Championship for the first time following last week's race at Richmond.
•Briatore out at Renault: Renault split with team principal Flavio Briatore and said it would not contest a charge that Nelson Piquet Jr. was ordered to crash during a Formula One race last year.
Renault, however, still must attend a World Motor Sport Council hearing on Monday in Paris to discover its punishment for the crash that helped Fernando Alonso win last year's Singapore Grand Prix.
Piquet Jr., who was fired by Renault last month after 1 1/2 seasons with the team, crashed on the 13th lap of last year's race. Alonso secured an unlikely victory as other cars came in to refuel while the Spanish driver had enough fuel to move ahead of the field.
Governing body FIA began investigating last month, and offered Piquet Jr. immunity against prosecution in return for his testimony. Data showed Piquet Jr. accelerating into the crash, rather than braking.
MLS to pause during Cup group play
Miscellany: Major League Soccer will take a two-week break during the group phase of the World Cup for the first time next summer.
MLS announced that it will not play any games from June 11-25. The league also does not plan to schedule games on the days of the World Cup semifinal and final.
•Promoter had heart attack at fight: Boxing promoter Frank Maloney, who was taken to the hospital in London after finding Olympic bronze medalist Darren Sutherland hanged at home on Tuesday, had a heart attack three days earlier at a contested heavyweight fight.
Maloney is being kept in the hospital after surgery, but he hopes to be ringside within a few weeks.
•Jones to fight Green: Eight-time world champion Roy Jones Jr. will fight Australia's Danny Green in Sydney on Dec. 2 in the American's first professional fight on foreign soil. The IBO world cruiserweight title will be on the line, with the 40-year-old Jones trying to add that belt to a career that includes titles in divisions ranging from middleweight to heavyweight. His career record is 54 wins, 40 by knockout, and five losses since 1989.
Local journalism is essential.
Give directly to The Spokesman-Review's Northwest Passages community forums series -- which helps to offset the costs of several reporter and editor positions at the newspaper -- by using the easy options below. Gifts processed in this system are not tax deductible, but are predominately used to help meet the local financial requirements needed to receive national matching-grant funds.
Subscribe to the sports newsletter
Get the day's top sports headlines and breaking news delivered to your inbox by subscribing here.
---
Subscribe and log in to the Spokesman-Review to read and comment on this story