News > Washington Voices
Iraq veteran earns Bronze Star
Oversaw compound during rocket attacks
Thu., Sept. 17, 2009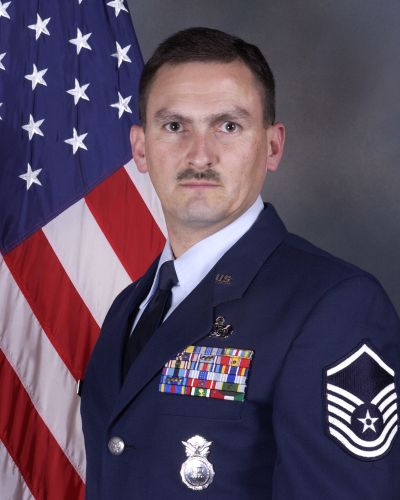 Nine Mile Falls area resident Master Sgt. Robert F. Duke of the U.S. Air Force received a Bronze Star for meritorious service during Operation Iraqi Freedom.
The medal was presented by Gen. Arthur J. Lichte, commander, Air Mobility Command. The ceremony was held at Fairchild Air Force Base on Aug. 21.
According to a narrative accompanying the award, Duke "demonstrated unparalleled leadership, knowledge and courage while leading 96 United States Air Force security forces members, 42 Iraqi correctional officers, and seven civilian interpreters in support of the United States Central Command's largest theater internment facility holding over 20,000 detainees and supported by over 10,000 coalition forces."
Duke oversaw the custody of 2,200 detainees from August 2007 to February 2008, during which time he "assured strict compliance with all Geneva Convention guidelines and other applicable directives."
It was said at the award ceremony that Duke's "charismatic leadership and personal interactions … immeasurably contributed to the overwhelming success of the command's mission."
During the six-month period, the compounds that Duke oversaw sustained eight rocket attacks that consisted of 30 rockets and mortars. During four of those attacks, Duke was responsible for the supervision of about 300 service members while they searched the area for injured personnel, unexploded ordnance and escaped detainees and cleaned up the aftermath.
Duke said he is especially grateful for the support he received during his assignment, including from the noncommissioned officers who served with him and from family and friends who kept in contact while his team was deployed. "They are the true heroes in my eyes," he said.
Duke returned to the Suncrest neighborhood in south Stevens County on Valentine's Day 2008. In June 2010, he will retire from active duty after 26 years of service.
Local journalism is essential.
Give directly to The Spokesman-Review's Northwest Passages community forums series -- which helps to offset the costs of several reporter and editor positions at the newspaper -- by using the easy options below. Gifts processed in this system are not tax deductible, but are predominately used to help meet the local financial requirements needed to receive national matching-grant funds.
Subscribe to the Coronavirus newsletter
Get the day's latest Coronavirus news delivered to your inbox by subscribing to our newsletter.
---
Subscribe and log in to the Spokesman-Review to read and comment on this story