Sports
In brief: Hurricanes run roughshod over Jackets
Fri., Sept. 18, 2009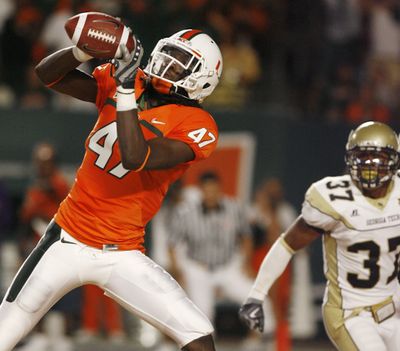 Football: Miami quarterback Jacory Harris raised some eyebrows this week when he suggested the Hurricanes' offense couldn't be stopped.
Georgia Tech did nothing to disprove that theory.
Harris completed 20 of 25 passes for 270 yards and three touchdowns, and the 20th-ranked Hurricanes put an emphatic end to a four-game losing streak against No. 14 Georgia Tech with a 33-17 victory Thursday night at Miami.
Miami (2-0, 2-0 ACC) matched its best league start since 2004, outgained Georgia Tech 453-228 and set up a Coastal Division showdown at Virginia Tech on Sept. 26.
Georgia Tech (2-1, 1-1) blew Miami out a year ago, dooming the Hurricanes' conference title hopes by rushing for 472 yards. This time, Miami handled the triple option with relative ease, holding the Yellow Jackets to 95 yards rushing – nearly half of those on the game's first drive.
•Seahawks battle injures: Seattle Seahawks wide receiver T.J. Houshmandzadeh missed his second consecutive practice because of back spasms.
Wide receiver Deion Branch was limited but practiced for the first time since the former Super Bowl MVP injured his hamstring in practice Sept. 7.
Nine-time Pro Bowl left tackle Walter Jones also practiced some, but center Chris Spencer sat out again with a quadriceps injury.
Lofa Tatupu was out again with a hamstring injury, though Mora expects the three-time Pro Bowl linebacker to start against the 49ers.
•Lawyers claim rape accuser wanted to avoid layoff: Lawyers for Pittsburgh Steelers quarterback Ben Roethlisberger said in court documents made available that the woman who has accused him of raping her at a Lake Tahoe (Nev.) hotel-casino concocted the story, in part, to try to shield herself from possible layoffs at the resort.
•Around the NFL: The Philadelphia Eagles aren't giving up hope of having Donovan McNabb on the field when they play their home opener Sunday against New Orleans. McNabb made a brief appearance on the practice field after fracturing his rib on a touchdown run late in Philadelphia's 38-10 victory over Carolina last weekend. … The Eagles will honor former QB Randall Cunningham by adding him to the team's honor roll at halftime of their Sept. 27 game against Kansas City. … Indianapolis coach Jim Caldwell said third-year receiver Anthony Gonzalez could miss up to two months after spraining ligaments in his right knee during Sunday's win over Jacksonville. … Houston cornerback Dunta Robinson has been fined $25,000 by the team for the "Pay me Rick" shoes he wore during Sunday's game, targeting general manager Rick Smith for not reaching a long-term contract. … San Diego and Detroit were given extensions by the NFL to sell out their home openers and avoid a television blackout. … Former Detroit wide receiver Charles Rogers was arrested Wednesday on a drunken-driving charge in Novi, Mich.
•Jury clears former prep coach: A former Kentucky high school football coach was found not guilty in the death of a player who collapsed at a practice where the team was put through a series of sprints on a hot summer day.
Former Pleasure Ridge Park (Ky.) High School coach David Jason Stinson, 37, was charged after 15-year-old Max Gilpin collapsed at an August 2008 practice as the team ran a series of sprints known as "gassers." He died three days later at a Louisville hospital of heat stroke, sepsis and multiple organ failure. His temperature reached at least 107 degrees.
The jury deliberated for about 90 minutes.
Catchings, January spark Indiana Fever
Basketball: Tamika Catchings had 26 points and 12 rebounds, and the top-seeded Indiana Fever opened the fourth quarter with a 17-3 run to pull away from the Washington Mystics for an 88-79 victory in the opener of their Eastern Conference first-round series at College Park, Md.
Briann January (Lewis and Clark High) was a spark off the bench with 16 – all in the second half – for the Fever, who entered the fourth quarter down 58-56.
In a Western Conference opener, Sophia Young scored 24 points to lead the host San Antonio Silver Stars to a 92-91 win over the Phoenix Mercury.
•Ex-Sonic signs with Kings: Free-agent swingman Desmond Mason signed a one-year contract with the Sacramento Kings.
Mason burst onto the scene as a rookie by winning the 2001 slam dunk contest while with the Seattle SuperSonics.
•Blazers land Howard: Veteran forward Juwan Howard signed a one-year contract with the Portland Trail Blazers.
Howard a 15-year veteran and the fifth player selected in the 1994 draft, averaged 4.1 points in 42 games with Denver and Charlotte last season.
•One Arkansas player faces suspension: Arkansas men's basketball coach John Pelphrey said he will suspend at least one player 2-3 games following a rape investigation that did not result in charges.
Kim, Shin lead way at Torrey Pines
Golf: Song-Hee Kim and Jiyai Shin each shot a 6-under-par 66 to share the lead atop the elite 20-player field in the opening round of the Samsung World Championship at Torrey Pines in San Diego.
Top-ranked Lorena Ochoa of Mexico and Sophie Gustafson of Sweden are one stroke behind the leaders.
Local journalism is essential.
Give directly to The Spokesman-Review's Northwest Passages community forums series -- which helps to offset the costs of several reporter and editor positions at the newspaper -- by using the easy options below. Gifts processed in this system are not tax deductible, but are predominately used to help meet the local financial requirements needed to receive national matching-grant funds.
Subscribe to the sports newsletter
Get the day's top sports headlines and breaking news delivered to your inbox by subscribing here.
---