News > Nation/World
Space station snags cargo ship
Fri., Sept. 18, 2009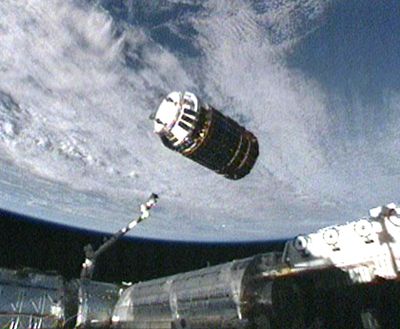 CAPE CANAVERAL, Fla. – A brand new Japanese space station cargo ship arrived at its destination Thursday, expertly plucked from orbit by an astronaut who toasted the first-ever event with her crewmates.
Space station resident Nicole Stott used the robot arm at the orbiting complex to grab the 18-ton supply ship as it hovered 30 feet away. The vessel – the first of its kind – was launched a week ago from Japan.
It was the first time an unmanned ship was grabbed from orbit like this. The older-style Russian ships actually dock at the space station. So do Europe's freighters.
Mission Control erupted in applause when the robotic snares tightened on the vessel 225 miles above the planet.
The six space station occupants celebrated by raising specially decorated foil drink bags with straws and sipping the water inside.
The craft is loaded with 5 tons of food, laptop computers, atmospheric studies and a robotic hand. It will remain docked to the ship until the beginning of November, when it will be set free to deorbit and burn up in the atmosphere.
Local journalism is essential.
Give directly to The Spokesman-Review's Northwest Passages community forums series -- which helps to offset the costs of several reporter and editor positions at the newspaper -- by using the easy options below. Gifts processed in this system are not tax deductible, but are predominately used to help meet the local financial requirements needed to receive national matching-grant funds.
Subscribe to the Coronavirus newsletter
Get the day's latest Coronavirus news delivered to your inbox by subscribing to our newsletter.
---