Sports
Sports in brief: Mayfield evaluation requested
Tue., Sept. 22, 2009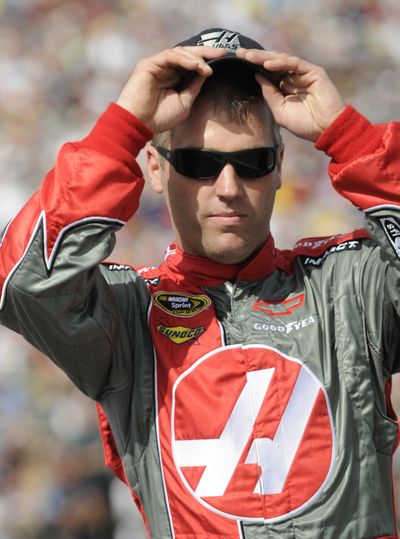 Auto Racing: NASCAR asked a federal judge to order a mental and physical examination on suspended driver Jeremy Mayfield to determine if he has a substance-abuse problem and/or attention-deficit hyperactivity disorder.
The filing in U.S. District Court includes three affidavits and one deposition from four different people who claim to have witnessed Mayfield using methamphetamines multiple times since 1999.
The deposition is from former brother-in-law David Keith, who testified he witnessed Mayfield snort methamphetamine in his house, garage and car from 1998 through 2000. The deposition was taken Aug. 19, with attorneys for NASCAR and Mayfield in attendance, and Keith testified the drivers' drug use escalated to daily usage.
NASCAR suspended Mayfield for failing a random drug test and said he twice tested positive for methamphetamines. Mayfield has denied using the illegal drug.
He is now suing NASCAR, alleging his positive test result from May 1 came from the mix of the prescription drug Adderall for ADHD and the allergy medication Claritin-D.
•Renault receives ban: Nelson Piquet Jr. wishes every day he had refused orders to deliberately crash at a race.
The fallout from that incident hit, when Formula One spared his former team severe punishment but indefinitely banned the disgraced official who called for the crash.
Renault received a suspended ban; the team would be permanently disqualified from the sport if it breaks the FIA's rules within the next two years.
Flavio Briatore, who quit as team principal last week, was banned indefinitely from F1 activities by the World Motor Sport Council. Engineering executive director Pat Symonds was banned for five years after expressing his "eternal regret and shame" that he participated in the conspiracy.
Acquitted coach cleared to teach
Football: A former Kentucky high school football coach acquitted last week in the death of a player was cleared to return to the classroom as a technical teacher and apply for coaching positions.
David Jason Stinson, 37, can resume teaching at Pleasure Ridge Park High School in Louisville, Ky., on Thursday, Jefferson County Public Schools spokeswoman Lauren Roberts said.
Roberts said Stinson met with school district officials, including superintendent Sheldon Berman. After that, officials decided to allow Stinson to return to the school where he was teaching and coaching when he was indicted. Stinson also received a letter saying he could apply for coaching jobs.
A jury last week deliberated less than 90 minutes before finding Stinson not guilty of reckless homicide and wanton endangerment charges stemming from the collapse and death of 15-year-old sophomore offensive lineman Max Gilpin.
Ex-Wingate player pleads guilty to murder: A former college football player admitted he stabbed his 16-year-old girlfriend to death in Union, S.C., to prove his love while his wife held her down.
Former Wingate (N.C.) player Pernell Thompson, 21, agreed to plead guilty to murder to avoid a possible death sentence.
Thompson's wife, Yolanda, pleaded guilty to similar charges and had agreed to testify against her husband. She is awaiting sentencing.
Thompson and his wife lured South Carolina's Union High School cheerleader Marisha Jeter to a parking lot in January 2008, where he stabbed her in the neck. The pair then dumped the girl's body over a bridge and burned her car, prosecutors said.
Mercury advance to Western finals
Miscellany: Diana Taurasi scored 30 points and keyed a tiebreaking run in the fourth quarter to help the Phoenix Mercury advance to the WNBA Western Conference finals with a 100-92 victory over the San Antonio Silver Stars in Game 3 of their opening round series at Phoenix.
The top-seeded Mercury will open the West finals against the Los Angeles Sparks at UCLA's Pauley Pavilion on Wednesday night.
•Henin plans return: Former top-ranked player Justine Henin will announce her return to competitive tennis today, according to two top Belgian newspapers.
Last year, Henin shocked the tennis world by announcing her retirement while still ranked No. 1.
As recently as May, she complained that the sport had left her with so many physical ailments that a return was unthinkable.
Local journalism is essential.
Give directly to The Spokesman-Review's Northwest Passages community forums series -- which helps to offset the costs of several reporter and editor positions at the newspaper -- by using the easy options below. Gifts processed in this system are not tax deductible, but are predominately used to help meet the local financial requirements needed to receive national matching-grant funds.
Subscribe to the sports newsletter
Get the day's top sports headlines and breaking news delivered to your inbox by subscribing here.
---
Subscribe and log in to the Spokesman-Review to read and comment on this story