News > Nation/World
Health reform lines drawn
Senate panel starts markup of Democrat Baucus' bill
Wed., Sept. 23, 2009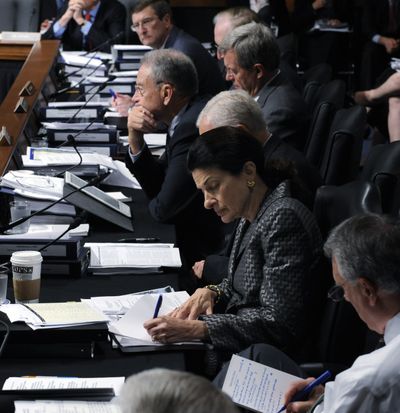 WASHINGTON – Democrats and Republicans formed clear battle lines Tuesday as the Senate Finance Committee opened a high-stakes debate over health care legislation proposed last week by the panel's chairman.
Both sides found plenty to criticize in Sen. Max Baucus' bill, particularly its requirement that all U.S. citizens must buy health insurance at potentially high costs.
Sen. Jon Kyl of Arizona, a member of the committee and the Senate's No. 2 Republican, called the bill "a stunning assault on liberty" that would lead to higher taxes and less consumer choice.
But Baucus, D-Mont., defended his work and urged his colleagues to "do our part to make quality, affordable health care available to all Americans."
"Our actions here, this week, will determine whether we are courageous and skillful enough to seize the opportunity to change things for the better," he said in his opening statement.
Republicans outlined a series of specific provisions that they would seek to change or eliminate as the committee debates hundreds of amendments, a discussion that could stretch into next week. One target-rich area: the more than $500 billion in Medicare changes that the bill proposes, to squeeze waste from the elderly insurance program. Another is the fine that the bill would impose on U.S. citizens who don't buy health insurance, which the GOP describes as a tax on the middle class. And they warn that the bill's hefty new industry fees would be passed on to consumers.
Some Democrats, meanwhile, said they would press to further reduce costs for the millions of Americans who would be required to purchase health coverage.
Baucus revised his bill even before submitting it to the committee Tuesday morning, adding more aid for middle-class families and watering down a tax provision that could target a small number of union households.
Democrats' primary concern with the Baucus bill is that it would not adequately subsidize working-class and middle-class households, who could be required to pay between 2 percent and 12 percent of their income toward insurance premiums. After Baucus' revisions, no individual who gets coverage through the insurance exchange would pay more than $3,987 a year for deductibles and co-payments; families' out-of-pocket costs would be capped at $7,973.
His changes would also make it easier for people whose employers offer unaffordable coverage to join the exchanges.
And he would lower premium costs for older policyholders: While his original proposal would have permitted insurance companies to charge people in their early 60s as much as seven times more than younger customers, his modified bill would bar them from charging seniors more than four times the lowest policy cost.
Local journalism is essential.
Give directly to The Spokesman-Review's Northwest Passages community forums series -- which helps to offset the costs of several reporter and editor positions at the newspaper -- by using the easy options below. Gifts processed in this system are not tax deductible, but are predominately used to help meet the local financial requirements needed to receive national matching-grant funds.
Subscribe to the Coronavirus newsletter
Get the day's latest Coronavirus news delivered to your inbox by subscribing to our newsletter.
---
Subscribe and log in to the Spokesman-Review to read and comment on this story