Sports
In brief: Sports officials not worried about terror
Wed., Sept. 23, 2009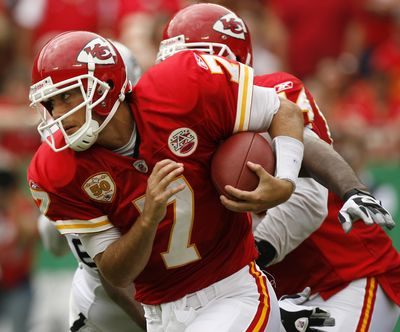 Sports officials responded in a low-key manner to security warnings that terrorists would like to attack stadiums, saying Tuesday that they have already boosted precautions so much the latest alerts won't make much difference.
Federal bulletins sent to police departments this week and obtained by The Associated Press said officials knew of no specific plots against stadiums and other entertainment venues, but cautioned officers and private companies to be vigilant.
Similar alerts often are issued – a recent one focused on the vulnerabilities of mass transit systems – but they've received increased attention in the last week against the backdrop of ongoing terror investigations in New York City and Denver.
The bulletin on stadiums said an al-Qaida training manual specifically lists "blasting and destroying the places of amusement, immorality, and sin … and attacking vital economic centers" as desired targets of the global terror network.
A joint statement from Department of Homeland Security and FBI said while the agencies "have no information regarding the timing, location or target of any planned attack, we believe it is prudent to raise the security awareness of our local law enforcement partners regarding the targets and tactics of previous terrorist activity."
Warnings were issued 10 days before the International Olympic Committee picks a 2016 host city. Chicago is a finalist along with Tokyo, Madrid and Rio de Janeiro.
Cassel will still start at QB for Chiefs
Football: Even though Brodie Croyle has a high quarterback rating and a better completion percentage, it will be Matt Cassel facing the Eagles in Philadelphia, coach Todd Haley said. But the rookie head coach also said he would not hesitate to make a switch if he decided Croyle gives the winless Chiefs a better chance.
Cassel has been one of the happiest success stories in recent years. He is one of the few, and perhaps the only, quarterback to start and win an NFL game without starting a game in college.
But in the loss to Oakland on Sunday in his and Haley's regular-season debut in Arrowhead Stadium, he completed 24 of 39 passes for 241 yards, a completion percentage of 61.5. His quarterback rating is 66.3
Croyle hit 16 of 24 for 177 yards and two touchdowns the week before at Baltimore. He threw two touchdown passes and did not throw an interception while compiling a rating of 116.1
•Possible limits on standing-room tickets: The Dallas Cowboys are discussing a limit on standing-room ticket sales after some tense moments with the biggest regular-season crowd in NFL history.
Team spokesman Brett Daniels said that some people who bought the $29 Party Pass tickets were held back while authorities tried to manage crowd dispersal Sunday night at the new Cowboys Stadium.
The record crowd of 105,121 included about 30,000 people with no assigned seats.
•Clausen expected to play: Notre Dame, already without its most prolific pass receiver, could face Purdue on Saturday with its quarterback and leading rusher both hobbled.
Jimmy Clausen, second in the nation in pass efficiency with a rating of 188.55, did not practice Tuesday because of turf toe on his right foot, coach Charlie Weis said. Tailback Armando Allen Jr., who has rushed for 100 yards in consecutive games, also did not take part in practice because of a sprained right ankle.
The plan is to practice Clausen some today and for him to take the majority of the snaps on Thursday. Weis plans to take a similar course with Allen, who has rushed for 326 yards in three games.
Weis has said he has confidence in backup Dayne Crist. Crist has completed 3 of 4 passes this season for 16 yards and an interception on a long bomb to end the first half against Michigan State.
Kyle Busch and crew chief penalized
NASCAR: Kyle Busch has been docked 25 points and his crew chief, Steve Addington, was fined $25,000 for failing post-race inspection at New Hampshire.
The left front of the No. 18 Toyota was too low after Sunday's race.
Team owner Joe Gibbs has also been docked 25 points.
Busch finished fifth at New Hampshire, and his car was automatically inspected by NASCAR.
•Another liquor company out as sponsor: The maker of Jim Beam Bourbon will stop sponsoring Robby Gordon's Sprint Cup team next season, sending another liquor company to the NASCAR sidelines.
A day after Jack Daniels announced it would stop supporting Casey Mears' No. 07 Chevrolet for Richard Childress Racing, Beam Global Spirits & Wine, Inc. said it was shifting sponsorship dollars to areas outside NASCAR.
Cash, Moore added to hoops camp
Miscellany: U.S. women's basketball coach Geno Auriemma should feel right at home with the addition of four current or former UConn players to the national team training camp next week at American University in Washington, D.C.
Swin Cash, Ashja Jones, Maya Moore, and Tina Charles were among the 14 players added to the training camp roster by USA Basketball. They join former UConn players Sue Bird and Diana Taurasi, giving the camp a distinctive Huskies flavor.
Joining the UConn contingent are Jayne Appel, Alana Beard, Shameka Christon, Candice Dupree, Lindsey Harding, Ebony Hoffman, Crystal Langhorne, Angel McCoughtry, Lindsay Whalen and Candice Wiggins.
The 14 USA national team hopefuls include 12 who have previously aided American teams to gold medals.
Local journalism is essential.
Give directly to The Spokesman-Review's Northwest Passages community forums series -- which helps to offset the costs of several reporter and editor positions at the newspaper -- by using the easy options below. Gifts processed in this system are not tax deductible, but are predominately used to help meet the local financial requirements needed to receive national matching-grant funds.
Subscribe to the sports newsletter
Get the day's top sports headlines and breaking news delivered to your inbox by subscribing here.
---
Subscribe and log in to the Spokesman-Review to read and comment on this story