Sports
Hasselbeck can't give Hawks wish
Sat., Sept. 26, 2009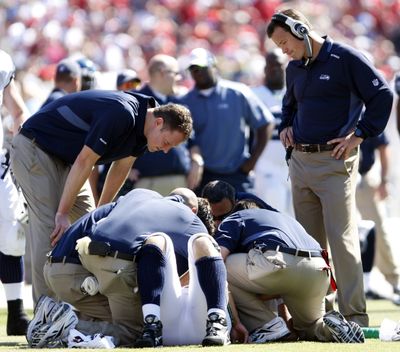 RENTON, Wash. – Matt Hasselbeck granted one little guy his wish Friday. He couldn't grant all other Seahawks fans theirs.
Hasselbeck missed a third consecutive practice day because of a broken rib, so the Seahawks expect backup Seneca Wallace to start at quarterback for the three-time Pro Bowl passer on Sunday against Chicago.
"It is extremely unlikely Matt will play," coach Jim Mora said after practice, when the team listed him as doubtful.
Hasselbeck watched Friday as Wallace prepared for the 13th start of his seven-year career for Seattle.
Not exactly the way Hasselbeck wanted his 34th birthday to go.
Yet while walking off the field he flashed a thumbs-up sign to the parents of 14-year-old Brandon Jackson. The teen suffered a stroke during open heart surgery as a baby and has a loss of dexterity in his hands and impaired balance. He was standing a few feet away, wearing the No. 8 game jersey of his favorite Seahawks player.
"See you at lunch," Hasselbeck said to Brandon's family.
He then headed into the training room for an elliptical workout as Brandon toured the team's fancy, spacious locker room, his mouth agape.
Hasselbeck fractured a rib last weekend against San Francisco.
Mora also said it's unlikely Lofa Tatupu will play. The three-time Pro Bowl middle linebacker, another of Seattle's 13 banged-up starters, has a hamstring injury.
Walter Jones will be a game-time decision. The nine-time Pro Bowl left tackle practiced fully for the third consecutive day.
He had his second knee surgery in nine months in August, and Mora sounded as if Brandon Frye will start for him. Frye was released by Miami earlier this month. With starter Sean Locklear out with a high ankle sprain, Frye could be one of just two available tackles on Seattle's roster.
"He hasn't played in a long time. He's coming off a pretty significant injury," Mora said of Jones. "We have to make the right decision … for not only this game but future games, and for Big Walt himself."
Fullback Justin Griffith is unlikely to play because of a strained knee. Second-year man Owen Schmitt would replace him.
Seattle did get good injury news. Cornerback Ken Lucas (groin) and defensive tackle Brandon Mebane (calf), listed as questionable, both said they passed post-practice tests on the field with trainers. They expect to start Sunday.
Mora also said wide receiver Deion Branch and center Chris Spencer will make their season debuts against Chicago.
Local journalism is essential.
Give directly to The Spokesman-Review's Northwest Passages community forums series -- which helps to offset the costs of several reporter and editor positions at the newspaper -- by using the easy options below. Gifts processed in this system are not tax deductible, but are predominately used to help meet the local financial requirements needed to receive national matching-grant funds.
Subscribe to the sports newsletter
Get the day's top sports headlines and breaking news delivered to your inbox by subscribing here.
---
Subscribe and log in to the Spokesman-Review to read and comment on this story