Sports
In brief: Woods leads by one shot at championship
Sat., Sept. 26, 2009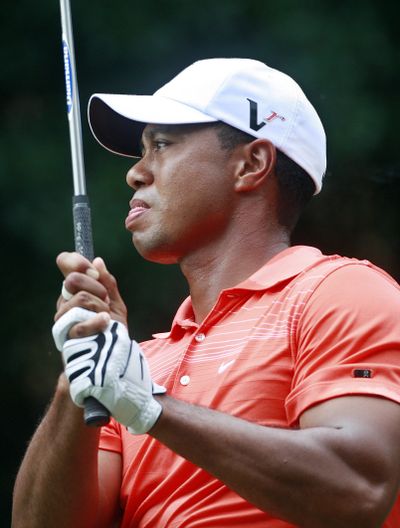 Golf: Tiger Woods had the lead and was ready to turn the Tour Championship into a runaway Friday in Atlanta.
First came a 5-wood up the hill on the par-5 15th that narrowly cleared the bunker, hopped onto the green and rolled toward the flag until it stopped just over 4 feet away. On the next hole, Woods started walking before his shot began its descent to inside 4 feet.
There were so many fans around the 16th green that it was hard to read the video board showing Woods' PGA Tour ranking on putts between 4 and 5 feet. No one would have been surprised to see that Woods had only missed seven from that length all year.
This time, he missed them both.
Woods still wound up in the lead Friday at East Lake with a 2-under-par 68, one shot ahead of Padraig Harrington and Sean O'Hair. Woods might have an even stronger grip on the FedEx Cup and its $10 million bonus.
He was fuming over the missed putts. He found perspective shortly after signing for his seventh consecutive round in the 60s.
"The day as a whole was a good day," Woods said. "I shot under par, and I got myself … in the lead."
Woods was at 5-under 135 and in great position for the FedEx Cup. None of the other top five seeds, who can win the $10 million bonus with a victory at East Lake, was among the top 10 on the leaderboard going into the weekend.
Ernie Els came to life with five birdies over his last 10 holes for a 66 and was only two shots behind at 3-under 137. Kenny Perry, who nearly wilted in the heat Thursday, also had a 66 and was at 2-under 138, along with Jerry Kelly (67).
•Gustafson leads by one stroke: Sophie Gustafson shot a 3-under 69 to take a one-stroke lead over Lorena Ochoa, Maria Hjorth and Shanshan Feng in the CVS/pharmacy LPGA Challenge at Danville, Calif.
Gustafson, the Swede who won the last of her four career LPGA Tour victories in 2003, had a 10-under 134 total. The top-ranked Ochoa shot a 67, Hjorth had a 66 and Feng a 67.
Wendy Ward of Edwall, Wash., shot a 72 and was tied for 32nd at 142.
•Cochran, Watson tied for lead: Russ Cochran and Denis Watson shared the first-round lead at 6-under 66 on a windy and drizzling day at the SAS Championship in Cary, N.C.
Fred Funk and Loren Roberts, who are first and second in the Charles Schwab Cup points race, both shot 70s to finish the first round at 2-under. Funk leads Roberts by 57 points for the Schwab Cup.
Fever down Shock, force Game 3
WNBA playoffs: Tamika Catchings scored 22 points, and the Indiana Fever avoided elimination with a 79-75 win over the Detroit Shock in Game 2 of the Eastern Conference finals in Indianapolis.
Catchings also had nine rebounds, six steals and five assists. Katie Douglas added 14 points and five steals for the Fever, who will host the decisive Game 3 against the defending champions tonight. Detroit could eliminate the Fever from the playoffs for the fourth consecutive year.
•Parker, Leslie lead Sparks to victory: Candace Parker had 24 points and 18 rebounds, Lisa Leslie scored 20 points, and the Los Angeles Sparks forced a deciding third game of the Western Conference finals with an 87-76 victory over the Phoenix Mercury at Phoenix.
Leslie and Parker combined for 31 first-half points.
Gabbert leads Missouri past Nevada
College football: Blaine Gabbert passed for 414 yards and three touchdowns, including scoring tosses of 74 and 31 yards to Danario Alexander, to help the Missouri Tigers (4-0) beat the Nevada Wolf Pack (0-3) in Reno, Nev.
Alexander finished with nine catches for 170 yards.
Beasley speaks out on rehab stint
Miscellany: Michael Beasley said that an off-season stay in a rehabilitation facility in Houston was his "lowest hour," denied that he has a substance abuse problem and apologized to the Miami Heat organization.
Beasley would not reveal any specific details of the treatment he received in Houston, other than acknowledging that he became "pretty upset" upon learning his stay would be considerably longer than first planned.
That anger, he said, sparked a wave of troubling messages posted on his now-closed Twitter feed.
Beasley returned to South Florida last weekend and resumed workouts with teammates Monday.
•U.S. defeats the Netherlands: The United States extended its unbeaten run at the baseball World Cup to 13 games with an 8-2 victory over the Netherlands in Rome.
Leadoff hitter Buck Coats went 3 for 4 with three RBIs and Kasey Kiker allowed one hit in six innings for the win.
•Match-fixing on soccer games under investigation: UEFA is investigating 40 cases of suspected match-fixing in the Champions League and UEFA Cup, mostly involving eastern European clubs.
The number of matches being scrutinized for suspicious betting patterns has risen from 25 in the last year, Peter Limacher, head of disciplinary services for European soccer's governing body, told the Associated Press.
•Pascal retains title: Local star Jean Pascal stopped Italy's Silvio Branco in the 10th round to retain the WBC light heavyweight title in Montreal.
Pascal (24-1), from Laval, knocked down the 43-year-old Branco (59-10-2) once in the seventh and twice more in the 10th before the Italian's corner threw in the towel to put an end to the one-sided bout.
Local journalism is essential.
Give directly to The Spokesman-Review's Northwest Passages community forums series -- which helps to offset the costs of several reporter and editor positions at the newspaper -- by using the easy options below. Gifts processed in this system are not tax deductible, but are predominately used to help meet the local financial requirements needed to receive national matching-grant funds.
Subscribe to the sports newsletter
Get the day's top sports headlines and breaking news delivered to your inbox by subscribing here.
---
Subscribe and log in to the Spokesman-Review to read and comment on this story