News > Idaho
Otter announces more budget cuts
Governor says he'll leave layoff decisions to agency directors
Sat., Sept. 26, 2009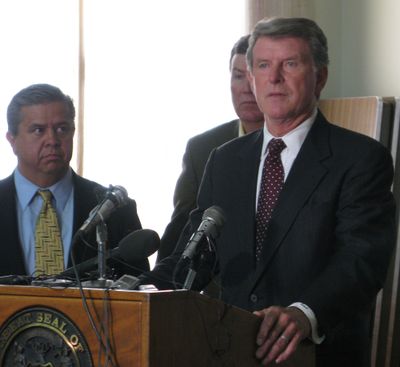 BOISE – Idaho Gov. Butch Otter on Friday announced 4 percent cuts in the state budget, effective immediately, to make up about two-thirds of the state's $151 million budget shortfall.
"Yes, it's going to be painful, but it's also necessary," Otter said.
The governor said that for the remaining $50 million of the shortfall, he's planning to work with state agency directors to find additional savings before turning to the state's $200 million-plus budget reserves. "If we can't, then there will be a discussion with the Legislature on how we can ease the pain with those rainy-day funds," Otter said.
The governor opted to protect public schools from a 4 percent midyear cut by dipping into the state's public education stabilization fund for $49.3 million.
State Superintendent of Schools Tom Luna said, "I think the reality that we find ourselves in today validates and justifies the decisions that were made in the last legislative session," when lawmakers made the state's first-ever cut in state funding to public schools.
"There were many that argued that we should spend all of our rainy-day funds last legislative session before we trimmed education at all," Luna said. "We took a more prudent, cautious and strategic plan and we trimmed education a bit, spent some of our rainy-day funds but reserved rainy-day funds for a day like this. If we had not done that, we would be talking about cutting schools in the middle of the school year."
Otter's plan calls for different levels of cuts for different agencies. The biggest percentage holdback hits the state Labor Department, at 39.1 percent, but it's one-time savings due to an early shift of the balance in a penalty and interest account over to the state's general fund. Second-biggest is 11.4 percent at the Department of Commerce, but that's also one-time savings, due to unexpended grant funds.
The governor divided agencies into three categories: "Critical and constitutionally required services," such as the state police and elected officials, which are being cut from 2.5 to 5 percent; "essential services," from higher education to public health districts, which mostly will see 6 percent cuts; and "other services," which mostly will see 7.5 percent holdbacks.
Colleges and universities will take a 6 percent hit, as will community colleges – even as they see enrollment swell due to the down economy.
Idaho's legislative minority party says it's unhappy with the governor's holdback plan, but the Democrats, like Otter, also say they oppose raising taxes to cope with the state's budget shortfall.
Senate Minority Leader Kate Kelly, D-Boise, said the Democrats would prefer to tap more of the state's $274 million in reserves; Otter is tapping only the public schools portion. Kelly noted that Idaho also has about $50 million in unspent federal stimulus funds for use in next year's budget.
"Sitting in a savings account, the money does not do us any good from an economic development standpoint and from a recovery standpoint," Kelly said. The Democrats also oppose cutbacks in higher education and Commerce during the current recession. "Higher ed is taking a bigger hit than the governor's office or legislative services," she said. "It really is a question of priorities."
Idaho House Assistant Majority Leader Scott Bedke, R-Oakley, said, "We're ready to stand and work with the executive branch to work this thing out."
He said many lawmakers, particularly in the House GOP majority, are wary of spending down the state's budget reserves, when they already face a daunting challenge to put together next year's state budget. Some of the holes in this year's budget were filled with so-called "one-time money," such as shifts from reserves, creating holes that will again need to be filled next year.
"Every dollar that we use to prop up the 2010 budget is a dollar we can't build the 2011 budget around," Bedke said. "You can't keep having the worst economy since World War II without it starting to show up in government. All of the slack is out of the system, and the impacts now are going to be real."
Layoffs could be part of the budget cuts, Otter acknowledged, but he said he'll leave that up to agency directors.
"I'm going to let that director, that Cabinet member, call those shots," he said. "They are the managers. I trust them."
Local journalism is essential.
Give directly to The Spokesman-Review's Northwest Passages community forums series -- which helps to offset the costs of several reporter and editor positions at the newspaper -- by using the easy options below. Gifts processed in this system are not tax deductible, but are predominately used to help meet the local financial requirements needed to receive national matching-grant funds.
Subscribe to the Coronavirus newsletter
Get the day's latest Coronavirus news delivered to your inbox by subscribing to our newsletter.
---
Subscribe and log in to the Spokesman-Review to read and comment on this story