Sports
Cougars won't be bullied
WSU is playing a more physical style of football
Mon., Sept. 28, 2009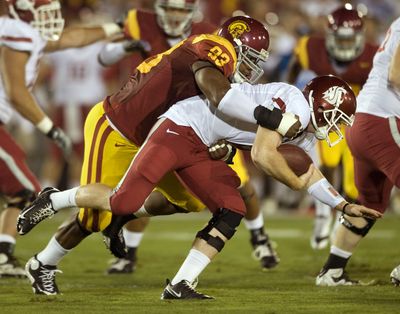 PULLMAN – It showed throughout Saturday's game.
The Washington State Cougars, the 90-pound weaklings of the Pac-10 last season, aren't about to get sand kicked in their face any longer.
They haven't morphed into Charles Atlas just yet, but they're not the pasty guy in horn-rimmed glasses anymore either.
"We know playing in the Pac-10 we've got to be physical," said WSU coach Paul Wulff on Sunday, looking back at the 27-6 loss at USC. "It's a huge priority for us."
Last year in Pullman, the Trojans made WSU look more like a high school squad, pushing them around Martin Stadium en route to a 69-0 rout, one of the Cougars worst defeats ever.
When USC pushed this time, the Cougars pushed back.
"We've come a remarkably long ways in one year to improve in that area," Wulff said. "We're not where we want to be, but we've made some huge strides. Playing USC, another run-orientated team (the work is) helping us."
That being said, it was the play of freshman quarterback Jeff Tuel that elicited the most interest after the game. The questions continued Sunday. Asked whether the starter at Oregon (3-1, 1-0 in the Pac-10) this week would be Tuel, who was 14 of 21 for 130 yards in his first collegiate appearance, or sophomore Marshall Lobbestael, Wulff didn't have an answer.
"We haven't named one officially," he said. "We'll have a better idea and we'd like to have that by (today)."
Lobbestael, who led WSU (1-3, 0-2) to the overtime victory against SMU, was 2 of 9 for 14 yards in five early series against USC.
"I thought early on our protection was not good," Wulff said. "Marshall took some unnecessary hits that shouldn't have happened.
"That was kind of a disadvantage for him early."
Lobbestael was sacked four times, as was Tuel. However, Tuel avoided a handful more, running for 51 yards either on planned runs or scrambling when plays broke down.
The Cougars' offensive line, already down two starters, looks to be even thinner this week.
Starting guard B. J. Guerra (knee) and Zack Williams (ankle) are expected to be out again. They might be joined on the sidelines by another starter, tackle/guard Steven Ayers, who suffered an ankle injury against USC and is "highly questionable" for Saturday, according to Wullf.
"We're trying to work though that one right now," said Wulff, mentioning Joe Eppele as the probable replacement for Ayers.
The defense will also be without a key inside player.
Tackle Josh Luapo was helped off the field Saturday after suffering a knee injury, the severity of which will be determined by an MRI today. No matter the diagnosis, Wulff doesn't expect to have the 6-0, 311-pound run-stopper back any time soon.
But that won't change the emphasis on toughness. The Cougars' progress in that area was even noticed by USC coach Pete Carroll, who expressed his opinion to Wulff after the game.
"Within our football program, we know we're making a lot of progress," Wulff said. "But to have somebody in the football world, who sees film every day, understands football, (say something), it definitely has more meaning to us."
Local journalism is essential.
Give directly to The Spokesman-Review's Northwest Passages community forums series -- which helps to offset the costs of several reporter and editor positions at the newspaper -- by using the easy options below. Gifts processed in this system are not tax deductible, but are predominately used to help meet the local financial requirements needed to receive national matching-grant funds.
Subscribe to the sports newsletter
Get the day's top sports headlines and breaking news delivered to your inbox by subscribing here.
---