News > Spokane
Victim had sought new life
Jacob Potter hoped to teach others to avoid crimes he'd committed
Tue., Sept. 29, 2009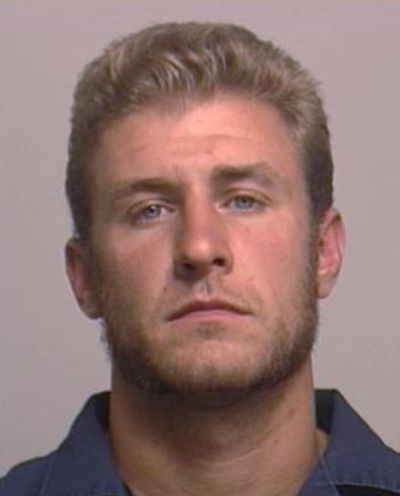 Six weeks before he was gunned down with a friend while working on a car, Jacob J. Potter said he wanted to turn his life around.
The 45-year-old convict contacted the newspaper and said he wanted to work with businesses he'd ripped off to teach them how to avoid being victimized.
He'd served several years behind bars after pleading guilty to identity theft charges in 2004.
Potter's chance to help victims ended Saturday night when he and Jack T. Lamere, 41, were shot to death by a man police say remains at large.
Merle W. Harvey, 27, is wanted on two counts of first-degree murder.
Police say he fled after the shooting in a flatbed truck with Diane L. Richardson, 33, who investigators are hoping to question.
A second suspect, Mark H. Toner, 33, was arrested late Sunday at a motel on the Sunset Highway.
Toner appeared in Spokane County Superior Court via video Monday on charges of rendering criminal assistance and witness intimidation.
Judge Ellen Kalama Clark reduced his bond to $35,000 from $100,000.
Lamere's family urged her to hold him in jail on no bond.
"We have two mothers who lost their sons," said Ginger Lucero, Lamere's cousin.
Neighbors said Potter and Lamere were working on Lamere's Chevrolet Blazer. Harvey approached the men, neighbors said Sunday, offering to trade his Cadillac for the Blazer.
A witness said Lamere had had brief possession of the Cadillac but had traded it to Harvey for the Blazer; Harvey wanted the Blazer back.
Toner's link to the case stems from an interaction with a woman whom he'd asked to help hide Harvey, according to a probable cause affidavit prepared by Spokane police Detective Chet Gilmore.
After the woman refused and called police, she received threatening text messages from Toner and was followed by him to a McDonald's on U.S. Highway 2, according to the affidavit.
She called police after Toner followed her inside the restaurant, according to the affidavit. Toner left, and she exited the store to find her friend's truck's tires slashed.
A McDonald's employee had written down Toner's license plate. After he was tracked down and arrested, Toner denied knowing Harvey or anything about the shootings, police said.
Toner has no felony convictions. Potter had several, including forgery, identity theft and possession of methamphetamine. He contacted the newspaper in August after he found a woman's wallet on a bus. He wanted to teach her how to avoid falling victim to the crimes he once perpetrated.
Lamere had recently been released from prison after serving more than 10 years for his role in a large methamphetamine ring.
Lamere's mother, Linda Schwartz, admits her son had enemies.
"A lot of people loved him; a lot of people not. That's up to them," Schwartz said. "He was a human, and he didn't deserve to die like he did."
Staff writer Sara Leaming contributed to this story.
Local journalism is essential.
Give directly to The Spokesman-Review's Northwest Passages community forums series -- which helps to offset the costs of several reporter and editor positions at the newspaper -- by using the easy options below. Gifts processed in this system are not tax deductible, but are predominately used to help meet the local financial requirements needed to receive national matching-grant funds.
Subscribe now to get breaking news alerts in your email inbox
Get breaking news delivered to your inbox as it happens.
---