News > Spokane
Four service members named persons of year
Wed., April 7, 2010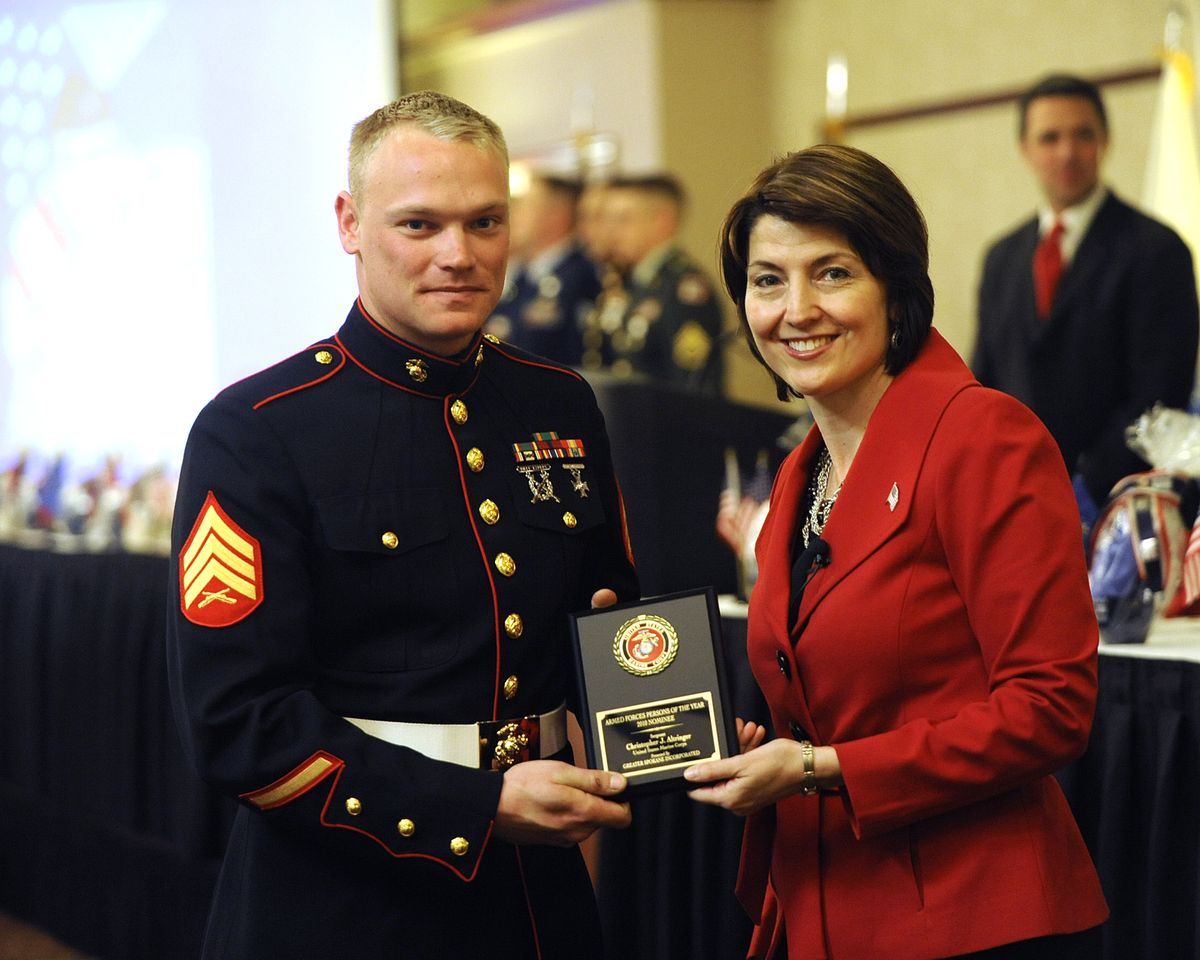 Sgt. Christopher Altringer of the U.S. Marine Corps receives a plaque indicating his nomination for Armed Services Person of the Year from Congresswoman Cathy McMorris Rodgers at a luncheon Tuesday, April 6, 2010, at the Doubletree Hotel in Spokane. (Jesse Tinsley / The Spokesman-Review)
Four military service members were honored Tuesday by Greater Spokane Inc. and U.S. Rep. Cathy McMorris Rodgers.
The regional business organization named Senior Airman Joseph Sparks, Marine Staff Sgt. Daniel Otero, Senior Airman Christopher DeJesus and Air Force Tech. Sgt. Amber Campbell "Persons of the Year."
Ten other nominees also were celebrated.
McMorris Rodgers called them all "guardians of America's freedom and the freedom of the world."
And freedom is under attack, the 5th District Republican congresswoman said.
"Every day, our survival is threatened by radical Islamic terrorists whose aim is to kill innocent men, women and children – even at the cost of their own lives," McMorris Rodgers said.
She said Iraq has been the "central front" in the "global war on terror," but U.S. military efforts there have "made tremendous progress in bringing stability and democracy to that country."
Now, McMorris Rodgers said, "if we can turn Afghanistan into a free and democratic ally as we're trying to do, we'll have a valued partner in our efforts to eradicate al-Qaida from the earth."
About 250 people attended Tuesday's 54th annual award ceremony at the downtown Doubletree Hotel.
A committee selected the winners on the basis of community as well as military activities. Responsibilities, accomplishments, leadership, education, poise and courtesy were among the factors considered.
The awards were given in junior and senior enlisted categories among two groups: reservists and National Guard members, and active-duty personnel.
Campbell and DeJesus won in the active-duty category; Otero and Sparks, in the reservist category.
Campbell is the noncommissioned officer in charge of medical administration at the Air Force Survival School at Fairchild Air Force Base. DeJesus is an instructor at the school.
Otero is the line supervisor for a Marine howitzer unit and has served two tours in Iraq. Sparks is a communications-computer systems craftsman in the 141st Communications Flight.
Other nominees:
Reserve/Guard
Junior enlisted – Religious Programs Specialist Seaman David Ebel, Navy Reserve.
Senior enlisted – Tech. Sgt. Michael S. Wirth, Washington Air National Guard; Staff Sgt. Zach Wood, Washington Army National Guard.
Active Duty
Junior enlisted – Senior Airman Christopher R. Tran, Air Force (currently deployed); Logistics Specialist Second Class (aviation warfare) Michael J. Schwenk, Navy; Sgt. Christopher J. Altringer, Marine Corps.
Senior enlisted – Hospital Corpsman First Class Jesus Orozco, Navy; Senior Master Sgt. James M. Pittman, Air Force; Sgt. First Class Donald J. Buckley, Army; Gunnery Sgt. Adam Ruiz, Marine Corps.
Local journalism is essential.
Give directly to The Spokesman-Review's Northwest Passages community forums series -- which helps to offset the costs of several reporter and editor positions at the newspaper -- by using the easy options below. Gifts processed in this system are not tax deductible, but are predominately used to help meet the local financial requirements needed to receive national matching-grant funds.
Subscribe now to get breaking news alerts in your email inbox
Get breaking news delivered to your inbox as it happens.
---