News > Washington Voices
Parking on narrow Liberty Lake roads banned
County says state law requires restrictions to enable fire department vehicles to maneuver
Sat., April 10, 2010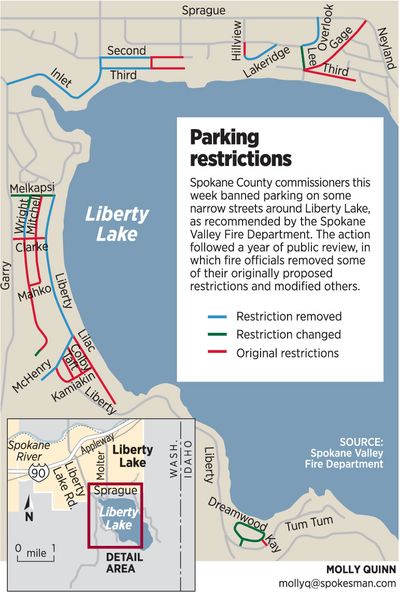 Parking will soon be banned on some narrow roads around Liberty Lake that were laid out in horse-and-buggy days.
Spokane County commissioners unanimously approved the parking restrictions this week, and "no parking" signs are expected to go up early next month.
Commissioner Todd Mielke said state law left little choice but to enact the safety-related parking restrictions proposed by the Spokane Valley Fire Department.
The law prohibits parking on the traveled portion of public roadways.
Mielke said a street must be at least 21 feet wide to permit parking on just one side, but the streets where parking is to be banned are much narrower.
Some are as narrow as 11 feet, which is the mirror-to-mirror width of a fire truck.
"We have a responsibility to make sure traffic can flow through these areas," Mielke told his fellow commissioners Tuesday.
He noted that the Fire Department held a public workshop meeting and commissioners conducted two public hearings and two deliberative sessions over the course of a year. Tuesday's pared-down proposal was "markedly different" from the original recommendation, Mielke said.
Residents generally told officials they thought restrictions were necessary only on Independence Day, when a fireworks show attracts numerous visitors. But fire officials said problems occur throughout the year.
Fire Marshal Kevin Miller hopes the "no parking" signs will spare the department the cost of putting up barricades every Fourth of July for temporary parking restrictions.
Miller said barricade rental and overtime to install the barriers costs the department $3,000 to $4,000 a year.
The Fire Department has used its emergency powers to impose the holiday parking ban since 2005, when firefighters had difficulty reaching a man who had suffered a heart attack on a dock.
A fireworks barge exploded about 10 minutes after the medical call and other fire crews had trouble finding a route around the truck that responded to the heart attack.
"We'll take a look at how it goes this upcoming Fourth," Miller said.
He said fire officials plan "a bit of an educational period" before enforcement begins. Fire investigators have police commissions that will allow them to join sheriff's deputies in writing tickets.
"We'll be down in the area on a regular basis, checking on how things are going," Miller said. "We'll have other business around the lake and that will be part of our routine."
He said enforcement will be limited to paved roadways, not public or private land next to the pavement.
"We'll try to be reasonable about it," Miller said.
In approving the restrictions Tuesday, county commissioners required another public hearing in a year to review the action.
Local journalism is essential.
Give directly to The Spokesman-Review's Northwest Passages community forums series -- which helps to offset the costs of several reporter and editor positions at the newspaper -- by using the easy options below. Gifts processed in this system are not tax deductible, but are predominately used to help meet the local financial requirements needed to receive national matching-grant funds.
Subscribe to the Coronavirus newsletter
Get the day's latest Coronavirus news delivered to your inbox by subscribing to our newsletter.
---
Subscribe and log in to the Spokesman-Review to read and comment on this story