News > Travel
Barrels of joy
Bainbridge Island wineries have been around for years, but few have discovered them
Sun., April 11, 2010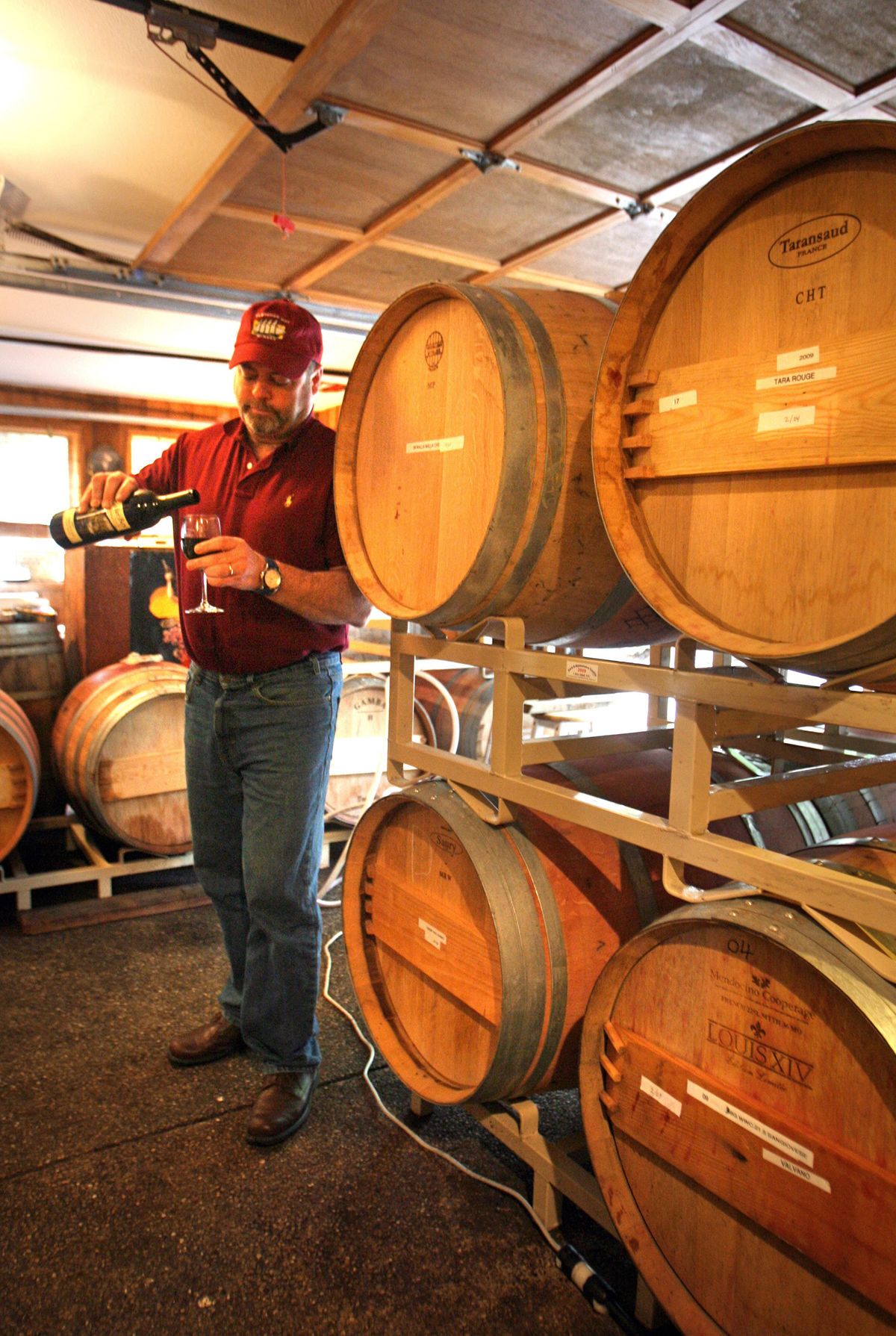 Jim Wilford, owner of Fletcher Bay Winery on Bainbridge Island in Puget Sound, pours a glass of red wine.
BAINBRIDGE ISLAND, Wash. – The wine enthusiasts come now. Maybe not in droves. Maybe not with cheese and baguettes sticking out of their backpacks.
But many come, dozens at a time, even – off the ferry, taking a left on to the main drag, to the tasting rooms, where they sip syrahs and cabs on Fridays and Saturdays.
Some drive further inland, too, up the gravel road, past the historic strawberry fields, toward the rows of vineyards atop the hill.
Here's news for you: They've been growing grapes here for 33 years.
Outsiders have just figured it out. Young winemakers, too. This island, a short ferry ride from downtown Seattle, has seven wineries, with more coming in the next two years.
A few grow their own grapes. Others truck them in from Yakima Valley and Walla Walla.
The city government of Bainbridge Island, gifted with this unexpected potential tourism niche, has allocated funds from its lodging tax to help sponsor a spring wine-tasting party on April 24 and another in the fall.
The city's biggest contribution, though, came from 2001 to 2004, when it bought dozens of acres of farmland on the island. It also designated surrounding open land for farming only, so that the parcels the city doesn't own couldn't be developed.
The land purchase was about preserving the island's farm heritage amid all the housing developments. The island was an agricultural center for strawberries and later Christmas-tree farms, and home to many Japanese-American farmers until their World War II internment.
In preserving this 63-acre agriculture belt, Bainbridge Island also preserved the last large parcel suitable for grape growing, local winemakers say. It's a south-facing slope, where the sun shines brightest and grapes grow best.
"The best vineyard land left on the island," says Mike Lempriere of Perennial Vintners.
Lempriere grows grapes on his three acres and on land leased from the city, planting mostly melon de Bourgogne, also known as muscadet – a light, aromatic grape "that is God's gift to seafood," he says.
"I literally bet the farm on that grape. I want to be the king of it."
Across the field, separated by vineyards, is Lempriere's mentor, Gerard Bentryn, owner and winemaker of Bainbridge Island Vineyards & Winery, a pioneer in Puget Sound winemaking.
You don't see Bentryn, 70, pruning his vineyards anymore. He walks with the aid of a cane, and he's about to hand over the management of his winery and vineyards to his longtime assistant, Betsey Wittick, and others who will carry on his legacy.
What a legacy. In 1977, Bentryn planted vineyards, believing the island could produce fragrant, light-bodied whites.
Wines on the island? Other winemakers thought he was nuts.
But Bentryn, who apprenticed in Germany and France, surmised that the cool, maritime climate mirrors part of France's Loire Valley wine region. He was right.
Bentryn was among the first in the nation to grow siegerrebe, Madeleine Angevine and Müller-Thurgau, cooler-climate grapes that winemakers from Whidbey Island and other maritime areas grow now, according to horticulture professors at Washington State University.
Facing Father Time, Bentryn no longer dons the rain jacket, long johns and knee pads to prune his vines and count his buds.
"I miss that," he says. "It's the greatest feeling in the world. There is just something mystical about it – working in the vineyards. I get jealous if other people are pruning for me."
Bentryn loves winemaking so much that five years ago he built a house with wider windows to provide a better look at his vineyards every morning.
A self-described old-school winemaker, he revels in nurturing grapes, terroir, how each wine has roots and identity to where it's grown. That view has led him to clash with winemakers who truck in their grapes.
It's a fight few want to talk about on the island.
Bentryn won't join the Winery Alliance of Bainbridge Island because he believes other winemakers compromise the integrity of the craft by not using island grapes.
Since the island doesn't get enough heat to make the big reds, Bainbridge winemakers buy grapes from Eastern Washington to make syrahs, merlots and cabernets.
It's a common practice. Most winemakers around Washington use grapes from Eastern Washington. But many open tasting rooms and wineries near Seattle to get the tourism traffic.
Woodinville, for instance, has 68 tasting rooms and wineries, with more opening by next year, according to the Woodinville Wine Country association.
Bainbridge winemakers believe the critical mass needed to become a day-trip destination, a mini-Woodinville, isn't far off.
They will have more wines to sell in coming years. Other winemakers will likely open wineries and tasting rooms on the island in the next two years.
The main strip, near the ferry terminal, already features three tasting rooms: Eleven Winery, Eagle Harbor Wine Co. and Victor Alexander Winery.
Eleven draws enough of a crowd from the ferry – 60 to 80 visitors on weekends – that it will soon open daily with later hours, owner Matt Albee says.
All wineries are within a 15-minute drive of each other. Take it slower on a sunny day. Roll down the windows.
Cruise along the tree-lined roads of the famous Chilly Hilly bike race (and be thankful you don't have to huff and puff up the hills like the cyclists). Or hit one of the island's many parks in between sipping.
Further inland lie Bainbridge Island Vineyards and Perennial. And along the water are two mom-and-pop wineries, Rolling Bay Winery and Fletcher Bay Winery, the latter so close boaters can moor at the winery, step on to the deck and sip wine.
And maybe even glimpse the two otters who frequently snack on mussels by the bank.
Local journalism is essential.
Give directly to The Spokesman-Review's Northwest Passages community forums series -- which helps to offset the costs of several reporter and editor positions at the newspaper -- by using the easy options below. Gifts processed in this system are not tax deductible, but are predominately used to help meet the local financial requirements needed to receive national matching-grant funds.
Subscribe now to get breaking news alerts in your email inbox
Get breaking news delivered to your inbox as it happens.
---