Pact poses Grande Ronde motorboat restrictions
Grande Ronde safety issue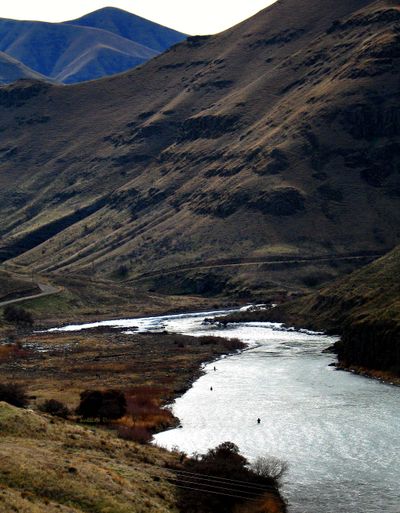 ASOTIN, Wash. – Fly fishermen and jet boaters worked out a compromise before floating a proposal to the Asotin County commissioners this week to regulate motorized boat use on the Grande Ronde River.
Complaints about a jet boater speeding through drifting and wading fishermen during the popular steelhead season last fall prompted the action.
At a public hearing on Monday, the commissioners directed the county prosecutor to draft a new ordinance based on the agreement a group of fly anglers and jet boaters had forged last weekend after months of discussion.
The sportsmen advocated a river closure that would exclude motorized boats from using the Grande Ronde from its mouth to the Oregon state line between Sept. 15 and March 15.
Motorized boaters could, however, have access to the river during that window if water flows are 3,000 cubic feet per second or more as measured at the Troy, Ore., gauge. The closure would be in effect for most of the steelhead fishing season when flows on the river are typically low and motorized boats are uncommon.
Attorneys must draw up the ordinance before commissioners can formally approve it. However, they expressed support for the compromise reached by river users during the Monday meeting.
The portion of the river as it runs through Washington lies entirely within Asotin County, which has authority to regulate some uses and activities on the water.
Commissioner Doug Mattoon said the county received several calls late last fall and winter from wading fishermen complaining about a jet boat running on the river near Boggan's Oasis.
"When you have a jet boat on a very narrow river in shallow water, somebody is liable to get hurt out there," he said. "A guy cruising by at 30 mph and 5 to 10 feet away from you, that is not something that would make me feel real comfortable."
The Grande Ronde is narrow and rocky in the fall as water levels drop. It is also a popular destination for wading steelhead anglers as well as nonmotorized drift boats and rafts. Last year, Mattoon said at least one person began running a small jet boat on the river and the conflicts soon followed.
The state already bans fishing from motorized boats during steelhead season but does not restrict people from using motorboats for access.
Jet boats are more common in the spring when the river swells with melting snow.
Commissioners had been discussing a yearlong motorized boat closure to the river.
The meeting that led to the compromise included Norm Klug of Clarkston, Mark Heuett of Asotin, Art Seamans of Lewiston, Darell Bentz of Lewiston, Rusty Bentz of Lewiston, Steve Kirking of Clarkston and Jay Cawley of Lewiston.
The men agree the current feel and uses of the river during steelhead season would dramatically change if motorized boats become more common.
"We realize that no compromise will meet everyone's desires, but feel this will work for most of us," Heuett said.
Klug said the seasonal closure would allow steelhead anglers to wade and float the river without worrying about conflicts with jet boats and still allow jet boats to use the river when flows are high.
"This meets our concerns about protecting this special fishing experience and still serves most of the power boaters who currently enjoy this river and its challenges," he said.
---