News > Business
Seminar brings big names to Spokane Arena
Giuliani, Powell, Few top lineup of speakers
Sun., Aug. 15, 2010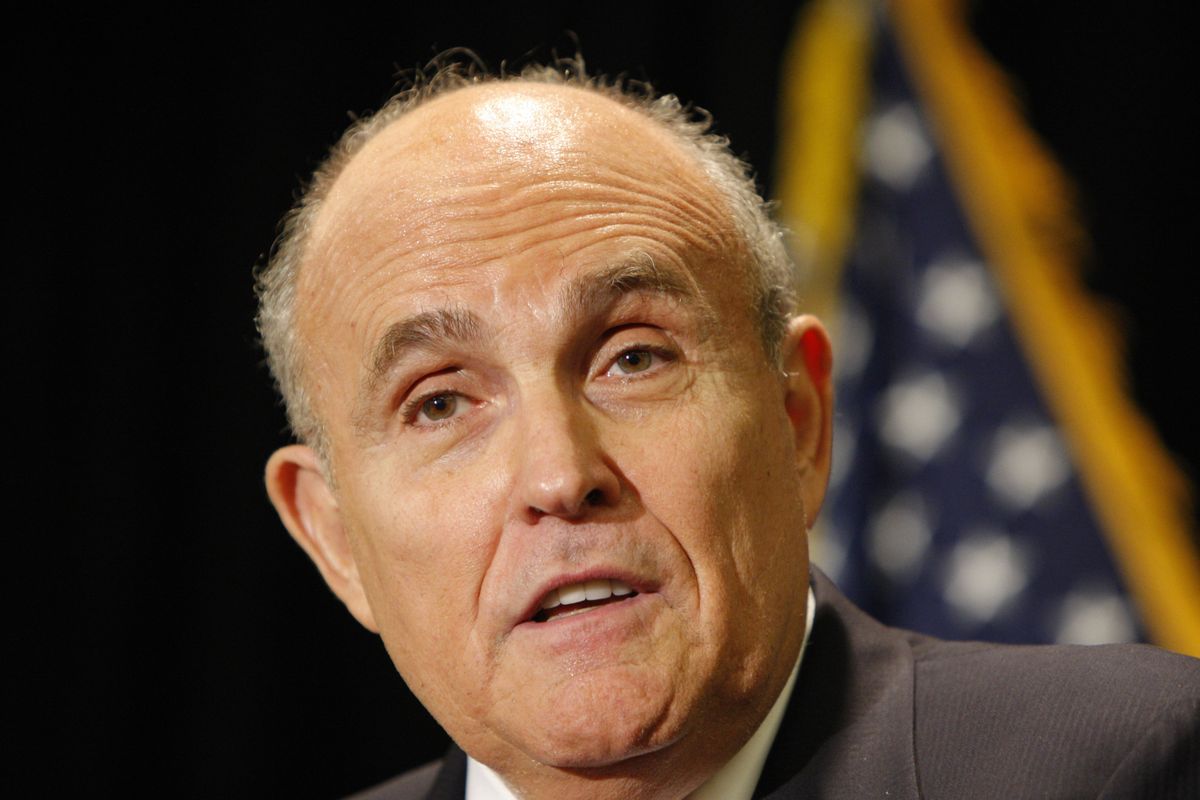 Giuliani
Based on the lineup, Tuesday's big Get Motivated event in Spokane is both an endurance test and a full-body immersion into the bracing waters of Lake Fix-Your-Life.
The heavily promoted seminar and star-studded event starts at 8 a.m. in the Spokane Veterans Memorial Arena and runs through 4:45 p.m.
This is the first visit to Spokane of the Get Motivated franchise, a trademarked business-success seminar launched 25 years ago by Florida entrepreneurs Peter and Tamara Lowe.
Get Motivated seminars follow the same formula; organizers mount a one-day visit crammed with celebrities or sports heroes. Ticket prices are unusually low, but once inside, attendees get to hear inspirational talk intermixed with sales pitches, according to news stories from Get Motivated seminars presented in Minnesota and Utah earlier this year.
Tuesday's Spokane event features former Secretary of State Colin Powell, former New York City Mayor Rudy Giuliani and Gonzaga University basketball coach Mark Few.
Those three alone seem worth the ticket price – $4.95 per person or $19 per office for tickets ordered before the day of the seminar. But wait, there's more.
Also listed as headliners are Robert H. Schuller, an author of numerous self-help books; "motivational guru" Zig Ziglar; former Microsoft Corp. President Rick Belluzzo; and author Krish Dhanam.
Event organizers in Tampa said all seven of Spokane's headliners will be on stage, and each speaker will spend at least 25 minutes delivering remarks. Based on previous news stories, Giuliani and Powell typically deliver comments early in the day, then make a gracious exit.
Those earlier news articles also say the event includes two or three lesser-known presenters who work the crowd with offers to sell training materials or get-rich study guides, DVDs or books.
While Giuliani and Powell have been active in the Republican party, the Get Motivated sessions don't espouse political positions, according to news stories from previous events.
However, brochures promoting the Spokane event do have, in small type, the following statement: "One of the most popular parts of the Get Motivated seminar is a special 10–minute optional bonus session on the Biblical secrets of success."
Local journalism is essential.
Give directly to The Spokesman-Review's Northwest Passages community forums series -- which helps to offset the costs of several reporter and editor positions at the newspaper -- by using the easy options below. Gifts processed in this system are not tax deductible, but are predominately used to help meet the local financial requirements needed to receive national matching-grant funds.
Subscribe now to get breaking news alerts in your email inbox
Get breaking news delivered to your inbox as it happens.
---