Sports
Cougs enter season among soccer's elite
Wed., Aug. 25, 2010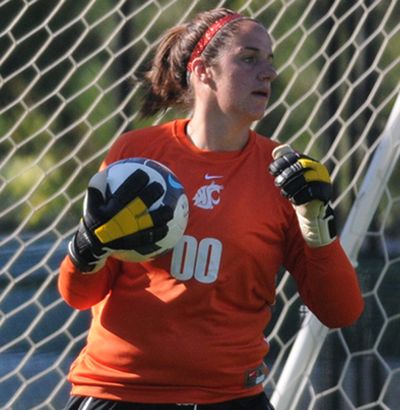 Matt Potter has a solid perspective on the impact, or lack thereof, that preseason rankings have on a team's actual performance.
But at the same time, Washington State University's seventh-year head women's soccer coach admits he could get used to having his Cougars be a part of them – which they are again this fall.
"I think it's great that other people recognize our program and the direction it's headed," Potter said, when asked about WSU checking in at No. 21 in this year's National Soccer Coaches Association of American preseason Top 25 poll. "I think it speaks to the job we've been trying to accomplish, and it's a good indicator that we are doing good things."
This is the second straight year the Cougars (1-1) have opened the season ranked in the NSCAA poll. And they lived up to the early-season respect they were given last fall by finishing 14-6-2 overall, 5-2-2 in the Pacific-10 Conference and advancing to the second round of the NCAA tournament.
Potter lost his top two from his 2009 team, however, and will be relying on a veteran defense led by goalkeeper Meghan Berlingo to hold things together until some of his young offensive players figure things out.
Berlingo, a senior transfer from Florida, was in net for 13 of WSU's wins last fall, posting eight shutouts. And she was nails in goal again last weekend, when the Cougars went 1-1 in their own invitational tournament, losing to sixth-ranked Florida State 1-0 and beating Utah by the same score.
Potter thinks Berlingo's character has just as much to do with the Cougars' success as her athletic ability.
"She's definitely a person of influence, but she's also a calming influence," Potter explained. "When all else around you is chaos, like it so often is on a soccer field, you need those types of figureheads on your team – people who can ultimately think correctly when everything else is upside down."
Up front, the Cougars have a ways to go. But Potter is pleased with the early-season play of junior Tiara Pittman, sophomore Brandi Vega and freshman Micaela Castain.
"Those three have kind of separated themselves," Potter said of his three young forwards. "The question marks coming into fall were at the offensive end of the field, no doubt. But we like the balance we've achieved, and I think the potential is very good for another outstanding season."
The Cougars travel to College Station, Texas, to face Long Beach State in Friday's opening round of the Aggieland Invitational. They will then take on host Texas A&M on Sunday.
Following is a brief look at the other college soccer teams in the region:
WOMEN
IDAHO: The Vandals, who finished 9-10 overall and 2-6 in the Western Athletic Conference last fall, opened their sixth season under coach Peter Showler with a 2-1 road loss to UC Irvine and don't play at home until Sept. 17, when they entertain Gonzaga.
Showler returns four of his five top scorers, including sophomore forward Chelsea Small, who led the team in goals (eight) and points (20) as a freshman, while breaking a single-season school record with 101 shot attempts and becoming the first UI player to be honored as a first-team all-WAC selection and the WAC's freshman of the year.
Junior goalkeeper Liz Boyden, who posted three shutouts in 2009, is also back, along with last year's third-leading scorer, senior forward Jennifer Hull.
EASTERN WASHINGTON: Senior forward and three-year letterwinner Brittany Sparks headlines a list of seven returning starters from last year's team that finished 7-9-2 overall and a surprising 4-2-1 in the Big Sky Conference, earning a share of second place in the regular-season league standings.
Sparks, a first-team all-BSC selection, put together one of the most productive seasons in the history of EWU soccer in 2009 when she set single-season school records for goals (11), points (22) and game-winning goals (three).
Senior goalkeeper Lisa Dimak, who registered four shutouts last fall, is also back, along with junior forward Whitney Brannan, giving 11th-year head coach George Hageage plenty of reason for optimism.
GONZAGA: Second-year head coach Amy Edwards returns 16 players, including junior forwards Sarah Rhodes and Emma Dolcetti, from last year's team that finished 8-12 overall and 2-5 in the West Coast Conference.
Rhodes led the Bulldogs in scoring last year with four goals and two assists, while Dolcetti tied for second with three goals and three assists.
Junior goalkeeper Lauren Ames, who missed the 2009 season with an injury, is also back after receiving a medical redshirt and posted 10 saves in last weekend's WSU Invitational in Pullman, where the Zags opened their season with a 2-1 win over Utah, but fell to sixth-ranked Florida State 2-0 the following day.
WHITWORTH: Junior goalkeeper Callie Bergstrom, who posted seven shutouts and a 0.70 goals-against average last fall, returns to anchor the defense for sixth-year head coach Daman Hagerott, whose Pirates finished 17-3 overall and 14-2 in the Northwest Conference in 2009.
Also returning for the Bucs, who open their season on the road against Wheaton (Ill.) on Sept. 2, are junior midfielder Sidonia Davin and junior forward Elizabeth Mattila, who were both first-team all-NWC selections last year.
CCS: Community Colleges of Spokane's 10th-year head coach Jim Martinson returns forward Tabitha Grow and midfielder Courtney Stewart who finished one-two in scoring on last year's team, which finished 10-5-4 overall and 9-3-3 in the NWAACC.
The Sasquatch open the 2009 season at home against Clackamas CC on Sept. 7
NORTH IDAHO: Eighth-year head coach Dan Hogan returns only six players from last year's team, which finished 8-6-4 after losing in the district finals of the NJCAA tournament.
The Cardinals open the season on the road against Western Wyoming CC on Saturday.
MEN
GONZAGA: Einar Thorarinsson, who is entering his 16th season as the Bulldogs' head coach, faces a hefty rebuilding task after losing his top two scorers – Tye Perdido and Ben Funkhouser – from last year's team that finished 6-9-3 overall and 3-7-1 in the West Coast Conference.
The return of senior forward Philippe Garre, who had four goals and four assists as a junior, will help. And Thorarinsson is extremely high on the gaggle of newcomers that includes two freshmen – midfielder Nick Hamer, a former prep standout at Mead, and Auburn defender Taylor Jackson – who were both 4A first-team all-state selections in the spring.
Among the other standouts in GU's latest recruiting class are former Ferris forward Alec Cutter, who was named to the 4A all-state second team, and Josh Phillips, a midfielder from Capital High in Olympia, who was a 3A first-team all-state pick.
The Zags open the 2009 season on the road against UC Irvine on Sept. 1
WHITWORTH: The Pirates, who open the season at home against Augsburg on Sept. 5, lost several key players – including Elly Bulega, the 2009 Northwest Conference Offensive Player of the Year – to graduation. But 15th-year head coach Sean Bushey still has plenty of weapons available in his pursuit of a fourth-consecutive NWC championship.
Among the top returnees off last year's 16-3-3 team that finished 11-1-2 in league play and advanced to the sectional final of the NCAA Division III tournament, are junior forward Justin Meyer, who was a first-team all-NWC pick last fall after scoring six goals and assisting on five others, and sophomore forward Kekoa Mountcastle, who tied for the team lead with six goals as a freshman.
NIC: The Cardinals, in their fifth year under head coach Scott Moorcroft, open the 2009 season at home against Western Wyoming CC on Saturday. They finished 4-8-3 overall last fall and failed to qualify for the Region 1 NJCAA tournament.
Local journalism is essential.
Give directly to The Spokesman-Review's Northwest Passages community forums series -- which helps to offset the costs of several reporter and editor positions at the newspaper -- by using the easy options below. Gifts processed in this system are not tax deductible, but are predominately used to help meet the local financial requirements needed to receive national matching-grant funds.
Subscribe to the sports newsletter
Get the day's top sports headlines and breaking news delivered to your inbox by subscribing here.
---