News > Idaho
Biologists, pilot killed in Kamiah helicopter crash
Tue., Aug. 31, 2010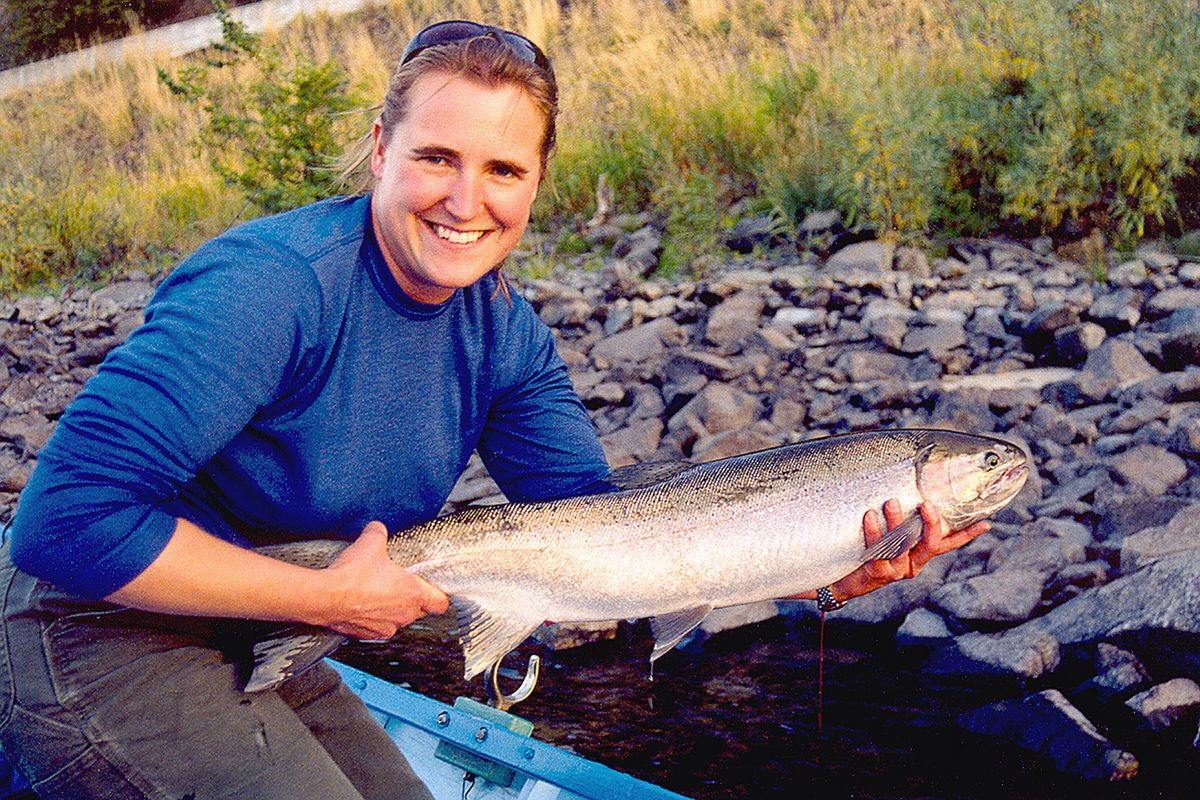 Dani Schiff, 34 of Lewiston, was killed in a helicopter crash in Kamiah. She worked for the Idaho Fish and Game Department since 1997. (Idaho Fish and Game)
BOISE — A helicopter chartered by a state wildlife agency plunged into a travel trailer and crashed today on a downtown street in the small town of Kamiah, killing two biologists and the pilot, authorities said. Officials suspect mechanical failure caused the aircraft to flip over before it plummeted from the sky just a block from Main Street. Debris was scattered along several blocks, but no one on the ground was injured. Witness Jim Emmert saw the crash from his house. "I saw white parts coming off of it," Emmert said of the helicopter. "It made a crumpled sound — like paper being crumpled — and then a loud crash and an explosion. And then nothing." The Fish and Game biologists on board were identified as Larry Barrett, 47, and Danielle Schiff, 34. The name of the pilot was not immediately released. The Department of Fish and Game had chartered the aircraft from Clarkston, Wash.-based Leading Edge Aviation to use on a trip counting salmon spawning nests on the Selway River. Mike Atchinson, operations manager at the company, said he was spending time with the family of the pilot and wasn't prepared to talk about the incident. He said the pilot's name would be released by authorities. Emmert said he initially heard loud rhythmic banging, "like a rock-crusher, but with metal parts." He ran to his deck of his home and realized the noise was coming from the helicopter heading east through Clearwater Valley. "The thing was sounding like there was some serious metal destruction going on," Emmert said. "It was maybe 800 feet off the valley floor, and then it kind of hesitated in its forward momentum before sliding backward." The helicopter lost a few hundred feet of altitude and flipped upside down, with its rotors toward the ground, before the pilot briefly managed to get it upright and level again. "It started sliding to the left and downward and going down too rapidly," Emmert said. "He was headed toward some power lines, and I perceived that he banked it toward the right to avoid them." Resident Mick Landmark said it appeared the helicopter clipped the eaves of a U.S. Forest Service-owned house before colliding with the travel trailer about a block from his downtown insurance office in the north-central Idaho town. The National Transportation Safety Board and Lewis County sheriff's office were investigating the crash. Idaho Fish and Game Deputy Director Jim Unsworth said the two biologists were longtime employees who were well-known and well-liked by colleagues. "This is a sad day for Idaho Fish and Game and our families," Unsworth said. Barrett had worked for the department for 25 years, while Schiff had 13 years with the agency. The two had flown on fisheries surveys before, making helicopter trips to count the number of salmon nests in streams and tributaries. They were dedicated to the job despite the risk, Unsworth said. State biologists fly about 1,000 hours a year to conduct aerial surveys, wildlife counts and capture wildlife for research. Two biologists and a pilot were injured in January when their helicopter crashed near the North Fork of the Clearwater River. Another wildlife biologist was killed in a helicopter crash in 2000.
Local journalism is essential.
Give directly to The Spokesman-Review's Northwest Passages community forums series -- which helps to offset the costs of several reporter and editor positions at the newspaper -- by using the easy options below. Gifts processed in this system are not tax deductible, but are predominately used to help meet the local financial requirements needed to receive national matching-grant funds.
Subscribe now to get breaking news alerts in your email inbox
Get breaking news delivered to your inbox as it happens.
---