Sports
Five Hasselbeck turnovers fuel rout
Mon., Dec. 13, 2010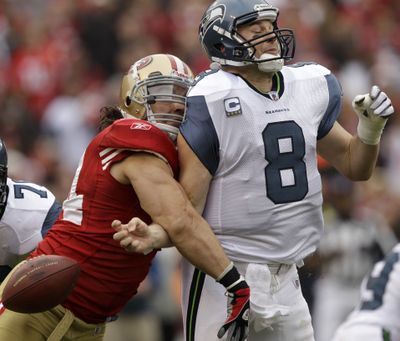 SAN FRANCISCO – The pass was more like a present.
"A freebie with a bow on it," Seahawks quarterback Matt Hasselbeck said. "Just a gift."
He was talking about one of his career high-tying four interceptions Sunday, specifically the one 49ers safety Dashon Goldson returned for a third-quarter touchdown. But Hasselbeck could have been talking about Seattle's 40-21 loss in San Francisco, since it was a game the Seahawks pretty much gave away.
Hasselbeck's five turnovers led to 20 San Francisco points, which meant his postgame interview sounded more like a confession as he enumerated all the times he broke Pete Carroll's cardinal rule: Thou shalt not turn the ball over.
"I know that today was as bad as it could look," Hasselbeck said. "More than anything I feel like I let the guys down in terms of protecting the ball, because that's the No. 1 job, and I didn't do that job well."
It was a game so bad, Carroll was asked afterward whether he considered benching Hasselbeck for Charlie Whitehurst – he didn't. The coach also had to confirm that Hasselbeck remains the unquestioned starter – he does.
That Hasselbeck was the difference in this game wasn't surprising. The 49ers were starting Alex Smith again, reinstating the guy who was 1-6 as San Francisco's starting quarterback and was at the center of the 49ers' meltdown at Seattle in the season opener.
The surprise was that this time, it was Seattle that self-destructed.
"This was a disappointing day in so many ways," Carroll said.
The offense missed injured receivers Ben Obomanu and Mike Williams, and while Hasselbeck had a large role in handing over the game, Seattle's defense gave up some big plays, too. Brian Westbrook scored on a 62-yard slalom run after catching a screen pass, and Josh Morgan scored on a 15-yard pass in which three different defensive backs missed tackles.
With St. Louis losing at New Orleans, Seattle had a chance to separate itself atop the NFC West. But the Seahawks never found their footing.
"We were slipping and sliding all day," Carroll said. "It was a mess."
It certainly was. Candlestick Park sits on the edge of San Francisco Bay, and it is where Seattle's season may have finally gone under water. The Seahawks have lost five of their past seven games, and have trailed by double digits at halftime in the past four games. And a third-quarter scoring spurt against Carolina is all that separates the team from a four-game losing streak.
The Seahawks had twice as many first downs as the 49ers, they gained more yards, and Leon Washington scored on a kickoff return for the third time this season.
Yet Seattle wasn't in this game in the second half. Not after San Francisco scored 33 consecutive points in a span that began with a field goal to end the first quarter and continued through the third quarter.
San Francisco pulled away in the second quarter, with Hasselbeck committing three turnovers that ranged from unfortunate to unconscionable. His first interception came on a pass that deflected off fullback Michael Robinson into the hands of linebacker Takeo Spikes. Then Hasselbeck lost the ball when he was sacked from behind. His third turnover came just before halftime, when he threw toward Deon Butler only to have safety Reggie Smith read his eyes and cut off the pass.
"It was inexcusable," Hasselbeck said. "It was awful. It was just straight frustration, and I didn't commit to the throw. Just terrible. That's the one that disappoints me the most."
Hasselbeck committed nine turnovers in his first nine starts this season. He has committed 10 in the past three, as he has been intercepted eight times and lost two fumbles.
A short-handed offense didn't help him Sunday. The Seahawks' first touchdown was scored by Ruvell Martin, who had not caught a pass for Seattle before replacing Williams as starter. With all those absences, Hasselbeck took risks, including throwing to Brandon Stokley in the end zone because he was single covered and seeing Nate Clements pick the ball off.
"There was a stretch where I was a little too careless, forcing things or trying things," Hasselbeck said.
That stretch decided Sunday's outcome.
"At this point it's pretty clear," Carroll said. "It's about turnovers."
Seattle will rely on one person to change that.
"The only thing I know is to learn from it and just not do it again," Hasselbeck said.
Local journalism is essential.
Give directly to The Spokesman-Review's Northwest Passages community forums series -- which helps to offset the costs of several reporter and editor positions at the newspaper -- by using the easy options below. Gifts processed in this system are not tax deductible, but are predominately used to help meet the local financial requirements needed to receive national matching-grant funds.
Subscribe to the sports newsletter
Get the day's top sports headlines and breaking news delivered to your inbox by subscribing here.
---
Subscribe and log in to the Spokesman-Review to read and comment on this story