Sports
Capers, WSU junior, rises to challenge on court
Reliable defender adds offensive touch
Sun., Dec. 19, 2010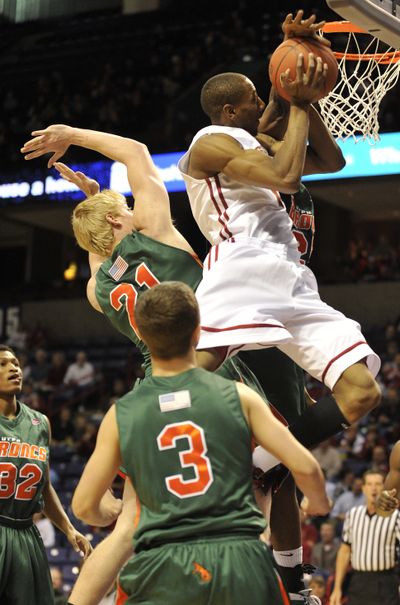 PULLMAN – There are bookends to Marcus Capers' Washington State basketball career.
On one end is a typical practice his first year, when then-coach Tony Bennett would regularly chew on the 160-pound freshman, deriding his effort, questioning his decision-making and basically making Capers' life miserable.
"It was kind of hard," Capers admits now. "Tony used to get on me. Klay (Thompson, also a freshman then) and I would be sitting there saying, 'Man, does Tony hate us?' "
On the other side sits Marcus Capers today, a 6-foot-4, "185-pounds-on-a-good-day" junior whom coach Ken Bone calls "our most consistent or most valuable player when we just talk about valuing every possession."
So how did that callow freshman from Winter Haven, Fla., known as much for his funky-looking jump shot as his opponent-bothering arm length morph into a dependable defender with crowd-pleasing hops who also can handle point guard duties?
It started with those first few practices, held in Beasley while Capers was still adjusting to the cultural – and climate-al – differences between Florida and Eastern Washington.
"I know now when someone is getting on you, they expect you to do something," Capers said. "Tony had high expectations for me. He should have gotten on me.
"I feel like I took it the wrong way. Now I look back, and all he was doing was helping me out."
When Bone took over for the Virginia-bound Bennett last year, Capers had no trouble on the defensive side – former Bennett assistant Ben Johnson stayed on and took responsibility for that end of the floor, tweaking WSU's scheme but not remaking it.
It was on the other end where Capers, who was benched at times as a freshman if he took a shot outside 10 feet, struggled – shooting 29 percent from the floor, 0 for 7 on 3-pointers. Everyone is expected to handle their offensive chores in Bone's system and Capers, by his admission, didn't.
After posting a respectable 1.52 assists-to-turnover ratio as a frosh, Capers had nearly as many turnovers (41) as assists (43) last season. Though he shot better, hitting 55.9 percent of his shots, he didn't attempt a 3-pointer. A wing with limited range needs to take care of the ball.
This year he has. Despite added responsibilities.
After eight games Capers leads the Pac-10 with an unheard of 5.8 assists-to-turnover ratio (29 assists, five turnovers). His Cougars are 7-1 going into tonight's game at Santa Clara, the first of a six-game, 14-day road trip which will also take them to Hawaii for the Diamond Head Classic and to Los Angeles for their Pac-10-opening series.
And in that time, he took over at point guard while Reggie Moore nursed a fracture in his left wrist and missed five games.
"It's an outstanding statistic because a lot of those teams we've played, even though we beat them "those teams had great quickness and tried to put pressure on the ball," Bone said.
Capers made sure they didn't
His improvement was just a matter of time, Bone and Capers say.
"That's just experience on the offensive end, knowing the system better," Capers said. "It's not moving as fast, it's kind of slowed down."
"I'm chalking it up to the fact he's now a junior, an upperclassman," Bone said. "I think he feels like he's a big part of this program, as he should, and sometimes guys just get into that junior and senior year, and they just feel more confident in who they are."
There are a couple of areas the left-handed Capers has always felt confident. His defense – with a 6-10 wingspan and a dedication to pregame study he always guards the opponent's best outside player – and his ability to jump – he is averaging a team-high 6.1 rebounds per game – have been with him since he first set foot on the Palouse.
Though it's when his feet leave the earth things get interesting. In three years, Capers has more ESPN-worthy dunks than the rest of the Cougars combined.
Part of that can be attributed to his outside shooting. Defenders sag off him so when a shot goes up, no one is around to put a body on Capers.
"If you ain't going to box me out and someone happens to miss, one of your post players might get dunked on," he said. "When we're on the road, and I catch it off the rim, it's a buzz kill for the crowd. That's at least, three, four possessions of the crowd not really saying anything.
"When we're at home and I dunk, the crowd is going to get more into it."
Capers is a Beasley crowd favorite, no doubt. He's also a team favorite, even in the electronic world.
"Marcus Capers is EXTREMELY underappreciated," Moore tweeted recently.
"Marcus is one of the most underrated players in the country," Moore says now. "A lot of people say he can't shoot or he might not average 15 or 20 points, but if you look at what he does, it's something you can't replace."
"It's not about you," responds Capers, imparting a lesson he feels he learned as a freshman. "You're talking about a team. If you don't do your part, it's a domino effect and everything falls. But as long as you do your job, everything will run smooth.
"This year, everybody for the most part is doing their jobs."
Or even more than their jobs.
In the Cougars' most recent game, last week's 74-52 win over Texas-Pan American in the Spokane Arena, Capers came off a DeAngelo Casto screen and took a pass from Thompson on the left wing. The defender sagged off. He was 22 feet from the rim.
"I thought 'Just take it,' " he said. "I've been working on my shot, so I might as well shoot one in the game."
Swish. His first collegiate 3-pointer.
A perfect bookend to a still evolving collegiate career.
Local journalism is essential.
Give directly to The Spokesman-Review's Northwest Passages community forums series -- which helps to offset the costs of several reporter and editor positions at the newspaper -- by using the easy options below. Gifts processed in this system are not tax deductible, but are predominately used to help meet the local financial requirements needed to receive national matching-grant funds.
Subscribe to the sports newsletter
Get the day's top sports headlines and breaking news delivered to your inbox by subscribing here.
---